Toys for Tots and Blue Angels Mission to Save Christmas for Children Affected by Superstorm Sandy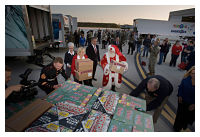 Dec. 6, 2012 – The Blue Angels turned their C-130 aircraft, affectionately nicknamed "Fat Albert," into a modern day Santa's Sleigh with a mission to help the Marine Toys for Tots Foundation save Christmas for many children still living with destruction from Superstorm Sandy. The Blue Angels arrived at Joint Base McGuire-Dix-Lakehurst with Santa on board after picking up an aircraft full of toys in Atlanta, Ga., and Washington D.C. Additional toys were trucked in to meet the plane to deliver a message of hope and happiness to deserving children.
Marine Toys for Tots Coordinators from hardest hit communities in New York and New Jersey were on hand to accept the toys and take them back to their communities for distribution to families before the holidays.
Lt. Governor Kim Guadagno joined volunteers to form a human chain that unloaded the toys from the plane and onto waiting Toys for Tots trucks.
"For New Jersey families displaced from their homes due to damage or destruction by Hurricane Sandy, the expense of holiday presents may simply be out of reach," said Lt. Governor Kim Guadagno. "Despite the devastation it brought to our state and citizens, Hurricane Sandy shouldn't deprive any child from the magic and joy this season brings."
"For 65 years, Marines have delivered hope to children through the gift of a new toy during the Christmas holidays," said retired Marine Corps LtGen Pete Osman, President and CEO of Marine Toys for Tots Foundation. "This is the third year Toys for Tots and the Blue Angels have partnered to deliver much needed hope to communities hit by a natural disaster. The widespread destruction from Hurricane Sandy has left entire communities in need. We want to help these children begin to heal and see a pathway to a brighter future. We want them to know that they will not be forgotten this season."
To meet the unprecedented need for gifts for children in this region, support has been provided by Duracell, Hasbro, Inc., The Idea Village Products Corp., LivingSocial, Lockheed Martin, Toys"R"Us, Inc., and The Walt Disney Company, totaling over $700,000 in toy and book donations.
"Play can help a child gain some sense of normalcy during times of upheaval," said Karen Davis, Vice President Community Relations, Hasbro, Inc. "We hope this donation of over $450,000 to our partner, Toys for Tots, will help the children impacted by Sandy find some joy this holiday season."
"We understand the joy children feel when they tear the wrapping paper off of a present on Christmas morning," said Sloane Lucas, Director, Corporate Philanthropy, Toys"R"Us, Inc. "With the need for toys in the tri-state area greater than ever before, in the aftermath of Superstorm Sandy, we're proud to help put smiles on little ones' faces through this toy donation."