Traterra Announces Partnership with Andrew Zimmern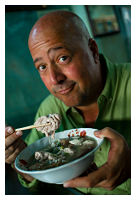 Feb. 7, 2013 – Staying true to its promise to provide extraordinary vacations through global travel expertise and resources, Traterra is excited to announce that chef and television personality Andrew Zimmern has signed on to be a travel insider for the new travel provider. Widely recognized for hosting Travel Channel's popular Bizarre Foods with Andrew Zimmern series, Zimmern is a two-time James Beard Award-winning television personality, chef, author, and teacher. As a travel insider, Zimmern will play a pivotal role in enhancing Traterra's product offerings through his food and travel expertise. In addition, he will be featured as a guest blogger and editorial contributor.
"Partnering with Traterra was a logical choice, as they embrace my personal belief that people need to move beyond being tourists, and become true travelers of the world," said Zimmern. "Traterra is dedicated to creating amazing vacations by helping people look beyond what is right in front of them and experience new things, which is the way I live my life."
"We are thrilled to have Andrew Zimmern as the face of Traterra, as he embodies the passion and sense of adventure we embrace with our brand," said Lynn Clark, vice president of marketing for Traterra. "We look forward to working with Andrew and leveraging his expertise to enhance the one-of-a-kind vacations and travel experiences we deliver."
This partnership is the first of its kind for the new travel provider, and Traterra is the sole travel partner for Andrew Zimmern.