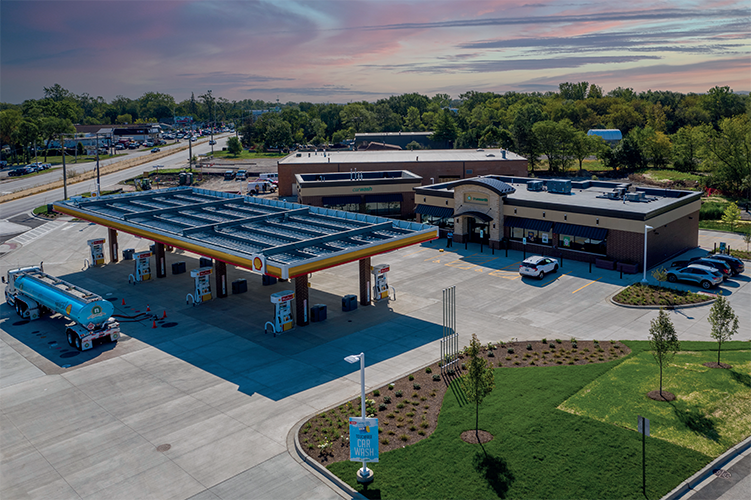 The best stop shop
Behind the truenorth name is a family legacy built upon providing a quality customer experience, while being backed by an exemplary and passionate team
Born from a joint venture between Shell Oil Company and the Lyden family, truenorth has been in business since 1999. Now onto its fourth generation, Bailey Lyden, the current VP of Retail, shares with this magazine the strengths that the company has refined in order to continue its impressive growth trajectory. "Out of the nine joint ventures Shell has, truenorth is the largest. We operate in Ohio, Illinois, Michigan, and Wisconsin, and these expansions were created as a result of the many great opportunities teaming up with Shell has provided for us," he begins.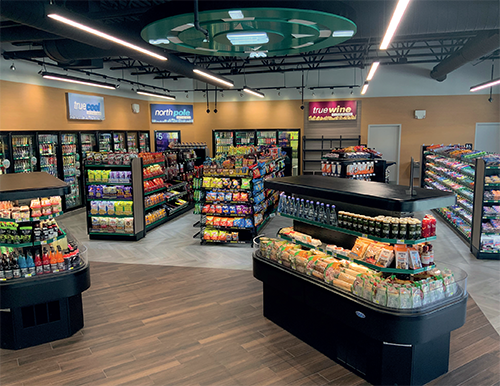 Over the last ten years in particular, the company has worked exceptionally hard to improve its customer experience with revamps, product upgrades and unrivaled service. This approach has been bolstered by recent changes to new stores. "We have outstanding facilities, well-lit stores, and a brilliant team. When it comes to taking on a new store, we do a 'scrap and rebuild' where we might secure property around the plot, and we will completely tear down that facility and build a brand new one. It was only a few years ago when we started to examine our position in the market, and we wanted to make sure our stores were all 42,000-square-feet or over, with 15 cooler doors, and a beer cave. The reason for this is that we've realized that US convenience stores are destinations for beer, so of course we want to provide that for our customers. In addition to that, our coolers are always well-stocked with a wide breadth of products," he adds. He also notes that, on the warmer side of things, truenorth has partnered with Royal Cup and invested in a premium roaster to offer coffee-lovers a delicious brew.
Complementing this strategy, the business has placed a significant emphasis on its company culture. Consequently, this led to the introduction of an HR department for further support. "The last couple of years have really accelerated the way we approach the people within our business. In fact, our top initiative this year is 'winning with people'. Many retailers are realizing that wages and compensation are only small pieces of the puzzle. People want to come to a working environment where they feel part of a team, where they are appreciated, and that they have flexibility and receive good benefits, so we are looking into making all of that happen for our team.
"We have really invested heavily in developing an HR department, and have added quality leaders to our corporate level who can help with recruitment, and contribute to influencing the training in order to give our stores the tools necessary to make good hiring decisions. I believe that is truly where the journey to continuing our success begins," he shares.
With a focus on customer service, cleanliness, and high-end facilities, truenorth is choosing to lead the market in areas that are commonly taken for granted across the convenience store sector. "Our slogan is 'fast, friendly and clean', and we have spent hundreds of millions of dollars of capital to make sure that this strikes true across all our stores. Convenience stores that are not doing some of those key things well, and choose to focus on food service, while continuing to run dirty stores, poor customer service, and don't have good training models for employees, they really are a recipe for disaster," he emphasizes.
In 2019, the business introduced a prototype contemporary store to host a chic and modern interior as a demonstration of its determination to pioneer the convenience store industry. "For brick and mortar retail, we have to stay ahead of trends. We look at a lot of different channels of business and materials currently being utilized.
"We were beginning to feel like the stores needed a fresh renovation, so we introduced earth tones inside such as wood paneling, and focused heavily on the lighting used to help our products on our shelves to stand out. We use black shelving to make the product more visible. Above that, we really focused on our food service, and our hot and cold dispensed beverage area, as I mentioned, making sure we have the latest equipment, including the best coffee brewers to make them more aesthetically pleasing. To complement this, the flooring around our hot service area is a wood herringbone flooring to separate it from the rest of the store. It's warmer, it feels more residential, just as our restrooms, and it really comes out stunningly. I feel that our retail has improved incredibly as a result, and is much more efficient," he explains, adding that since these changes have been implemented, the company has received fantastic and encouraging feedback from its customers.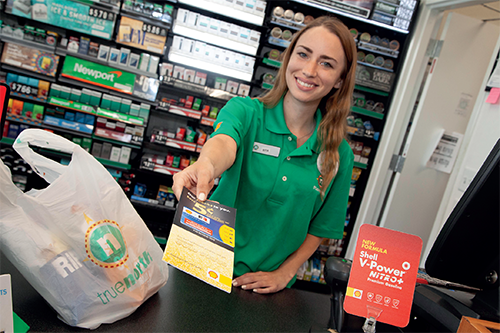 This level of refinement is what has been driving the business' growth, and, in 2021, even led to the opening of five new stores through opportunistic acquisitions. "When you acquire a network of stores, some might be newer, others might be between 30 and 40 years old. So, we have to be disciplined on how we approach our capital acquisitions. We come in with our brand, we rebuild the facility, and we see some solid uplifts in fuel, and this has been so inspiring for us," Bailey informs us.
The combination of these developments, according to Bailey, is what will help catapult the business into an even stronger future, with plans to further improve its deal offers, car wash facilities, and overall, become a better retailer. "We have been trying to pivot where there are still good savings on fuel and product combinations. For example, selling any sized coffee for a dollar with your Shell fuel rewards card, or receiving a special drink offer. So, we want to start developing a more robust loyalty program through technology and marketing, and from the conversations I've had, our vendor partners are excited for that.
"We would also like to focus on improving our car wash services, as that is a growing trend in this sector. We have around 25-to-30 existing wash stops in Ohio, Michigan, Illinois, and Iowa. Having said that, we are so careful to pick the right spot for those locations, and it is also important to keep in mind that we are not a huge company, and these acquisitions take a lot of time and energy. So, we are looking to slow down the acquisition part of the business and focus on simply being a better retailer," he says.
It is evident from Bailey's experience that he is determined to keep the truenorth name a leader in the convenience store business. "If we are not looking at details such as customer service, the store's aesthetic, its smell and feel, then we are going to fall behind. So, we want the next couple of years to be a push for investments in making our customer's experience a fantastic one, and I think that this is going to be a lot of fun for us. It keeps you busy, but I'll tell you what, we really enjoy it," he shares.
Bringing the discussion around to a more present moment, Bailey expresses how the journey to continued success will kick off with 2022; with his main source of motivation being the engaged and dedicated team at truenorth. "This year it is really back to basics for us, because, in addition to improving the overall customer experience, we also want to focus on being a better employer as well, and being the sort of place where people look forward to coming to work. I have learnt a lot from helping out within the HR department. The truth is that we have so many wonderful people working with us, and they are really my main motivator to come to work. I am very aware that many of them depend on us, and that is why we are determined to offer them great benefits, and expand those to make sure they have the right resources they need to lead a great life," he shares.
In conclusion, our conversation with Bailey demonstrates a family that is passionate about its business. He acknowledges how honored his family is to be able to continue the Lyden legacy in the convenience store sector, but he is also incredibly grateful for the efforts of previous generations, and the work they have invested into building the business into what it is today. He only hopes that the current generation will continue to make the family proud. "Alongside the excellent customer service, we want to remain dedicated to finding unique selling points for our stores, ensuring that a visit to truenorth continues to be memorable and enjoyable one," Bailey concludes.
www.truenorthstores.com