Another distinguishable trait of Turco's is the vast array of specialty departments including a gourmet food court, ice cream parlor, cappuccino bar, carving stations, soup and salad bar and a full-service bakery. "Very few people have a scratch bakery," Turcos adds. "We start everything from scratch."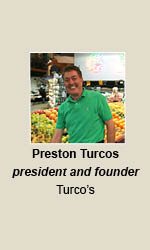 Turco's also has a Pizza Palace that serves more than 20 types of pizza and full-service deli stocked with Boar's Head Cold Cuts and more than 20 freshly-made salads. "We are proud to have the largest and freshest meat, seafood, and produce departments in Westchester (County)," Turcos says.
The produce department carries a vast variety of fruits and vegetables all year. The company buys directly from local farms when possible. So, a lot of its produce can truly be called garden fresh.
"We have a personal produce buyer who has been buying for us for over 15 years," Turcos says, adding that the buyer is considered to be among the best.
Meat and Seafood
Turco's meat department is made up of professional meat cutters have more than 30 years of experience and will custom cut meats upon request. Turco's prides itself on carrying only the highest quality certified angus beef, Sterling Silver, and USDA top-grade meats – along with Bell & Evans All-Natural Chicken.
The department is famous for its sausage, which is made instore. "We make 12 to 15 varieties of sausage," Turcos adds.
When it comes to seafood, Turco's prides itself on having the largest seafood department in Westchester County with more than 100 varieties of fish. The store buys directly from the docks of Boston and the Fulton Fish Market. It also prepares its own smoked fish instore. "Our seafood counter is 60 feet long," Turcos says. "And we have a personal fish buyer who has been buying our fish for more than 30 years. He only buys the freshest fish. Quality always comes first."
Turco's success shows in its numbers. On an average week, the grocery store sells more than 1,000 pounds of chicken cutlets, 30 to 40 cases of eggplants and roughly 1,000 meatballs and grilled chickens.
"I can't even tell you home many thousands of dinners we sell a week," Turcos adds. "And I don't know another supermarket that has six or seven chefs in one kitchen. Most of our customers are amazed to see our quality and find our prices extremely reasonable."
Stellar Service
Aside from quality products, Turco's is known for its level of customer service. Turco's employs between 130 and 150 people – much more than other stores its size.
"That way, we're always fully staffed with courteous employees, knowledgeable about all our fine products," Turcos says. "We're very upscale when it comes to quality and customer service but our prices are fair. With competitive prices, stellar customer service and the best quality, it doesn't get any better than this."
Since it Turco's specializes in prepared foods, it has a food court that seats between 80 to 100 customers. Many stop by for a morning cup of hot coffee and a full breakfast. Others frequent it during lunch or dinner and choose from an assortment of hot food entrées that rotate daily.
Having owned the grocery store for more than four decades, Turcos says that most of his customers are regulars and that they span generations. But the secret to his success is his passion for what he does.
"I enjoy what I do," Turcos says. "It's not just about making money. It's above achieving something in life that you really love. I had a pleasant 45 years and business is still going strong. It's nice to have something that you created and be successful."