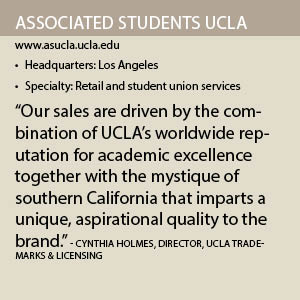 UCLA was founded in 1919 as the University of California "Southern Branch," which offered two-year undergraduate teachers' training programs. In 1927, the University of California adopted University of California Los Angeles in place of "Southern Branch."
Building the Brand
Associated Students UCLA (ASUCLA) is a student-controlled, nonprofit organization that has provided retail and student union services to the university since its establishment nearly 100 years ago. ASUCLA has evolved into a four-part organization: the Undergraduate Students Association, Graduate Students Association, Student Media and Services & Enterprises.
The UCLA Store and Trademarks & Licensing departments fall under the ASUCLA's Services & Enterprises umbrella. UCLA was the first university to have a trademark and licensing program launched in 1973 in response to the popularity of the UCLA Store since its inception in 1919.
"With all the tourism that was taking place, there was a real demand for UCLA product beyond just the campus community," says Cynthia Holmes, director of UCLA Trademarks & Licensing. "That popularity spurred us on to devise a way in which to manage that, and the licensing program was devised with that in mind."
The UCLA Store is a tourist destination, ranking up there with Disneyland and Las Vegas, as it has become a scheduled stop for international tourism. In addition to its brick-and-mortar location on the UCLA campus, the store has been running its e-commerce platform since the early 2000s when the internet became more widely available.
Although the website has a good representation of what the UCLA Store has to offer, its brick-and-mortar store on campus has a much larger selection.
"Licensing is still very destination-driven, with the destination being southern California and the UCLA campus," Holmes adds. "It's an attractive campus, which plays a major role. You can get UCLA liscened product online, but visiting the campus is an experience that plays a significant factor in driving sales, as well.
"Nothing compares to coming to the UCLA campus and the UCLA Store," she continues. "But if that is not practical day in and day out, we are focusing on how we can provide other options, including making the website the best it can be."
Delivering Quality
Because of its mature licensing program, Holmes says there is no shortage of interested licensees that want to partner with the UCLA Store. "We are in a position where we have been able to look at additional criteria and develop quality indicators," she adds. "Some of the obvious ones are the product itself and whether it is inherently a quality product and whether it is relevant to the university. Certainly any licensing program receives things that could generate incremental sales and royalties, but are not necessarily relevant to the brand. We are in a position to elevate those standards because there is not a shortage of interest in the UCLA brand."
For a number of years, the UCLA Store has offered a small selection of Under Armour men's and women's active wear. In July, Under Armour became the official outfitter of UCLA athletics and the UCLA Store's offerings expanded to include men's, women's and kid's Under Armour products.
"We transitioned from adidas being the team outfitter to Under Armour, which is a very performance fabric-driven company that has a different price profile from adidas," Healey explains. "Under Armour is at a price point that our fan base is familiar with and the jump in average pricing isn't as much of a shock than it would have been with a brand-new company."
Making the shift from one team supplier to another is not without its challenges, Healey says. "There are a lot of ducks to get in line because it's a huge shift from one team supplier to another," he adds. "We work with the athletic department, Gear for Sports® that is the licensee for Under Armour to produce collegiate wear and Under Armour to get everything in line and understand each entity's vision to pull it all together. Then after all that we launch."
Market Approval
Under Armour is well established on the East Coast and in the Midwest, so the UCLA Store and Trademarks & Licensing departments worked closely with the company to ensure the differences in the West Coast customer are addressed. One example is that the UCLA Store sells mostly t-shirts and sweatshirts because sweatshirts are outerwear in southern California.
Over the past few years, the UCLA Store has focused more heavily on women-specific items where the fit is important.
"The difference between a unisex and a female t-shirt is night and day," Healey explains. "We are dressing women who want fashionable, fitted and flattering apparel with UCLA marks on it both from an athleisure feel, as well as a fan base feel. Our buyers look at what's out there from core fashion products and what our customer profile looks like. Do we trend towards smaller or larger sizes? Do they want fit or relaxed? A lot goes into establishing that assortment on the floor."
UCLA Intercollegiate Athletics entered a 15-year agreement with Under Armour to be the team supplier. The UCLA Store and Trademarks & Licensing provide support for this partnership at retail. Now that the Under Armour "store" within the UCLA Store has launched, the focus will be on continuously growing business.
"The first year is the introduction and exciting, but how do we grow the business from there in the second, third and fourth years?" Healey asks. "We focus on innovative designs and special programs."
In the dense Los Angeles market, the UCLA Store stays focused on communicating the brand to drive quality versus quantity. "There is a lot of competition for entertainment value, including Hollywood and other pro and college teams," Holmes notes. "The competition for time and attention is the southern California lifestyle because there's so much to do out here, so we push and present the UCLA brand and stay consistent with who we are."
Moving forward, the UCLA Store and Trademarks & Licensing departments will continue to focus on embodying the UCLA brand by selectively partnering with licensees.
"Our sales are driven by the combination of UCLA's worldwide reputation for academic excellence together with the mystique of southern California that imparts a unique, aspirational quality to the brand," Holmes says. "It's really about taking the time to have conversations with licensees to share brand information and core values with ongoing refinement and cultivation of those partnerships."