Udi's Gluten Free Foods Return to Sundance Film Festival with Pop-Up Restaurant, Dinner Series and After-Parties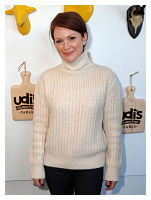 Jan. 21, 2013 – For the second year in a row, Udi's Gluten Free Foods – the gluten-free category leader in the U.S. – served up gluten-free fare for attendees of the 2013 Sundance Film Festival. Celebrities, filmmakers and other Hollywood tastemakers were treated to gourmet dishes at Udi's Gluten Free Table – an original pop-up restaurant – as well as popular venues like the Miami Oasis Lounge, Next Generation Dinner Series and Westway After-Parties.
Udi's expanded presence at this year's festival is in keeping with continued growth of the gluten-free lifestyle, led by health-focused Hollywood. More than 1,000 guests, including prominent stars like Julianne Moore, supermodel Alessandra Ambrosio and actress Jane Lynch, attended Udi's Sundance events and dined on innovative, cold-weather favorites made gluten free, such as gourmet grilled cheeses, flatbreads and warm chocolate chip cookies.
"Building relationships with Hollywood tastemakers at Sundance gives Udi's the chance to exchange trend-setting ideas and stay at the forefront of the gluten-free movement," said Denise Sirovatka, Udi's vice president of marketing. "The growing number of gluten-free celebrities here exemplify what it means to live a full, happy, gluten-free life as you travel, ski, work and still remain health conscious. Udi's helps make that possible for movie stars and moviegoers alike by providing delicious gluten-free options."