Umbro Announces Kit Deal With Everton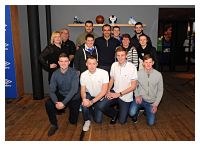 Feb. 4, 2014 – Umbro has announced it will be the official technical kit supplier and sportswear partner for Everton Football Club of the Barclays Premier League from next season. Everton will again wear the double diamond of Umbro from the 2014/15 season as part of a new five year partnership. Umbro will produce all on-pitch and training product for the men's, women's and academy teams, as well as training apparel and sportswear for both the first team squad and fans.
Eleven Everton fans, selected by the Club, were invited to Umbro's UK headquarters today to be the first to hear the news from Everton manager Roberto Martinez. The supporters were also treated to an exclusive Q&A session with the Goodison Park boss.
Martinez said: "It was a great experience giving a number of our fans an exclusive opportunity to meet Umbro, to take them through the design process of the 2014/15 kit and, most importantly, be able to give them this news first."
Umbro and Everton share a long and successful history together with the Club having worn the diamond brand in the 1970s, 80s, 90s and 00's,
The deal, which officially starts on June 1, 2014, will also see Umbro sponsor all of Everton's grassroots programmes.
Umbro celebrates its 90th birthday this year. Everton's new home kit for the 2014/15 Premier League campaign will be launched in July and will be available for men, women, juniors, infants and babies.