Venture Technologies Inc.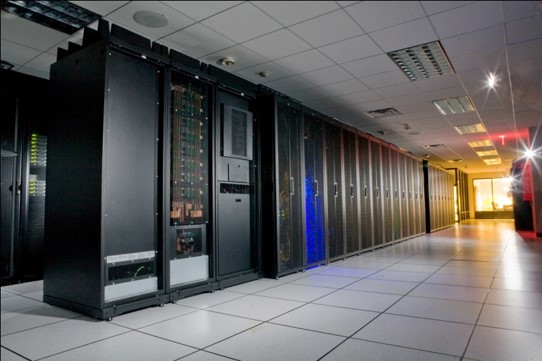 Venture Technologies set itself apart by delivering on promises to its clients.
By Alan Dorich, Knighthouse Media
For 32 years, Venture Technologies Inc. has thrived by supporting its technology with talented associates. "They carry the flag for Venture," CEO Gerard Gibert says. "We combine those people with world-class technology and a go-to-market strategy that has made the company successful."
This helps the company stay strong in an industry that is always evolving. "We have a good track record of anticipating new technologies and innovations and then successfully implementing those for our customers. We differentiate by honoring our commitments," he says.
Based in Ridgeland, Miss., Venture specializes in IT infrastructure solutions, including the design and implementation of sophisticated networks for large enterprises. "We combine that with lots of the other complementary technologies, such as server, storage and virtualization, wireless networks, security and collaboration technologies and wireless security," he says.
Gibert formed Venture in 1986. "It was really an idea that I had having spent the prior five-and-a-half years in the consulting industry," he recalls, adding that he previously worked for Arthur Andersen, which would later become Accenture.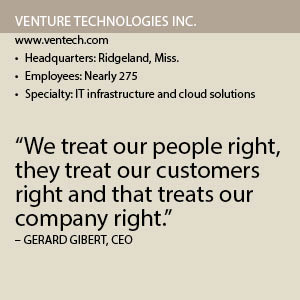 He started the company with a $189,000 bank loan secured by 19 acres of land from his in-laws, their life's savings. It has since grown to employ nearly 300 employees and enjoyed gross sales of $212 million last year. Venture also operates three tier-three data centers in Mississippi, Colorado and Illinois.
"The data centers house Venture assets," he says, adding that the company's data centers provide clients with a number of cloud services including infrastructure, disaster recovery, backup hosted voice and business application services.
Service with Care
Venture serves a broad customer base that includes clients in the public sector, retail, state and federal governments and large enterprises, such as the states of Mississippi and Colorado, Saks Fifth Avenue, Delta Air Lines Inc. and The University of Alabama at Birmingham. "We generally serve the customers in our local market," Gibert notes.
One factor that distinguishes Venture's service, he notes, is its commitment to honoring its promises to clients. "We don't make commitments we can't keep," he says. "We're very pleased about the way we're able to differentiate ourselves in the marketplace."
Venture accomplishes that through teamwork and by making sure it is responsive to its clients' needs. "From the smallest detail all the way up to the largest endeavor, we treat those with care," he says.
Its workers also make sure that projects are 100 percent completed to clients' satisfaction. "Our customers respect that," he says. "We stay with it until we're done, we've got a total sign off and value is being received by our customers in the investment they made in the solution. Ninety-nine percent complete is not complete."
Each project and solution that Venture provides, he adds, is custom. "It's not like there's one task to do," Gibert says. "There are millions of unlimited permutations of [our service]. That makes us stand out. It's how we meet customer needs."
Big Deals
Venture's latest work for clients, Gibert notes, has primarily consisted of hyperconvergence technology involving servers, storage and virtualization technologies. "We have lots of big projects where customers are transitioning to these new platforms," he says.
"It's a big undertaking, especially for customers with multiple sites," he says, noting that Venture often takes on security projects for clients who need to introduce new technology to protect their data assets.
"At any point in time, we've got about 60 field engineers deployed on projects that are constantly working on implementing these systems," he says. "It's a constant effort."
A Simple Formula
Gibert is proud of Venture and finds its work satisfying. "For me, it's about seeing so many people that are employed here succeed and achieve their goals both financially and at work," he says.
Many, he adds, have been with Venture for up to 25 years. "There's a couple that have been here as long as I have," he says, noting that Venture earns this loyalty through a very simple formula.
"We treat our people right, they treat our customers right and that treats our company right," he explains, adding that Venture makes sure it is fair with employee benefits and compensation.
This helps Venture stay strong in an industry where the demand for talent far exceeds the supply. "We try to maintain a culture that's consistent," he says. "People like certainty, they like faith and they like consistency."
When hiring, he notes, Venture often looks for applicants through social media and word of mouth. "We also engage a number of recruiting and talent groups in our industry," he says. "We scour the country."
Good Things
Gibert takes pride in the work that Venture has done. It has benefited thousands of clients, allowing them to achieve excellence and produce value. "That's always given me a great deal of satisfaction," he says.
The future is bright for Venture Technologies and its industry, Gibert says. "We will continue to ride the wave of innovation and continue to scale and grow the company," he predicts.
It also plans to keep adding to its staff and add acquisition targets that will put it in new markets while acquiring new technologies and solutions. "That's where I see the company going," he says.
"We see so many technologies that are being spun up right now," Gibert says, noting that these include security technologies. "[There are] really just a lot of different initiatives and good things happening."