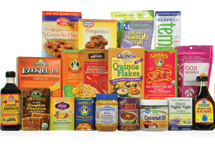 One of the reasons for the success of online retailing is the convenience factor – shoppers can find practically every kind of product at the click of a mouse and in the comfort of their own homes. For one leading online retailer, making the shopping process even easier – particularly for frequent customers – is a high priority.
"We're working to create a seamless experience for our customers who buy large orders, across multiple categories," says David Zucker, chief marketing officer of Vitacost.com. "We want it to be easier for people to spend part of their wallet share on consumables here at Vitacost.com, and for that to happen, we want to create a process that feels effortless."
Changes to the website will make it easier for customers to search products and place multiple products in their online shopping carts. These upgrades also will be reflected on the mobile version of the site, allowing customers to buy multiple products online wherever they go, he adds.
Another improvement targeted for the Internet and mobile sites is added product information. "The biggest difference between a brick-and-mortar store and an online store is that, in a brick-and-mortar store, there are customer associates who can answer questions shoppers have about products they're not familiar with," Zucker explains. "We're looking for content that is searchable and easy to understand."
'Value and Selection'
Based in Boca Raton, Fla., Vitacost.com is an online retailer of health and wellness products. The company carries nearly 40,000 SKUs including vitamins, minerals, herbs and other botanicals, organic food, amino acids and metabolites, cosmetics, organic body and personal care products, pet and baby products, sports nutrition and eco-friendly home products. The site carries its own proprietary line of products as well as major healthy living brands at discounted prices.
"Our success can be attributed to a pretty simple consumer proposition of selling great products at great prices with a superior customer experience," Zucker says. "All of the major third party products and brands we carry can be found on other sites or at brick-and-mortar stores, but we have the best prices on these products. We believe we beat our competition both in terms of value and selection."
Vitacost.com regularly joins forces with vendors and brand partners in promotional efforts. The company's website features celebrity testimonials from spokespeople representing brands it carries. The company also partners with competitive athletes and other well-known experts to create product videos which are filmed in a studio in its Boca Raton headquarters, Zucker says.
The company also offers vendors targeted marketing opportunities to reach customers who view, but don't purchase, certain products. "I can go to the vendor and ask if they want to offer a special promotion just for people who looked at items but didn't buy them," he adds. "That's something you can't do in a brick-and-mortar store."
A Comfortable Culture
Vitacost.com was founded in 1994 as a catalog retailer of third party vitamins and dietary supplements. The company launched its vitacost.com website and its own line of proprietary products in 1999. The company, which went public in September 2009, phased out its catalog business in 2011. The next step in Vitacost.com's development is its continued reach into the international marketplace. The company ships products to 42 countries, with plans underway to expand that reach.
The company saw a major change to its business after the arrival of CEO Jeff Horowitz in 2010. One of Horowitz' first priorities was to jump start new product development for proprietary products which account for less than 20 percent of total company sales. The company added 175 products in 2011 and is on track to add a similar amount for 2012. In addition, Horowitz focused on diversifying the company's product mix by increasing its selection of food, beauty and sports nutrition items. These complementary healthy living categories are now the site's fastest growers, Zucker notes.
Along with the shift in focus came a substantial change in the company's culture. "As we've shifted from an old-fashioned catalog company to a more high-paced Internet company, we've needed to manage our resources and talent in a manner that suits that new pace," he adds.
This included changing the physical layout of Vitacost.com's headquarters. The company removed cubicles and converted executive offices into team rooms, placing all employees in open spaces at long tables to encourage interaction.
"My personal management style is extremely transparent – I am very straightforward and direct," Zucker says. "We're a culture that's very comfortable with learning, and we believe that when we make mistakes, we learn from them, jettison them and move on to the next thing."