Vizio Continues to Lead as the #1 Selling LCD HDTV Brand and #1 in Sound Bar Sales for Q1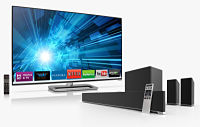 May 29, 2013 – Vizio has announced its Q1 2013 results, showing continued industry leadership as the #1 seller of LCD HDTVs with built-in Wi-Fi, selling over 3.2 million Smart HDTVs since 2010. With an HDTV portfolio that now includes Smart TVs with built-in Wi-Fi in all size classes from 24″ – 80″, Vizio's leadership extends beyond LCD HDTVs into the audio category where Vizio has remained the #1 in Sound Bar Brand in the U.S. from 2011-2013.
Since 2010, Vizio has demonstrated its prowess to deliver high-quality technology at a great value to the consumer. Evident by the brand's positions as #1 Smart HDTV brand in the US for Q1 2013 and #1 Sound Bar brand in the U.S. for Q1 2013, Vizio remains firmly positioned in the upper echelon of consumer electronics manufacturers with leading products and customer acceptance.
"Consumers are looking for home entertainment solutions that give them the most options, best picture, and best sound quality which is why they are gravitating towards large screen and connected TVs, and audio equipment such as sound bars," said Ben Arnold, Director of Industry Analysis at The NPD Group. "These categories are seeing tremendous success in the market."
Continuously the number one choice by Americans at retailers nationwide, Vizio recently launched its M-Series Smart TV collection which is now available at Best Buy, Costco, Sam's Club, Amazon, Walmart.com, Vizio.com. Featuring an ultra-modern, ultra-thin bezel that virtually vanishes next to the nearly edge-to-edge display, Vizio's enhanced HDTV line-up demonstrates the brand's leadership in HDTV technology and design-focused enhancements.
"Vizio's focus has always been to make the best technology accessible to all consumers and over the past six months, we've looked to build on this by expanding our market share in the large-size category," said Matt McRae, Vizio Chief Technology Officer. "In addition to Vizio's #1 rank in both LCD HDTVs and sound bars, we are now also America's #1 large size HDTV company as the leading seller of 60″ and larger HDTVs in the U.S. with 30% of the market in this class, validating our approach and demonstrating that VIZIO products continue to resonate with a growing number U.S. consumers."