VTech Expands Award-Winning Switch & Go Dinos Line With The Introduction Of Voice And Motion Activated Dinosaurs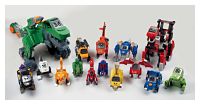 Aug. 29, 2013 – VTech (www.vtechkids.com) today announced the availability of brand new Switch & Go Dinos. This evolving line of innovative, award-winning toys combines two of children's favorite playthings – dinosaurs and vehicles – with a cool transformation feature. Offering an exciting new voice-activated dinosaur, a range of dinosaurs with motion activated lights and sounds and cool new vehicles such as a jet fighter, helicopter and construction crane, the Switch & Go Dinos come in a variety of price points for every budget. They are now available at www.vtechkids.com, Amazon.com, Target.com, Toysrus.com and Walmart.com. In addition, parents can visit www.facebook.com/vtechtoys for a chance to win one of the new dinos.
"Dinosaurs continue to capture kids' attention year after year, but when we combined them with vehicles and developed our Switch & Go Dinos, they really came to life, opened up a world of imagination and sparked creativity," said William To, President, VTech Electronics North America. "We are excited to expand our collection, and continue to introduce innovative, new dinosaurs and technology that will thrill and engage kids."
Led by the king of the dinosaurs, the new line of Switch & Go Dinos includes Jagger the T-Rex, a ferocious beast that walks and responds to 20 different voice commands with voice recognition technology. Towering at 16″ tall in dinosaur mode, Jagger easily converts into a cool construction vehicle with movable crane that can extend, rotate and lift.
Blister the Velociraptor may be smaller in size, but kids can help him soar to new heights when they transform him into an awesome helicopter with a powered propeller and a motion sensor that responds to movement with realistic helicopter sound effects. Additional new dinosaurs start at $12.99, each with their own cool features, including motion-activated lights and sounds in both dinosaur and vehicle modes and interesting facts about each dinosaur, providing kids with a fun and enriching playtime.