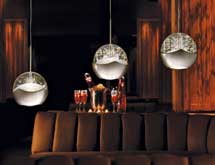 By running its lighting fixture manufacturing and design business with strong family values, this company has achieved sustainable success. The phrase responsible lighting isn't one you hear often, but it's a major focus for WAC Lighting Co. Founded more than 25 years ago, the company recently won New York House's Innova-tive Green Design Award for its LEDme Downlights, building on its heritage as a leader in lighting sustainability.
Shelley Wang, president of the company her parents founded, said the recognition is not only an exciting event for the company, but also a sign that she and her team are doing something right. "We strive to develop products that hit the sweet spots in the market," she said. "This award recognizes that the market is as excited about our products as we are."
LEDme Downlights use the latest energy-efficient LED technology, offering a potential LED life of 50,000 hours, and the rest of the LEDme collection is just as impressive. LEDme Recessed Luminaires are designed to provide precise thermal and optical performance, and each WAC Lighting LED fixture uses up to 85% less energy than standard incandescent bulbs.
The excitement generated from the award, said Wang, puts more energy into the market research behind the benefits of LED lighting, of which WAC Lighting is a proponent. Recognized last year for being a socially conscious visionary, Wang received Residential Lighting Magazine's Industry Leadership Award at the American Lighting Association Conference.
"Certainly as an upscale decorative lighting company, it's nice to apply what we've learned about building a top-grade product and make it readily available in an energy efficient option," she said. "It's nice that the market is ready to receive what we have to offer."
Dive in deep
Responsible lighting has been a focus for WAC Lighting since the 1980s and '90s and played a major role in developing the company's brand. At the time, energy efficiency through the use of low voltage was a hot topic, and the company embraced the chance to dive in deep.
"We leverage the capabilities new light sources present, whether it was the MR16 lamp back then or LED technology now," said Wang. "Our customers have grown accustomed to looking at us as a resource for new lighting technologies because they know once we embrace a new venture, we'll back it up to make sure they can be successful with it."
WAC Lighting prides itself on listening to the concerns of its customers and building solutions to their problems into its products. And although sustainability is a focus, it's not the only focus. Case in point: the company's venture into the development of electronic transformers.
For many years, the company has designed, engineered, and built its own line of electronic transformers. Unlike many suppliers that outsource transformers and other power supplies from companies solely focused on component manufacturing, WAC Lighting is vertically integrated, incorporating transformer development into its total lighting solution platform.
"Our goal was to make a complete niche system that better met the needs of our customers," said Wang. A major complaint from customers about low voltage lighting centered on problems that occurred when transformers failed. To replace a transformer is a time-consuming task that is often expensive and always inconvenient.
"Customers told us it would be great if they had more time to troubleshoot, to safely figure out the installation problem, before the transformer burnt out and had to be replaced," said Wang. "We put that request on the chalkboard when we engineered and designed our next generation of Smart transformers."
Customers also wanted the ability to solve problems over the phone because as soon as they had to send someone to the field to figure out what had gone wrong during a transformer installation, they lost money. By building diagnostics to help customers troubleshoot over the phone, WAC Lighting solved the problem and rolled out its Electronic Smart transformers.
"We can now guarantee, under the duress of a short circuit installation error, that the customer has at least eight hours to figure out what went wrong as opposed to the traditional 10 to 15 minutes before the transformer burns out," said Wang.
WAC Lighting's standing as a holistic lighting manufacturer played a role in the development of its next generation transformers because unlike transformer-focused manufacturers that focus on selling more product, the company only wanted its customers to be successful with low voltage lighting. By incorporating customer feedback into the next generation of products, it did just that.
"Our customers range from electrical distributors to retail showrooms," said Wang. "When they get constructive feedback from contractors, it's our job to make those problems go away."
Defining core culture
Over the past year, WAC Lighting has focused more on R&D, design, and organic LED fixtures. Earlier this year, the company introduced LEDme Quick Connect Socket Sets, which transform art glass pendant designs from a previous series into LED fixtures.
The company also introduced LEDme Quick Connect Glass Pendants featuring those same socket sets and highlighting WAC Lighting's decorative capabilities. The Umber Rhea pendant is hand-blown cased glass, textured and mottled with color frits. The Fiore features Millefiori glass fused by Italian artisans, and the Turquoise Komal pendant showcases ethereal and delicate art glass design.
"We're expanding our breadth as a company," said Wang. "We focus on serving the specification market, and the higher performing products make that possible."
WAC Lighting built up its technological and research core competencies, enabling it to develop a robust product assortment and evolve its burgeoning transformer business. Handling these functions inhouse when competitors are outsourcing illustrates the company's ability to bring more to the table than most lighting manufacturers, but the human resources backing it all up are what make the greatest difference.
In the last decade or so, through continuing education, support, classes, and programs, WAC Lighting has put many people, including a great number of employees, through college in the US and abroad. For years, Wang said, the company's motto has been that good family values make good business values. Educating employees is just another way the company takes responsibility for all aspects of its business.
"That motto freed us up to build the kind of facility, manufacturing campus, and sales organization we can be proud of and to make some of the decisions you probably wouldn't find in most corporate environments," said Wang. "It's those decisions that define our company culture."