Walmart Launches Online Site That Connects Shoppers with Products Supporting Small Women-Owned Businesses Around the World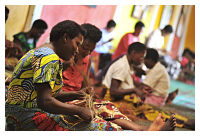 March 7, 2013 – Walmart today launched an online destination on Walmart.com that gives shoppers who want to buy unique and interesting products the opportunity to do so while supporting small women-owned businesses around the world. With each purchase, consumers lift and empower the women behind these products to create new jobs and improve both their own lives and the lives of their families and communities. At launch, Empowering Women Together will offer shoppers more than 200 items from 19 businesses in nine countries.
"Empowering Women Together is a simple concept; it connects shoppers in the United States with quality products made by women-owned businesses around the world," said Andrea Thomas, senior vice president, Walmart. "And in doing that, it helps achieve so much more. Through Walmart's Empowering Women Together, customers can help these suppliers increase their incomes, better their lives and create new jobs for others, and Walmart can help these suppliers gain experience with buying trends, scaling, product development and acumen they need to build their businesses."
"As merchants, we're always looking for new products to share with our customers that are quality, on-trend and priced right," said Kelly Thompson, senior vice president of merchandising, Walmart.com. "The products from the Empowering Women Together collection deliver all of that while also giving our customers the chance to do good with their dollars – it's a positive and powerful proposition for everyone."
Empowering Women Together will be part of Store for Good, a developing Walmart.com program dedicated to connecting consumers with products that do good for other people, for themselves, or for our environment. The initiative will grow and potentially include eco-friendly products and healthier food options.
Each of the businesses participating in Empowering Women Together is fueled by women with inspiring stories. No two stories are alike. Challenges such as poverty, lack of education, domestic abuse and physical limitations are common. What each supplier shares is a drive to build a better future. Empowering Women Together will give Joy Ndungutse, an entrepreneur in Rwanda, and many women like her around the world the opportunity they never thought they'd have – to begin or greatly expand their access to shoppers in America.
"From a humble beginning under a tree in a remote village in Rwanda, my sister and I founded Gahaya Links after the devastating 1994 Rwanda Genocide that left over 1 million dead," said Joy Ndungutse. "We organized about 20 women with a vision of empowering them to enhance their weaving skills, to be able to earn an income, and live adequately by community standards. Today we are a growing network of over 4,000 women, the majority of whom are genocide survivors and are organized in cooperatives throughout Rwanda. Through our partnership with Full Circle Exchange and opportunities such as Empowering Women Together, this platform gives hope to many families in Rwanda and we are so grateful."
Empowering Women Together is also dedicated to helping U.S.-based women-owned businesses grow and expand their distribution. Nine of the initial 19 Empowering Women Together businesses are U.S. based.
"Women's Bean Project was inspired while our founder volunteered at a local women's shelter," said Tamra Ryan, CEO of Women's Bean Project. "The women she met wanted to work their own way up and out of poverty, but didn't have the skills to find or keep work. So, she decided to start a business to teach them how."
From an initial $500 investment and two employees, Women's Bean Project has grown to employ hundreds with an operating budget in excess of $2 million and products that include salsa mixes, spice rubs, coffee beans, soups, chili, gift baskets and jewelry. "Women's Bean Project does more than produce great merchandise; it teaches women job readiness and life skills, and helps them with their basic needs to build a better life – that's what has fueled our success."
In addition to merchandise from Gahaya Links and Women's Bean Project, the inaugural Empowering Women Together collection also includes jewelry from Peru, Rwanda, Kenya and the U.S.; home accessories from Rwanda and Haiti; paper mache from Haiti, apparel and accessories from Rwanda; iPad and laptop cases from Cambodia and Nepal; coffee and tea sets sourced globally and made in America; and specialty foods made in America and Canada. The full collection can be viewed online at http://www.walmart.com/empoweringwomentogether.
To help empower the women behind these products, Walmart is applying the same model for making a difference that it has used to take on other social issues such as hunger, accessibility to healthy foods and sustainability. An important part of that model is partnering with organizations that share the same goals and bring expertise and leadership to problem-solving. Walmart's initial partners for Empowering Women Together include Full Circle Exchange and Global Goods Partners.
"Walmart and Full Circle share a common mission to empower women through commerce, allowing them to work their way out of poverty in ways that are both sustainable and dignified," said Mark Priddy, CEO and cofounder, Full Circle Exchange. "By focusing on poverty reduction through job creation and access to global markets, we believe that, when equipped with the proper resources, women have the power to help lift whole families and entire communities out of poverty."
"Our goal is to help strengthen women-led development initiatives for marginalized communities in Asia, Africa and the Americas," said Jennifer Gootman, executive director of not-for-profit Global Goods Partners. "Women all over the world are overcoming enormous challenges to join together and support each other in small business enterprises to better themselves, their families, and their communities."