Warren Buffett's Secret Millionaires Club Intros 'Business in a Box' at Toys"R"Us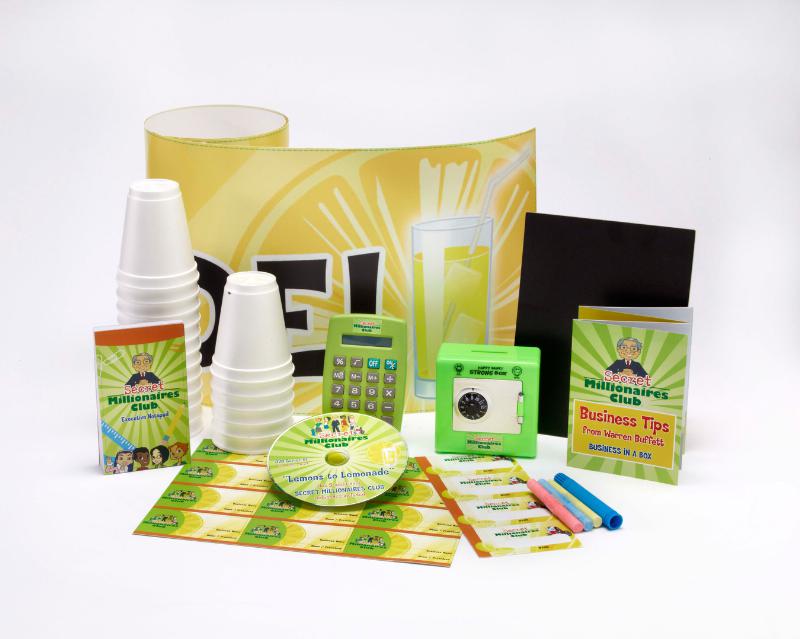 Oct. 15, 2013 – Warren Buffett's popular television and online series, Secret Millionaires Club, continues to expand with the introduction of Business in a Box, an all-new product from A Squared Entertainment that teaches kids the fundamentals of financial literacy through interactive play. The kit includes toys, activities and DVDs, and is now available for preorder exclusively at Toysrus.com and will be rolling into stores later this month.
Business in a Box, created in partnership with toy company TCG, will launch at Toys"R"Us with two kit options, which provide children with everything they need to create a lemonade stand or a car wash, including a DVD with episodes from the animated Secret Millionaires Club series, as well as a booklet with business tips from Mr. Buffett himself.
Following the success of its first home entertainment release, Gaiam Vivendi Entertainment introduced Secret Millionaires Club: Volume 2 on DVD September 10. The animated series teaches kids how to invest in themselves with realistic life lessons about earning and saving. Secret Millionaires Club: Volume 2 DVD includes six episodes plus six webisodes as added Bonus Material for the suggested retail price of $14.93. All 26 episodes of Season 1 are currently available digitally everywhere.
The announcement of Business in a Box and the Secret Millionaires Club: Volume 2 DVD follows recent news of the new book, "Secret Millionaires Club: Warren Buffett's 26 Secrets to Success in the Business of Life" by co-Authors and co-Executive Producers on the animated series, Amy Heyward and Andy Heyward. The book, published by Wiley, features all of the same lessons featured in the animated series. Chapters include, "Don't Be Afraid to Make Mistakes;" "Love What You Do;" "Protect Your Reputation;" "If You Fail, Try Again;" "Confidence Comes With Understanding;" and many other lessons from Mr. Buffett, which he credits his own success in life. Available at Amazon.com
"We created Secret Millionaires Club with Warren Buffett to help prepare kids to live happy, successful lives," says A Squared Entertainment CEO, Andy Heyward. "We've found ways to make it fun for kids to understand business and to build the confidence to think like entrepreneurs while learning valuable life lessons that can be key to future success."
Secret Millionaires Club, created in partnership with and starring an animated Warren Buffett, features a group of kids who have adventures in business. Secret Millionaires Club empowers kids by helping them understand the world they live in, teaching them about the impact their decisions have on their own lives…and teaching them to have the confidence to be the best they can be. The series airs on the Hub Network. Tune in on Sunday, Oct. 20 at 9 a.m. EST/6 a.m. PST for a new episode of Secret Millionaires Club titled "The Final Financial Frontier." The episode will encore on Monday, Oct. 21 at 11 a.m. EST/8 a.m. PST.