WAT-AAH! Announces Its Partnership With Teen Pop Sensations The OMG Girlz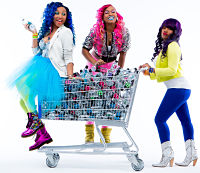 March 11, 2013 – WAT-AAH!, a line of premium functional water for kids and teens, known for its "cool + healthy" messaging, announces its partnership with teen pop sensations the OMG Girlz. The OMG Girlz are the first of several teen celebrity brand ambassadors planned by WAT-AAH! for a multi-faceted, national TV, retail, print and digital campaign in 2013.
Since the brand's inception in 2008, it has become one of the fastest growing water brands in North America, continually tapping into music and pop culture as integral strategy to making water cool and relevant to kids and teens. Recently profiled in Forbes for its growing market success and smart strategy to keep kids away from sodas and sugary drinks, WAT-AAH! has been the exclusive beverage partner of NABEF and Beyonce's "Let's Move! Flash Workout" both in 2011 and 2012. The brand has also sponsored events featuring young celebrities including Willow Smith, Cody Simpson, Diggy Simmons, Jacob Latimore and many others. WAT-AAH! now announces a full blown campaign featuring some of today's brightest young stars starting with the OMG Girlz.
"WAT-AAH!'s partnership with the OMG Girlz is a natural fit and has been since we began working with them in 2012 during The Scream Tour," says founder and CEO of WAT-AAH!, Rose Cameron. "The OMG Girlz are inspirational to kids – they're fun, energetic, hard working and love drinking water. They understand that as both celebrities and role models, they have a unique opportunity to influence kids to make healthy choices and steer them away from sugary sodas and juices," she adds.
WAT-AAH! kicks off this exclusive partnership immediately by launching a limited edition OMG Girlz designed bottle with proceeds going to the group's charity, OMGCares. The OMG Girlz will also participate in WAT-AAH!'s "Healthy Hydration in the Nation Tour" to spread the message of healthy hydration to school kids across the U.S., as well as celebrate WAT-AAH!'s "Move Your Body" event celebration, organized to encourage kids and teens across the country to dance, exercise and drink healthy. Furthermore, they will participate in WAT-AAH!'s national web-based youth talent show titled "Show Me WAT-YOU-GOT!" as official judges. Lastly, the girls will be featured in the brand's national back to school health and anti-obesity PSA campaign alongside multiple teen celebrities across TV, print and digital platforms this fall. Together, WAT-AAH! and the OMG Girlz will collaborate in what is expected to be a breakout year for the group, with various cross promotions involving their upcoming album launch, music videos, national tour dates and social media presence.