Kansas, which had only become a state in 1861, would likely be unrecognizable to a contemporary citizen.
"There were no cars, there were civil war veterans all over the place, no electricity and long-distance travel could only be done by train or horse," Waters says.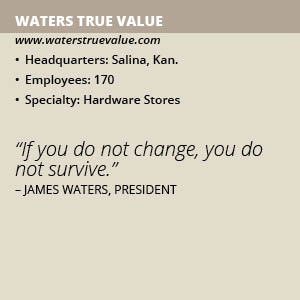 In 1905, G.E. Waters moved to Junction City and opened up the first Waters hardware store, which remains in business. "Very early in our existence we were a car dealer and an implements dealer," Waters says. "At one point we sold furniture and at one point we sold guns.
The company survived the Great Depression. "After World War II, there was more demand than product available," Waters says. "It was a total shift in the thinking process. In the Great Depression, people still wanted stuff, they just didn't have the money to pay for it."
A Good Partner
"If you do not change, you do not survive," Waters says. The Waters hardware stores have changed a lot over more than a century. In the 1950s and 1960s, the store sold sporting goods, Toro lawn mowers, guns and furniture. That era started as a joint effort between Bob Waters and a cousin but eventually the furniture aspect was spun off into its own business, which the cousin took over. During the time of Jim Waters' father, Bob, the ledgers were handwritten and inventory was managed manually. Today it's done by technology.
In the mid 1960s, Waters Hardware became a True Value cooperative owner. "True Value has been a pretty good partner," Waters says. "It's helped us figure out what type of merchandise to carry. Take light bulbs. The compact florescent light bulbs of just a few years ago are gone. The LED bulbs of three to four years ago are improved. If you haven't restocked in the last six months, you probably need someone to help."
Jim Waters joined the family business after graduating from college in 1972. In 1973, the company opened its second store in Salina, Kan. Over the years the store changed addresses and expanded in Salina. Today Waters True Value has seven locations.
Reaching Customers
One challenge is how to communicate with existing and potential customers. Past methods – newspapers, home phone and television – are not as effective, Waters says. "We're still working on it," he adds. "When you have them in the store and get a chance to talk to them, you really have to talk to them. You really have to understand them and what they need."
Online competition is also a concern. "It's a big competitor and it's not going away," Waters says. "It's much more of a threat than big-box retailers 10 years ago."
Waters True Value offers a deeper selection of goods – albeit in a narrower range – than big-box stores. "For instance, we have a better selection of hole saws than the big box competition," Waters says.
He adds, "We are trying to figure out things we can do really well and concentrate on doing those better. Waters says. Those include paint, plants and rental items."
Great People
Turnover is lower than average at Waters True Value. "We've been blessed," Waters says. "They just seem to care. I tend to have young people who work for me who really want to do a great job."
Waters prefers that employees stick around. "It takes a person a long time to develop the skills to talk to a customer and understand what they need and to know enough to provide value to customers," Water says.
Part of retaining employees is how management treats them. "When someone does something right, let them know you appreciate them," Waters says. "Tell them thank you. When they are not doing things right, you need to correct them in a way where they learn and do things better. We are working on developing those skills. 401(K) and health insurance are nice, but if you don't have the skills to say thank you or correct poor behavior in a sensitive and caring way, I think you can offer the other stuff and it won't make any difference."
Finally, management has to listen, too. "If you get disagreements, you get good decisions," Waters says. "I encourage people to voice their opinions. I love them to wake me up to something I haven't seen."
'We Are Listening'
Marketing is more shotgun than rifle. "We don't have a magic bullet," Waters says. "We do Every Door Direct print advertising and are trying to get better on Facebook. We have a young lady who does marketing. When someone leaves a review for us on Google, she responds. We want our customers to know we are listening to them and are always trying to improve."
Waters True Value also take part in True Value Rewards, a loyalty program that supplies addresses for many of their customers, allowing Waters True Value to more carefully target its direct mail advertising.
As for the future, Jim Waters is not particularly concerned with the next 125 years of Waters True Value. "We're trying to figure out what we are doing today," Waters says. "Right now, it's a matter of how we can fit in this market place."