Keeping up with its customers has been a key tenet of the company since it was founded in 1931. Back then, Weigel's was a milk producer with four dairy cows on a 600-acre farm selling raw milk in 10-gallon cans. William Weigel Sr. began bottling pasteurized milk in 1935 and the company soon built a home delivery service.
By the middle part of the century women began entering the workforce and the home-delivery business eroded without anyone home to receive the milk. The Weigel's responded to the market shift by opening Jug O Milk, a drive-in milk depot, in 1958. Current CEO Billy Weigel expanded on that idea when he opened the company's first walk-in milk store in 1964, which became one of the first convenience stores in Knoxville, Tenn.
The convenience store business has grown steadily in the ensuing decades. The company that had four employees in 1958 now has about 850 team members spread out over 63 stores, a dairy processing facility and a bakery. Despite those changes, it continues to be owned by the Weigel family, now in the fourth generation.
The company is celebrating its 85th anniversary with a campaign focused on surprising and delighting customer by introducing new products such as a line of premium chocolate bars made in the United States. "We are an innovator in our market, continually overhauling the current model to satisfy our evolving customer expectations," CEO Bill Weigel explains.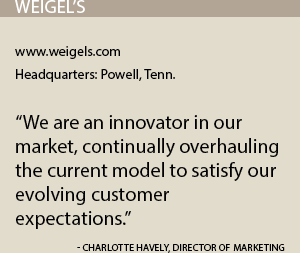 Community Stores
Much of Weigel's success in building a customer base can be credited to the company's involvement in the Knoxville community. "Our stores serve as a place where neighbors are serving neighbors throughout greater Knoxville," Havely explains. The Weigel family has always seen the business as a way of bettering the lives of others. "We're a strong part of each community we're in," Havely adds.
Two initiatives in particular deliver on that community promise. Weigel's Family Christmas is a collaboration between Weigel's and the Salvation Army to help disadvantaged families celebrate Christmas. Each holiday season since 1999, the company has provided $150 donations to each of 200 children selected by the Salvation Army. A force of about 400 volunteers then takes those kids on a shopping spree in local stores to fill out their Christmas wish list. The program has helped about 3,200 children during the past 16 years, Weigel says.
Another Weigel's community program has been running throughout the company's history. Weigel's sponsored the Milk Fund that provides dairy products and food supplements to children and elderly citizens in the Knoxville area. The program continues today and is funded through a portion of coffee, eggnog and cappuccino purchases during a limited period each year.
Weigel's matches its local involvement with strong customer service values to create a welcoming shopping experience. "It's not just about what we give back to the community; it's the everyday level of service we provide," Weigel says. The company instills its golden rules into every store employee: greet each customer, thank each customer, get to know your regulars by name, do not delay your customer and apologize for any delay, and accept and handle customer complaints with interest and urgency.
Staying Ahead
McMullen says Weigel's has never operated like a typical convenience store. The idea is to create a premium look and offer high-quality products not often found in c-stores. Locations have a modern design and are kept clean, fresh and brightly lit. The food items inside are carefully chosen to exceed expectations.
Milk continues to be an important part of Weigel's DNA. The company sources its milk from east Tennessee dairy farmers. At the dairy, the milk is only cold pasteurized the old-fashioned way, allowing it to retain its natural creamy flavor. Being a small and local dairy, the company's localized supply chain is able to bring the milk from farm-to-store within 24 hours.
Freshness is an important part of Weigel's strategy. The company opened its own bakery, Red Barn Foods, in 2014. The 12,000-square-foot facility makes daily delivers of donuts, cookies and muffins to Weigel's locations throughout the region. The company is now expanding on that fresh concept with Weigel's Kitchens inside some locations.
At the end of 2014, Weigel's began introducing digital touch-screen kiosks where customers can place an order for a custom sandwich or pizza. Employees then prepare the meal fresh on site as the customer shops the store. Weigel's Kitchens kiosks are now available in five stores and will be a part of all future stores and remodels.
Between 1999 and 2015, Weigel's invested more than $120 million in new store builds, opening about 40 locations. That process will only speed up in the coming years as the company expands.