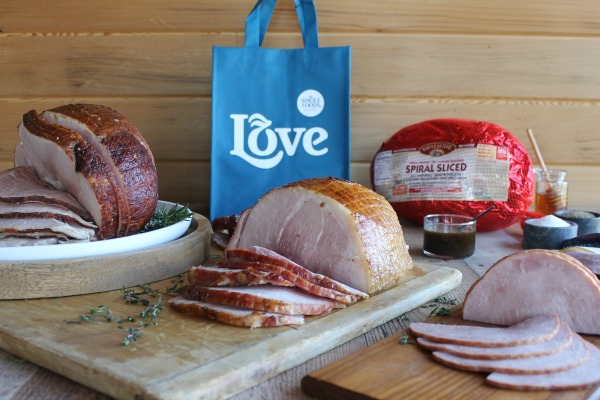 Wellshire Farms pioneered the movement away from over-processed meats. By Tim O'Connor
Few people knew what "clean eating" was in the mid-1990s when Louis Colameco started the company that would become Wellshire Farms. Organic foods were still a small market and families didn't look as closely at nutrition labels.
But Colameco had a vision for selling meats free of preservatives and antibiotics. After some initial success selling spiral sliced holiday hams with his father, Colameco founded his own company focused on all-natural meat and deli products. "I wanted a better way for my kids to eat, my family to eat, and I realized it could be done," he says.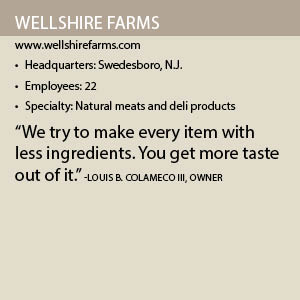 It took nearly two decades, but food producers and consumers now see what Colameco was onto back in 1996. The U.S. organic food industry reached $43.3 billion in revenue in 2015 – an increase of 11 percent from the year before – according to the Organic Trade Association's 2016 Organic Industry Survey.
That explosive growth has helped lift family-owned Wellshire into its place as a national brand. "It's fast becoming the norm," Colameco says of the all-natural market. "It's exciting for me to watch everybody catch up, but it's also challenging because you have to come out with the next thing."
Ensuring Integrity
The company's first office was located in the Colameco family's unfinished basement. Jessica Colameco, the company's vice president of marketing, was seven when her father started Wellshire, and she remembers him traveling often as he built the business.
But his determination and diligence paid off as all-natural foods went from a niche market to a mainstream trend. "It was inspiring to see somone be ahead of their time, and also watch the struggle they go through," Jessica Colameco says of her father.
Wellshire procures its meat from small, family-owned livestock farmers and works with manufacturing facilities to process the meat into store-ready products. All of the formulas and spice blends that go into each product are developed in-house, following a philosophy of using minimal ingredients.
Its bacon, for example, is dry rubbed and is not pumped with water like many competing brands. "It's bacon the way it should be and you can definitely tell the difference," Jessica Colameco says.
"We try to make every item with less ingredients," her father adds. "You get more taste out of it."
Since its early focus on ham, Wellshire has expanded its lineup to include sliced deli meats, smoked sausages, breakfast meats, liverwurst, barbecue meats and even chicken nuggets. The common thread among all those products is Wellshire's commitment to all-natural meats free of preservatives, antibiotics and growth hormones with no added nitrates or nitrites. Meat suppliers must also raise their livestock using animal-friendly practices.
Wellshire uses a third-party auditor to review the animal welfare and sanitation practices at each of its suppliers' farms and its processing plants. It also has its own quality control department to review reports and to verify that any necessary corrective action has been taken. "It's not just about the food," Jessica Colameco says. "It's about practicing what you believe and operating a clean and honest business from start to finish."
Educating Consumers
When Wellshire began, Whole Foods Market was one of the few retailers that shared its belief in clean ingredient and antibiotic-free foods. Whole Foods was one of the first major retailers to carry Wellshire products and in 2008 the grocery store asked Wellshire to become an exclusive brand for its nationwide stores.
The close relationship between the two companies helped Wellshire grow but the exclusivity limited its potential growth. To reach more retailers, Wellshire introduced Garrett Valley, a food brand that offers the same all-natural products as Wellshire. "Garrett Valley operates under the same core values and philosophy we've always had," Jessica Colameco says. The brand can now be found in MOM's Organic Markets, Sprouts Farmers Markets, Earth Fare and many other grocers that focus on clean eating.
"Our main goal with the Garrett Valley brand is educating the consumer new to the clean eating lifestyle, because we've been doing it for 20 years," she adds. Helping consumers understand how all-natural foods can benefit their diets and their health is the best way to turn them into customers. That is why the company sends representatives to stores to speak with consumers, and all 22 employees at the Wellshire office are trained in customer service.
Brochures and booklets are often included on Wellshire displays to help retailers explain the product to shoppers. Even the packaging is designed to educate buyers by including information on clean eating and animal raising practices. "We're always working on meaningful ways to educate the consumer," Jessica Colameco says.
Family Values
The transformation of clean eating into a mainstream trend has put Wellshire Farms on more plates across the country, but it's also fostered far greater competition. Larger food producers that once focused on shelf life and cost now offer all-natural product lines. Wellshire Farms must fight harder for shelf space and to differentiate its products.
The rising demand for all-natural products has also created supply issues. Vendors and processing facilities must grow alongside Wellshire to accommodate increased production. "Once we got in with those niche markets and started gaining traction it did create another level of challenges as far as resources," Jessica Colameco says. Luckily, the number of suppliers offering antibiotic- and hormone-free meats has also grown, giving Wellshire a larger base of farms to work with.
With more natural products on the market than ever before, Wellshire's adherence to integrity and family values continues to set it apart. Because it is a family-owned company, Wellshire is naturally drawn to working with other families.
To facilitate those relationships, Wellshire developed its own take on a co-op program, called Well-Op. The concept details a set of principles that Wellshire and its suppliers must share, such as a commitment to philanthropic activities, joint decision-making and an adherence to an all-natural philosophy.
In some cases, Wellshire introduced the clean eating, organic trend to its suppliers. "We don't make big runs of [product], so we really wanted to stick to our family philosophy and work with other small family businesses," Jessica Colameco explains.
Part of the appeal of working with other family-owned companies is an expectation that suppliers will work to better their communities, as Wellshire has done. One of the company's philanthropic efforts includes founding the Barbara A. Colameco Transportation Fund, a charity that provides rides for cancer patients who otherwise could not attend chemotherapy treatments. The fund is named in honor of Lou's late wife and cofounder of Wellshire, Barbara, who lost her battle with breast cancer in 2010. "We always try to do the right thing by the community and anybody else," Louis Colameco says.
The belief in making life better permeates every level of the company, from how Wellshire interacts with its customers to how it treats its employees. "At our company – if you were to visit – everybody has a smile, everybody has a desk by a window and everybody has the same chair as I do," Louis Colameco says of the atmosphere. "We have an attitude nobody else does and we live it every day."