Werner Gourmet Meat Snacks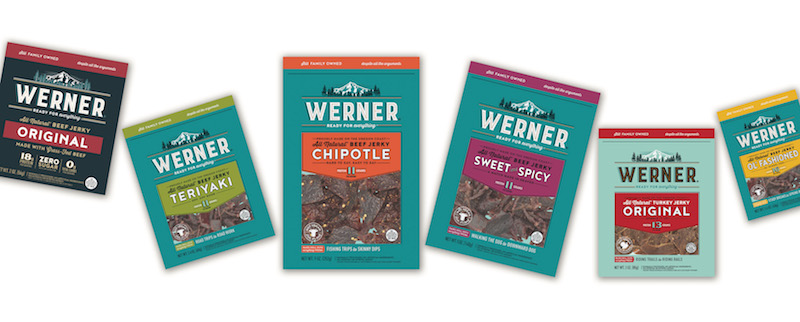 Werner Gourmet Meat Snacks Inc. marks its 25th anniversary with continued growth
while staying committed to product quality and development.
By Jim Harris
In 1994, Ken and Karla Werner began making beef jerky in the garage of their home in Tillamook, the Oregon coastal town in which they were each born and raised. Together, the couple personally processed and packaged their products, which they then distributed up and down the coast in their family minivan.
The Werners' direct involvement in all aspects of their products earned them a reputation for high quality. "We're known for having really high-quality products that taste really good," Marketing Director Lauren Seeger says. "Once you eat them, you'll be a customer and a fan for life."
The reputation of the company – now known as Werner Gourmet Meat Snacks Inc. – for great-tasting, quality products helped it grow from its origins as a two-person operation to today operating an 85,000-square-foot facility in Tillamook that employs more than 100 people. Ken and Karla Werner continue to own and manage the company along with their children.
"Our unofficial tagline is that we're 'still family owned despite all the arguments,'" Seeger adds. "As a whole, we operate with a family mentality. Everyone here is a part of the family and part of our growth."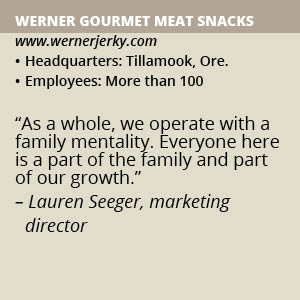 Although the company has increased in size and evolved its methods, its commitment to product quality remains the same. Each batch of jerky and other products is closely monitored by Ken Werner to ensure they meet his high standards.
Ahead of Trends
Werner Gourmet Meat Snacks' family origins, Oregon roots and commitment to quality are emphasized in its ongoing rebranding efforts. The rebranding, in celebration of the company's 25th anniversary this year, includes a new brand image and packaging inspired by the Oregon coast.
The company produces meat snacks including beef sticks and beef jerky in several different flavors, as well as trail mixes, nuts, seeds and candy. All products are being transitioned to the new look.
At the beginning of 2019, Werner Gourmet Meat Snacks shifted all of its jerky products to all-natural ingredient formulations. All products are minimally processed, contain no artificial ingredients or added colors, and have no added nitrates or nitrites. "Making that shift was our way of staying on top of consumer trends," Seeger says.
In addition to shifting all of its meat products to all-natural recipes, the company also introduced new products and reintroduced several of its lines. New products include turkey jerky as well as an all-natural, zero sugar, grass-fed beef jerky. "We're very excited about that," Seeger says, noting the new beef jerky is conducive to the keto, paleo and Whole 30 diets.
Product relaunches include packaging its 12-ounce mini sticks into twisted-end sticks in a resealable bag, and packaging its giant slab jerky into individually vacuum packaged pieces for enhanced freshness. Werner Gourmet Meat Snacks also recently added a "Sweet & Salty" mix to its trail mix lines, and gummy cherries and gummy orange slices to its candy line.
Ken Werner works very closely with suppliers on research and development of new recipes. "[Werner] works with suppliers to get the base we need, and works on the formulation with a series of tests to get the right taste and texture," Seeger says. "Product development usually takes six to 18 months, depending on the type of product and what it needs to be perfect."
One Step at a Time
Werner Gourmet Meat Snacks continues to grow. The company is expanding its manufacturing plant footprint, including increasing its cooking capacity. "We want to grow at a steady rate — we don't want to be too big, too fast and encounter growing pains," Seeger says. "The things we are doing now will help us be sustainable for the next 25 years and maximize our operational capacities."
For Sadie Werner-Rider, the company's vice president of business operations and Ken Werner's daughter, seeing her family's business expand during her lifetime has been "surreal."
"Every step along our expansion process has been strategic," she says. "I'm proud of how my mom and dad have grown the business."
SIDEBAR:
Safety Recognized
Werner Gourmet Meat Snacks' staff is committed to food safety and quality assurance. The company's staff includes a QA director and several food safety technicians who ensure all of its products comply with federal regulations and standards, Marketing Director Lauren Seeger says.
Last December, Director of Quality Beau Pulliam accepted the Food Science Professional of Year award from the North American Food Safety Coalition for his dedication to the advancement of food science. Award winners must be nominated by industry leaders and are evaluated based on their contributions to the industry through innovation, product launches and commitment to food safety and quality, the organization says.