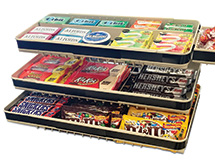 Consumers may not always notice wire racks that display retail products. But retailers who focus on marketing and product placement understand the critical role they serve.
Many of those retailers look to Wireline.net, a leading manufacturer of store merchandising accessories and point-of-purchase displays. The Hayward, Calif.-based company has built a reputation since 1965 for working closely with its customers to offer effective display solutions.
With 50 years of merchandising experience, the company is a leader in the industry. "We are relied on and trusted for manufactured metal displays," President Kyle Robinson says. "We've evolved in certain ways, but we've always been about merchandise." Wireline.net has adapted to market fluctuations by partnering with retailers and brand markets to develop display solutions to meet specific needs.
"It really starts with the retailer; they know the environment," Robinson explains. "Our clients are very sophisticated and understand the shopper. By being good listeners, Wireline helps execute merchandising concepts that serve as the action on key shopper insights."
Wireline.net offers both custom and standard wire merchandising solutions including wine towers, heavy-duty beverage merchandising units, basket displays, publication displays, bookracks, gift card racks and counter-top displays. The company also makes displays for hats, clothing and shoes.
Some competitors tend to offer broker services, which can obviously add cost, Robinson says. Others offer an import-only solution, which is not ideal for customization. Wireline, however, provides the flexibility of both domestic production and import solutions, which provide the best fit for any project. By having its own production facilities, Wireline's ability to collaborate overseas has proven to be a considerable strength, Robinson notes. This allows Wireline to be well rounded and serve as a one-stop resource for retailers. By being based in the United States, Wireline customers get experience combined with excellent customer service and solutions that work for them.
Change is constant, so having a marketing strategy that is aligned with that allows Wireline to have on on-going relationship with our customers."Each new product, new category, trend and seasonality requires retail flexibility and quick action," Robinson says. "We take pride in helping the retailer quickly adapt and adjust to consumer demand and changes in shopper behaviors."
Shoppers have taught the retail community and merchandising suppliers to be nimble, which is the key to successful merchandising, Robinson says. For example, one Wireline customer understood the opportunity for seasonal sales and wants to leverage impulse sales of new products and seasonal products, but did do not want to do a full reset. They identified a need for greater flexibility at the front-end of the store. Recognizing that there are certain time frames where they will benefit from merchandising more products, the client sought the flexibility to move the rack in "off" seasons. Wireline is working on a multi-purpose, folding- rack solution, which can serve many categories and provide the flexibility the client needs, Robinson says.
'Unique Merchandising'
Innovation is another key to Wireline.net's success. "Our design innovation team is constantly working on new ideas to help retailers be unique in merchandising," Robinson says. "As we all know, retail channels have blurred, and as a result it is harder to reach retail differentiation. The key is to understand what is different about your shoppers versus your competitors and focus on those areas to excel and be a leader and innovator.
"In a world of 'omni-channel' shopping, there is still loyalty to be had," Robinson says. "Any retailer can achieve it by understanding the shopper and why they come to that store, and catering the merchandising around those core truths."