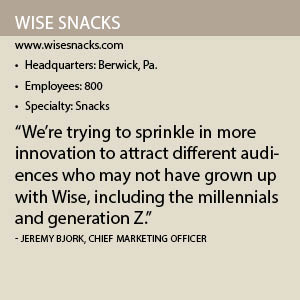 Ninety-seven years after its founding, Wise excels at making snacks and selling them through retail food outlets in 15 states, including Massachusetts, New York, Pennsylvania, Georgia and Florida, as well as Washington, D.C. Known for its variety of potato chips, some of its most notable products also include Cheez Doodles, Wise Popcorn, Cheez Waffies, Dipsy Doodle chips, onion rings, as well as french onion and nacho cheese dips.
The company's commitment to quality, "delighting" its consumers and remaining true to its roots have contributed to Wise Snacks' success, Bjork says. "Consumers love our potato chips because of their real potato flavor versus some of our competitors in the market," he says. "We've stayed true to our taste and what our consumers expect from us. However, now we're trying to sprinkle in more innovation to attract different audiences who may not have grown up with Wise, including millennials and generation Z.
"Additionally, we have a strong focus on catering to the Hispanic consumer given our heritage and that of our parent company," he continues. "Finally, we actively seek to expand our portfolio to adapt to consumer trends."
Captivating with the Core
Over the past three years, Wise has been very active "retooling our core brands given the size and importance of that portfolio," according to Bjork. "Package refreshes for Wise Chips, Wise Kettle Cooked, Wise Popcorn and Cheez Doodles were implemented to make these core brands more attractive to younger consumers as well as to better communicate key attributes of the product, such as Wise Popcorn now calling out key facts like calories per cup, air-popped and gluten free on the front of the package."
Additionally, Wise Snacks has focused on launching "innovation concepts" rather than just one-off new flavors. Wise aimed to launch "umbrella ideas" that would allow it to introduce different flavors at different times.
"This concept also allows us to invest behind building the concept and not necessarily the individual flavors that go into it," Bjork explains. "For example, we now have a sub-line that we launched last fall called Ridgies Tailgate Classics that helps us bring a little excitement to the brand on a seasonal basis."
Tailgate Classics are potato chip flavors inspired by the tailgate experience. "We have two flavors, Dry Rub Rib and Buffalo Wing," Bjork says. "They were very successful from a retail sales and consumer standpoint."
An antecedent to the Tailgate Classics idea for Wise is a line of products called Food Truck Favorites, which are flavors of potato chips inspired by real food trucks. Wise Snacks first launched Food Truck Favorites in 2016 with two regionally recognized food trucks and followed up again in 2017 by partnering with two new food trucks.
In 2018, Wise Snacks has teamed up with The Loaded Burger food truck in Atlanta for the Grilled Cheeseburger flavored item, and the Miami-based Ms. Cheezious truck for the Mackin' Cheese food truck favorite. The new products will launch prior to Memorial Day.
"This product line is a limited-time only offering and we partner with new food trucks every year," Bjork says. "The packaging has bright, vibrant colors and a logo of the food truck we have partnered with. On the back of the packaging, there's not only a logo, but also a picture of the proprietor(s), city they are based in, as well as their social media handle for those interested in finding that truck later."
He notes that he and Wise Snacks are big supporters of food trucks. "When I was in business school, I lived off of food trucks," Bjork says. "I know how high quality and delicious the food from food trucks can be, as well as how vast the array of offerings from food trucks is. Today, they are viewed as more of a premium food and people wait in line out in the cold weather or rain when they could be inside at a restaurant.
"They wait because they are really excited about the experience of the food truck," he continues, adding that food trucks are "very on-trend" and help Wise Snacks encapsulate a wide variety of flavor ideas under one umbrella concept.
"We are a smaller player in the marketplace and limited on shelf and retail space," Bjork says. "We have to be strategic with efforts, including how we can creatively launch innovation because we don't have the space to just squeeze innovation out there."
Millennials and generation Z also are interested in brands being authentic and giving back to others, Bjork adds. "When we partner with food trucks, we truly partner with them," he explains. "They have input and approval on the flavors and packaging we develop, we provide them with samples of products that they can use to generate excitement with their existing consumer base, and we give them hundreds of thousands to millions of free brand impressions via our packaging and our support campaigns that help drive awareness for their brand, all at no cost to the owners."
Giving a Chip
Arca Continental, Wise's parent company, recently announced the acquisition of Deep River Snacks. The company, founded by Jim Goldberg, lives and breathes its mantra, 'Because We Give a Chip'. All of the products are, at a minimum, non-GMO and Deep River gives back 10 percent of company profits to charities. You can see this commitment to "giving a chip" on the back of every bag of Deep River Kettle Chips and Honchos brand tortilla chips, Bjork notes.
"We are very excited to have Deep River brands as part of the AC Snacks USA portfolio, he says. "They are very passionate about their mission and being true to their consumer, as this has been a personal labor of love for Jim, his family and many of their employees. Additionally, they don't just give back to charity to check a marketing mix box. Every charity to which they contribute has personal meaning to some employee of Deep River.
"The products taste great but even more exciting is their purpose as a business, and how that certainly resonates with a large and growing portion of the population," Bjork adds. "We are very excited about what having Deep River means in terms of AC Snacks' ability to better partner with retailers to help them address their shopper needs."
To help Wise adapt to changing demographics in the United States, Arca Continental helped merge products from its other snack operations into the Wise business. For example, Wise now distributes Tortolines plantain chips from Arca's snack operation in Ecuador. Additionally, Wise now distributes Sí Señor snacks throughout the Southwest as well as in a targeted East Coast location. This line consists of various snack offerings that cater to the tastes of Mexican Hispanic consumers looking for snack products evocative of what they could buy in Mexico.
In addition, Wise Snacks' longstanding supplier and distributor relationships have contributed to its success. "We are always working together to determine how we can do things better," Bjork says. "Some of our best ideas for new products and flavors come from the suppliers and distributors we've worked with over the years. In fact, just last August, we launched a new item, Wise Honey Butter potato chips, after receiving input from and collaborating with our longest running distributor, Brown Distribution. That is why we have the mindset of building our long-term relationships to partner and grow together."
Looking Ahead
Bjork has been with Wise Snacks for nearly three years. As chief marketing officer, he is responsible for the company's marketing, R&D and quality assurance functions. He says that he is most proud of helping to position the company for long-term success.
"Coming up with the ideas, like Food Truck Favorites and Ridgies Tailgate Classics, aren't just flavor ideas, but total concepts that can be built upon year after year," he says. "It becomes a gift that keeps on giving versus figuring out the next big flavor to launch annually. More importantly, it gives us something we can invest in, build upon and get consumers excited about what we will do next with the concept."
As Wise Snacks moves forward, with the help of its parent company, it aims to leverage the best technology to help it meet its consumer goals. "We're always looking for technology that will help us build our current portfolio of snacks," Bjork concludes. "We also aim to grow our portfolio in the future into other subcategories of snacks. Although we are 97 years old, we are fresher than ever, and are working to continue offering unique, along with the tried-and-true, products."