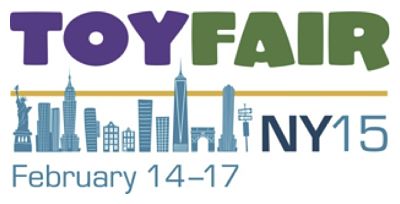 New York City focused its spotlights on toys, games and youth entertainment products last week when the 112th North American International Toy Fair – the largest toy marketplace ever held in the Western Hemisphere – opened its doors to nearly 25,000 global play professionals. Owned and operated by the U.S. Toy Industry Association (TIA) in partnership with the Canadian Toy Association (CTA), Toy Fair 2015 grew in size and scope, boasting a record-breaking 421,300 net square feet of exhibit space filled with hundreds of thousands of brand-new, skill-building and cutting-edge toys and games.
Toy Fair sizzled despite frigid temperatures and snowstorms across the Midwest and Eastern Seaboard. Buyers, exhibitors, entertainment executives, members of the press, and trade guests from across the U.S. and 91 countries made it to Manhattan for the international toy and game extravaganza, which took place from February 14-17 at the Jacob Javits Convention Center. Due to a new cross-border affiliation agreement between TIA and CTA, Toy Fair was for the first time hosted in partnership with CTA, serving as a single North American marketplace event to provide U.S., Canadian and global attendees with more targeted business development opportunities, greater efficiency, and added cost-savings.
1,064 exhibitors, importers, distributors and sales agents showcased their latest product lines and key drivers for holiday '15 in front of 9,012 mass and specialty retail buyers, including delegations from 22 of the nation's top toy sellers, such as Amazon, American Girl, Build-A-Bear Workshop, Costco, CVS, Disney Store, eBay, Five Below, Target, Toys"R"Us, Walmart, and more. Close to 5,000 unique retail outlets were represented, with first-time buyers visiting from the Northern Mariana Islands, Saint Pierre and Miqeulon and Sri Lanka. The top five countries represented by the most buyers were Canada, the U.K., Mexico, Japan and Hong Kong.
Toy Fair saw a notable increase in licensors (+4%), with executives from 20th Century Fox, Disney Consumer Products, Dreamworks Animation, Nickelodeon, Warner Brothers Consumer Products, and others on-site to scout new trends and forge licensing agreements with toymakers.
All attendees were eager to explore a vast array of toys and games that play a vital role in the healthy development of children, including active toys, dolls and plush, board games, e-connected toys, arts & crafts, role-play toys, and more.
"Toy Fair is and always will be THE dedicated North American toy show for anyone with an interest in seeing the most innovative and creative playthings that American, Canadian, and global toy manufacturers have to offer. This year's attendees told us that they enjoyed a busy, successful and exciting show teeming with the best and brightest new toys and games of the year – many of which will not be seen at any other toy marketplace in the world!" said Carter Keithley, President and CEO of the Toy Industry Association.
"Exhibiting manufacturers of all sizes reported that booth traffic was high throughout the four-day show, with many companies building new relationships with buyers eager to branch out and diversify store shelves," added Marian Bossard, SVP of global market events at TIA. "On top of lucrative business and networking activities, Toy Fair attendees enjoyed a range of practical and informative educational sessions, many of which were offered free-of-charge to complement the show experience, including seminars on licensing, toy design, global safety standards, trends, digital media, and much more."
Toy Fair 2015 also welcomed a 4% increase in global press, with 1,033 print journalists, broadcast reporters and bloggers at the show to report on the top toy trends for 2015 – including Maker Movement, Open-Ended Playtime, Mini Madness, Smart Play, Under the Sea, Top in Tech, and Dawn of the Dinosaurs. Top-tier media outlets represented at Toy Fair included ABC, CBS, NBC, CNBC, CNN, MTV, Fox 5 News, Fox Business, Huffington Post, The Wall Street Journal, USA Today, Newsday and Late Night with Seth Meyers.
"We had a fantastic Toy Fair experience and were thrilled to see such incredible innovation throughout the show," said Richard Barry, Executive Vice President, Chief Merchandising Officer, Toys"R"Us, Inc. "It was also great to see so many new faces and interesting businesses, big and small, in attendance. We are most excited about the robotic advancements in toys, the terrific array of licensed products, as well as the continuation of the pet trend, and can't wait to get all the awesome new items on our store shelves."
First-time exhibitor K. Charles, owner of Double Dutch Dolls, LLC, stated that Toy Fair gave her company the opportunity "to reach the largest toy audience in the world."
"In addition to meeting with many buyers from both mass retail and specialty stores, Toy Fair provided us with the chance to showcase Double Dutch Dolls to hundreds of bloggers and media. Being so new, our greatest hurdle has been driving awareness and just four days at Toy Fair really helped catapult our brand," said Charles.
"The excitement generated at this year's show with our MiPosaur, REV and Snap Pets was a fantastic affirmation that our efforts and tech initiatives are resonating with the people," said Richard Yanofsky, President at WowWee Canada. "It's great to see a sense of wonderment on all the faces viewing a new concept for the first time. The entire WowWee team was overwhelmed with all the positive feedback from the show."
Added Loretta Halter, a buyer from Treasure Trove, Inc. in Valdosta, GA: "[Toy Fair] is wonderful. This is the third year I've come, and it's delightful. Exhibitors exceeded expectations."