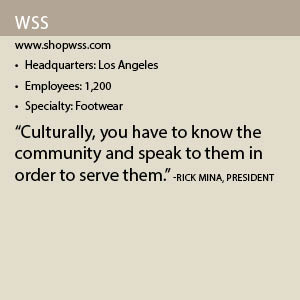 Hispanic Focused
Eric Alon, an Israeli immigrant, started off in the footwear industry selling athletic shoes at swap meets around Los Angeles. A large number of Alon's customers hailed from Hispanic neighborhoods that lacked good footwear stops – areas that large retailers have long underserved.
Alon realized there was an opportunity to provide those communities with a range of brand-name products and opened the first Warehouse Shoe Sale store in Oxnard, a community north of Los Angeles. The company has since grown to 75 locations in California, Nevada and Arizona.
The other reason for WSS's growth is its persistent commitment to urban Hispanic communities. The company locates its stores in predominately Hispanic neighborhoods, drawing both its customers and employees from the surrounding areas.
"All of our employees are from the neighborhood," Fendell says. "It's very likely that a kid working in our stores grew up two blocks away. Because we're so piped into the community it's likely we will get feedback from our associates."
In fact, over 90 percent of WSS's employees are Hispanic or speak Spanish as a second language, allowing the company to better cater to its customers. "Culturally, you have to know the community and speak to them in order to serve them," President Rick Mina says. "We do that one thing well."
WSS's ownership and responsibility to its communities is reflected in its job training programs and its involvement with local Boys & Girls Clubs. "You focus on one thing and you can't be distracted," Mina continues. "A lot of the bigger players can't focus on one thing. It's very hard to be all things to all people."
The company's newest flagship store, which is set to open later this year, will be a physical representation of its commitment to Spanish-speaking customers. The store will be located in Lynwood, Calif., across the street from Plaza Mexico, a shopping and entertainment center that acts as a cultural hub for the area's Hispanic population.
Securing the latest products from major shoe brands is a challenge for every retailer, but WSS's willingness to serve the Spanish-speaking market has given it an advantage when working with footwear manufacturers. "We have a very, very good long-term relationship with our vendors," Mina says. "We're in places that a lot of people just don't go. They love the Hispanic market in general because it's a growing market."
Engaging Customers
WSS's effort to integrate its stores into their communities is ultimately about providing the best possible shopping experience, but it doesn't stop there. The company has created a culture where customers are free to shop the way they like. Employees walk the thin line between helpfulness and over-enthusiasm, answering questions for those who need hands-on attention while knowing not to pester customers who just want to run in and out.
The shopping experience has been refined for three decades, but it will only improve as long as WSS invests in the systems that support its physical and online stores. The company is switching over to software from Aptos/Epicor, which will provide a modern merchandise platform, omnichannel ability, POS system and e-commerce structure.
The new system will go live in October, a traditionally slow month for retail, giving WSS time to work out any kinks in implementation before the holiday shopping season. "We've been working at this about 10 months now and we feel we'll be ready to make that change right after back-to-school," Mina says.
The driving force behind the new technology is WSS's desire to have a true omnichannel structure that allows products to shift seamlessly between online and physical storefronts. Once the system is in place, customers will be able to order from the www.shopwss.com website and pick up in store.
Conversely, customers will also be able to buy in store and have items shipped directly to home. That will be possible because the system will tie together the inventory of WSS's two distribution centers, which functioned as separate retail and online facilities in the past. "It's really important that we deliver to the customer the product they want where they want it," Mina explains. "We think that's a big part of being able to grow in the industry."
The prevalence of smartphones means that more customers want that interaction to occur on their mobile devices. To better engage with consumers, WSS is releasing a dedicated mobile app in August. "The app we are rolling out is essentially a rewards app," Vice President of Marketing Rod Aiken says. "We are looking to sign customers up and give them the flexibility to engage with our brand in the way they find most comfortable."
Texas Bound
Phone apps and WSS's growing online presence will help consumers learn about the company as it expands in the coming years. Having conquered southern California and established itself in Las Vegas and Phoenix, WSS's next target is the Texas market – a perfect fit because of the border state's robust Hispanic population.
The company made perhaps its biggest move toward the Lone Star State in December, when it took on Dallas-based Riata Capital Group as a minority partner. Riata's familiarity with Texas has assisted the company as it develops a strategy for the market. WSS plans to open its first location in the state next year. "We don't have a site secured yet but we've been working hard to open in the state of Texas," Mina says.
WSS takes pride in the longtime experience of its staff, some of whom have worked in the footwear industry for more than 30 years. "Pound for pound we have one of the best management teams in the business," Mina says. The following is a list of the key leadership at the company:
Eric Alon – Owner and Founder
Rick Mina – President
Bruce Fendell – Senior Vice President, Strategic Planning
Dan Nuthals – Chief Merchant
Jeffrey Porter – CFO
William Argueta – Vice President, Real Estate
Plutarco Mendoza – Vice President, Store Operations
Carl Collins Cepeda – Vice President, Store Operations
Rod Aiken – Vice President, Marketing
Lena Jeffrey – Divisional Merchandising Manager
Brenton Leefers – Divisional Merchandising Manager
Ron Briskie – Vice President, Distribution and Warehouse
Chris Cruz – Vice President, eCommerce