Yankee Candle Brings Paradise Home with New Spring 2013 Fragrances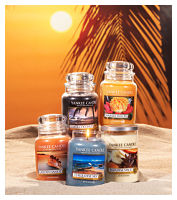 Jan. 22, 2013 – The Yankee Candle Company, Inc., the world's largest manufacturer of premium scented candles, today announced the launch of five new Yankee Candle fragrances and six new fragrances in its contemporary Pure Radiance line for the spring. Inspired by memories of vacations in paradise, Yankee Candle introduces fresh beach scents and exotic fruits to brighten the home and heart and create a tranquil experience. These new fragrances are available for purchase immediately at more than 564 Yankee Candle retail stores, www.yankeecandle.com and select specialty retailers and gift shops.
"Our goal when developing new products is to take our customers to that special place or evoke a special memory through fragrance and the new Paradise Collection for spring delivers on that," said Hope Margala Klein, executive vice president, brand, innovation and merchandising for The Yankee Candle Company, Inc. "We also share in our customers' desire to create distinctive experiences in their home and the on trend colors and fragrance inspiration of this collection add warmth to any decor."
New Yankee Candle spring fragrances include Golden Sands, Turquoise Sky, Black Coconut, Waikiki Melon and Paradise Spice, while the new spring Pure Radiance fragrances include Sugar Flower, Stargaze, Seaglass, Guava, Mandarin and Promise. – Soft, dewy petals of white tuberose and gardenia offer a hopeful promise of things to come.