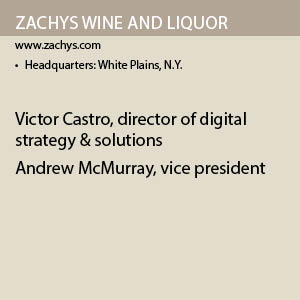 Many of the ads featured the tagline "What Makes Zachys Different." These ads, written by Zacharia, spotlighted the store's selection, customer service and other reasons it stood out among wine retailers. "He created that tagline long before anyone knew what a hashtag was," McMurray says. "He was great at getting the message out."
Zacharia purchased the store in 1961 from his father and the store's namesake, Zachy Zacharia. The elder Zacharia opened the store in 1944.
In addition to the New York Times ad campaign, Don Zacharia also brought the store to national attention by bringing in fine wines from outside of the United States. Zacharia frequently traveled to Germany, France and Italy, importing their wines into the U.S. market, which at the time was dominated by domestically produced wines, McMurray says.
Full Service
Zachys answers the question in Don Zacharia's tagline in a number of ways. "From the early 1970s to today, we have been a fully experiential wine store, and not a place where a young clerk behind a counter just hands you a bottle," McMurray says. "People come into our store to be educated and to have wine experiences."
All customers, even those new to Zachys, are greeted as soon as they enter the store. The store offers an in-store tasting center, the Enomatic Tasting Center, featuring 16 open bottles to taste at any given time from around the world. Zachys also regularly hosts weekly complimentary tastings and other off-site special events, many of them on behalf of its large corporate clients. "We are a true premium wine brand," he adds. "Buying from us is like staying at the Ritz or the Four Seasons."
One example of the company's service-based culture is its work with NetJets, a company that sells partial ownership of private business jets. NetJets worked with Zachys to curate a special wine available onboard its jets, McMurray says.
Many of the fine wines available at Zachys are difficult to find elsewhere. "We have probably the best-curated selection of fine wine in the country, and in many cases are the only company to have a particular wine," says Victor Castro, director of digital strategy and solutions. "We do a great job making sure our customers get what they're looking for when they need it."
In addition to selling wine, Zachys also offers customers a place to store it. The company operates a secure, temperature-controlled wine storage facility in White Plains, N.Y. High-end individual or corporate customers can also have the company advise on the design and setting up of cellars. "We are really a full-service company for wine lovers' needs," Castro adds.
Zachys also operates an auction business that conducts 10-plus live wine auctions held in New York City and Hong Kong at some of the best restaurants in the world. . In addition to live auctions, Zachys offers monthly online auctions, coined zCollections.
System Upgrades
Zachys first established an online presence in 1999, with online sales following in late 2000. Castro joined the company in 2013 with the goal of growing its e-commerce business, which at the time he joined represented 10 to 12 percent of the store's total business. Today, online sales represent roughly 20 percent of the company's total revenue.
Castro has spearheaded a number of recent investments in Zachys' e-commerce capabilities in the past few years. The company this year will begin using the Magento e-commerce platform, which it anticipates will help it enhance its customer reach and conversion rates. The new website is being developed by Blue Acorn, a technology and marketing partner.
Other recent investments include adding a new search function, developed by SLI Systems, which allows customers to more easily find the most relevant items on the site.
The company also revamped its e-mail system to the IBM Marketing Cloud platform, which has helped Zachys "be more dynamic and have more personalized communication with our customers," Castro says.
In addition to IBM Marketing Cloud, Zachys is using two additional e-mail systems to reach customers. One of those systems, provided by Bluecore, enables the company to send "triggered" e-mails to customers based on their interactions and behavior online. "This allows us the ability to have one-on-one communications to customers in reaction to what they're doing on our site," he adds.
Another system, Custora, uses machine learning and artificial intelligence to send e-mails to customers based on their predictive behavior, leveraging past purchases and online behavior patterns. "This system can understand each individual's likelihood to come back and make another purchase with us," Castro says. "This is proactive, predictive communication we can have with the customer before they interact with us."
'A Big Move'
After decades of operating out of Westchester County, Zachys will be expanding and opening an "operations center" in Washington, D.C. this summer.
The new location will include a 20,000-square foot facility consisting of offices, a showroom, tasting/event space and a wine storage facility that will be one of only a few of its kind in the D.C. region. "This is a very big move for us," Vice President Andrew McMurray says.