ZAG Launches Digital Trifecta for its Original Boy Brand, Zak Storm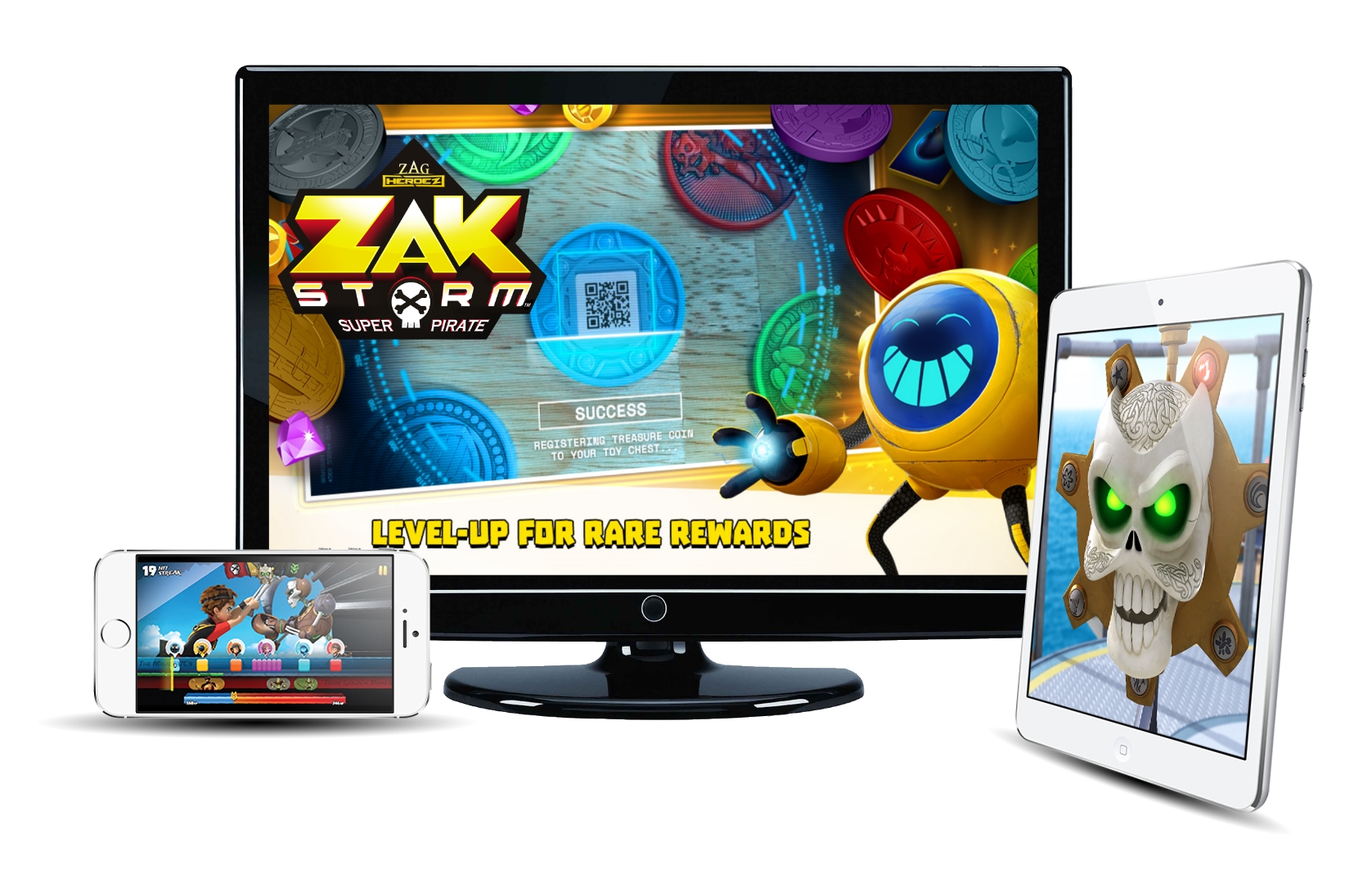 The series has launched in the U.S. on Netflix, and coincides with the release of Bandai America's toy line exclusively at Amazon and Mobile Adventure Available on Apple's App Store, Google Play and Kindle Fire.
Jeremy Zag, founder and CEO of ZAG, the award-winning global independent animation studio specializing in the creation and production of original, high-quality IP for kids and family entertainment in the film and TV sector, announced the digital trifecta launch of its latest original, boys' action/adventure comedy TV series under the ZAG HEROESTM brand, Zak StormTM – Super Pirate.
Man of Action Entertainment (Ben 10, Big Hero 6) created the series.
Zak Storm — Super Pirate, the only modern-day transforming superhero "Super Pirate" series for boys six to 11-years-old debuted fall 2017 in the U.S. on Discovery Family, and Sinclair Broadcast Group's KidsClick TV. ZAG and global master toy partner Bandai America changed play by launching – Nov. 1 – a digital trifecta for the tech-infused brand that ushers in a truly connected play experience by interconnecting the TV show, toys and mobile game.
When kids WATCH the TV series, it will sync with the Zak Storm Super Pirate free to play mobile game to deliver small-screen battles and adventures that mimic the real-time TV show scenes. This in turn provides the player digital game rewards. The Zak Storm Super Pirate experience is further realized when kids collect and PLAY with Zak Storm physical toys from Bandai America, available exclusively in the U.S. at Amazon for the month of November.
Each comes with collectible treasure that provides rewards for the Zak Storm mobile game. Kids simply scan the unique QR code on the collectible treasure into the free to play Zak Storm Super Pirate app to receive weapons, powers, worlds, strength, health and much more in the mobile game.
With the Zak Storm Super Pirate app, players take on the role of Zak Storm as he assembles his crew, explores the treacherous seas, and confronts Skullivar's minions in battle. Ultimately, the player's journey centers on digital gameplay powered by physical toy scanning—and that journey syncs with the TV show to LEVEL-UP both digital and physical experiences. The Zak Storm Super Pirate app is available for download on the App Store and Google Play, as well as Amazon for Fire tablets.
"We have had an overwhelming response from kids to Zak StormTM – Super Pirate in the countries where the TV series has already premiered, and we are excited to launch this digital trifecta that allows kids to synergistically play across the Zak Storm world via multiple platforms for a truly unique play experience," Zag said in a release. "We have created endless possibilities for fun, as kids are rewarded for doing what they already love to do: WATCH, PLAY and LEVEL-UP!" Zak Storm™ – Super Pirate has already released in some key territories around the globe. In Europe, the series airs on Lagadère's Canal J, and Gulli in France; on Sony's POP in the UK—where it is a top five title for 2017 ; Spain's Clan TV and Canal Panda; RTS in Switzerland (FR); Italy's Super!; and RTL Telekids in the Netherlands. Other leading broadcasters across Europe and the Middle East who will debut the series before Christmas and early next year include Germany's Super RTL, Finland's MTV 3, Portugal's SIC, and Canal Panda, Ouf Tivi and VTM/KZoom in Belgium, and Israel's Zoom. In Latin America, Zak Storm™ – Super Pirate is available on Discovery Kids Latin America, the #1 kids cable network in the region, where the series is #1 for Boys 4–8 in Brazil and ranks over the channel average for Brazil, Mexico and Argentina for the month.
ZAG HEROEZ Zak Storm™ – Super Pirate follows the adventures of the headstrong Zak Storm, a seemingly typical kid who is swept into the Bermuda Triangle—the cosmic "junk drawer" of the universe—while trying to win a surfing competition. Discovering an enchanted talking sword (Calabrass), Zak is magically transformed into the swashbuckling, renegade super pirate hero, Zak Storm. Bravely committing to serve as the captain of a high-tech, living ship, called The Chaos, Zak encounters the Triangle's seven mysterious seas while battling villains and creatures with the help of a unique crew of misfits. An equally empowered Atlantean female first mate (Cece), a thick-headed, heavy-fisted Viking (Crogar), a neurotic space traveler, and a poltergeist prankster kid join forces with Zak in an effort to unlock the secrets that will chart their course home.