ZeroWater Launches First High Performance Water Filtration Bottle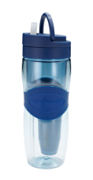 Feb. 27, 2013 – Zero Technologies, developers of the only 5-stage, dual ion exchange tap water filtration pitchers and dispensers, unveiled a personal filtration bottle that features the company's patented 5-stage filter technology. The portable filtration bottle continues ZeroWater's tradition of being the most effective system in its category for removal of dissolved solids from tap water. The new portable 30-oz. filtration bottle, perfect for on-the-go water filtration, will launch at the 2013 International Home and Housewares Show in Chicago.
"Our new personal filtration bottle combines a truly high-performance water filter with a sleek-looking and ergonomic design to provide pure-tasting water that is free of dissolved solids anywhere you go," said Doug Kellam, CEO of ZeroWater. "The bottle provides piece of mind knowing that no matter where the water comes from, you can have great tasting H2O that measures 000 for dissolved solids. The bottle is perfect for keeping in the car, office, commuting or traveling."
ZeroWater's new personal sized 30-oz. bottle offers five stages of filtration that remove 99.6% of dissolved solids from tap water. Most portable water bottles, such as Brita, only offer a plain carbon block filter that removes less than 50 percent of dissolved solids. ZeroWater's new portable bottle is the only system that delivers filtered water comparable to purified bottled water, with a 000 ppm reading.
ZeroWater's personal filtration bottle also features a next generation lid design and filter change indication technology. The all-new 3-position lid design allows the customer to fill, seal and drink from the bottle without ever removing the cap. A twist & flip straw with ergonomic handle makes the bottle easy to hold and use for all ages. The bottle's unique filter replacement indicator technology – a color change window – signals when the filter needs changing. The need to replace is based on actual water quality, better than other indicators which base replacement on time.