Introducing Dum Dums Holiday Pops, Peppermint Marshmallow Circus Peanuts
---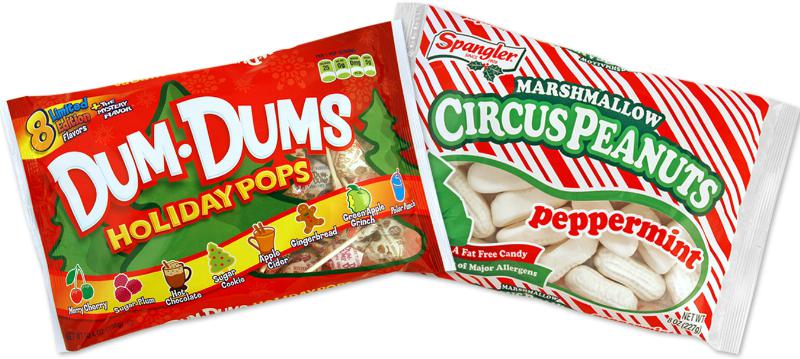 Nov. 1, 2013 – This Christmas season, Spangler Candy Company will launch limited edition, holiday flavors in two of its most iconic brands: New Dum Dums Holiday Pops and Peppermint Marshmallow Circus Peanuts. Founded in 1906, Spangler Candy's line of quality confections includes Dum Dums, Saf-T-Pops, Circus Peanuts, Spangler Candy Canes, and Valentine, Easter, Halloween and Christmas candies.
Dum Dums Holiday Pops will feature eight festive flavors plus the Mystery Flavor. Sweet-toothed fans will find comfort in a Hot Chocolate or Sugar Cookie flavor while those who like the more non-traditional flavors will enjoy Polar Punch and Green Apple Grinch. Whether young in age or young at heart, there's a flavor for every fan. With an SRP of $2.49, Dum Dums Holiday Pops are available in 10.4 oz bags and packed 12 per display case.
Also, from the number one name in Circus Peanuts, Peppermint flavored Circus Peanuts are here. Enjoy them one by one or drop a few in a cup of hot chocolate for a chocolaty-mint twist. They will be available in 8 oz bags, packed 12 per display case with an SRP of $2.29.
---