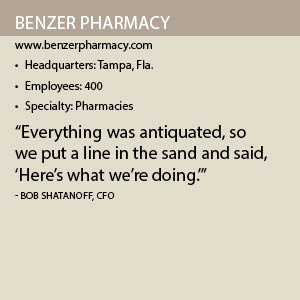 Benzer strives to go beyond expectations and even hired a courier service to deliver products to customers who would otherwise have difficulty picking up prescriptions in person. Its pharmacists also hit the road, occasionally visiting doctors in their market to answer questions they may have about a drug. "That's what's missing: the personal service," Shatanoff says of competitors. "We're doing the personal service and we're growing."
Customers have increasingly turned to Benzer because they want the feel of a mom-and-pop store with the support of a larger organization. Benzer is working to introduce its philosophy to a larger customer base and has set a goal for 200 company-owned stores and 100 franchisees by the end of 2019, up from 65 company-owned locations and 12 franchisees today.
Standardizing Stores
To reach that goal and support that aggressive growth, the company must become more unified in its technology and structure. Earlier this year, the private equity group that owns Benzer, High Park Capital Partners, asked President Alpesh Patel to bring on a strong CFO who could better organize the company's finances and lure in new investors.
Shatanoff, an accomplished CFO with experience in turning around companies' operations, joined Benzer in May and quickly realized it suffered from a lack of standards. "Everybody was putting out fires here," he says. "There were no policies, no procedures. Everything was antiquated, so we put a line in the sand and said, 'Here's what we're doing.'"
Within a few months, Shatanoff spearheaded programs to change the company's account practices, banking structure and to get all locations on the same POS system. Rx30, a retail management system tailored to pharmacies, has already been put in place at 30 locations, allowing stores across the country to access and refill a patient's prescription instead of having to enter the information manually.
Working with Benzer's IT department, Shatanoff developed systems for accounts receivable, tracking claims and reducing backlog. He also formed a three-person team to handle collections, which has reduced the company's past-due accounts payable by $2 million in only four months, and created an approved vendor list for services such as drug deliveries. "We're addressing every single item in this build that we do," Shatanoff says.
Implementing those standards caused an immediate improvement in how stores operate. Rx30 accurately tracks the sale and inventory of every drug. When coupled with a just-in-time supplier, the POS allowed individual Benzer locations to greatly reduce inventory by preventing pharmacist from over-ordering. If the system notices that a certain pill only sells 100 units in six months, pharmacists now know to keep only a handful in stock and can replenish quickly whenever a sale is made.
In some cases, the system has helped stores reduce inventory from as much a $300,000 worth of medications down to $100,000. "A lot of [pharmacists] are getting smarter about that, but they're letting the system do the work for them," Shatanoff explains.
Keeping in Character
The implementation of the new technology systems and processes was going smoothly until Hurricane Irma struck Florida on Sept. 10. Benzer's headquarters in Tampa, Fla., lost power for a few days and staff was relocated to dryer sections of the building once work resumed. Additionally, nine pharmacies in the region were affected by the storm, although they remained open as long as possible so residents could refill their prescriptions to ride out the storm. Aside from the interruptions in service, there was minimal damage to the infrastructure; however, the company lost a significant amount of drug inventory that went bad when the refrigerators lost power.
Benzer is working through its insurance claims on the inventory and cleanup work. It's a time-consuming process, and if Benzer waited for its insurance payouts it would put its aggressive growth plans at risk. So the company is spending the money to makes the repairs and replacement inventory upfront with the expectation that it will be reimbursed down the line. "We're getting them back in the game again and we're moving forward," Shatanoff says of the affected pharmacies.
The fast return to operation following Hurricane Irma reflects Benzer's eagerness to grow rapidly. To reach 200 company-owned stores before 2020, it must open about six locations each month. "We want to grow," Shatanoff says. "We're not going to sit there and wait."
But even as it acquires and converts more mom-and-pop pharmacies, Benzer is careful not to compromise the small-town feel of its stores. It understands that every town has a unique character and encourages stores to retain their design and operate as family businesses. "Each store will have its individuality," Shatanoff pledges. "Internally within corporate here, we're providing support so you're not just a number."