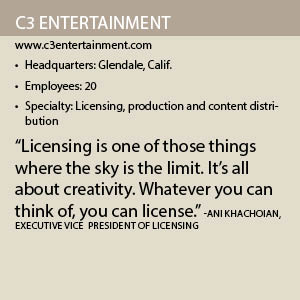 Maintaining Legacy
C3 Entertainment is the company charged with introducing The Three Stooges' laughs and nyuks to each new generation. The Three Stooges founded the company as Comedy III Productions Inc. in 1959 to handle their licensing and productions.
Six decades later, C3 continues to evolve. The licensing of Stooges' materials still makes up the bulk of its business, but in the last five years, the company has added other brands as well as content distribution. "You won't find a lot of licensing agencies that also do content distribution and productions," Khachoian says.
C3's library of more than a thousand hours of content consists of many Three Stooges titles, which include 156 cartoon episodes, to feature films in many genres, including faith-based, romantic comedies and cult horror movies, military and historical documentaries and educational programs for children. Khachoian says content distribution was a natural evolution for the company with the rise of streaming services such as Hulu and Amazon. But its distribution is not limited to digital; C3 distributes content globally for cable and network broadcasts and home entertainment products. C3 also produces TV specials and feature films for theatrical distribution on a worldwide basis.
Content distribution is only a part of the expansion going on at C3. The Three Stooges have long been intertwined with the company's lineage, but C3 also represents other brands and personalities that span generations. Some of these brands include pioneering rock 'n' rollers Ritchie Valens and J.P. Richardson, famously known as "The Big Bopper."
C3 is also developing a licensing program for John Mueller's Winter Dance Party, a traveling tribute show commemorating the 1959 tour of musical legends Buddy Holly, Ritchie Valens and The Big Bopper that ended tragically when the three musicians and their pilot were killed in a plane crash, widely referred to as "The Day The Music Died."
The acts may be considered oldies rock, but Khachoian says Valens, The Big Bopper, and Holly are still appreciated by listeners, and their timeless music continues to inspire today's biggest artists. "[Valens] was the first Latino rock star, so there's nothing old about that," she says. Valens especially resonates with a younger cross-cultural audience.
The company represents modern talent and brands as well. Celebrity Chef Jason Santos, who operates three restaurants in Boston; Magician Michael Grandinetti, a staple on CW's Masters of Illusion;and world-renowned artist, Marc Lacourciere, better known as Motor Marc, are among C3's more contemporary personalities. Recent additions to the company's brand roster include National Day Calendar and the Rainbow Valley Fire Department education series for children.
Brands come to C3 both through existing relationships and C3's recognition as a top global licensor. "We pick and choose who we want to represent and our brands all have broad and enduring appeal," Khachoian says.
Serving Clients
The diversity of its brands sets C3 apart from most other licensing companies. Where others might focus on brands in a specific entertainment field, C3 represents brands across a wide spectrum. "It's fun and challenging because it's a little bit of everything," Khachoian says.
The range of its brands enables the company to touch multiple industries, but it also leaves few opportunities for overlap and cross-promotion. Each brand must be handled on its own merits and C3 challenges itself to be creative in finding licensees and other opportunities.
"There isn't a rock I've left unturned," Khachoian says. "I go everywhere. I reach out to everybody. Licensing is one of those things where the sky is the limit. Whatever you can think of, you can license." As an example, Motor Marc's artwork will appear on collectible rifles. Ritchie Valens' name and likeness appear on Soy Capitan Cola released in the first quarter of 2017. Then there is The Three Stooges evergreen brand. "How many classic comedy brands can you think of that have products at market in virtually every category?" Khachoian says.
As popular as The Three Stooges brand is, C3 knows it must produce new Three Stooges content to keep the classic comedy trio relevant to modern audiences.
The company is working on the next new Three Stooges feature film that will reunite Chris Diamantopoulos, Sean Hayes and Will Sasso, who played Moe, Larry and Curly in 2012's The Three Stooges Movie and is currently scheduled to begin production in 2018.
For younger fans, C3 is working on The Three Little Stooges, a movie featuring 12-year old versions of Larry, Moe and Curly. The film is slated to begin production this year. "Having new productions is vital to help drive demand for our licensing programs," Khachoian says.
Continuing she says, "We have worked very hard to achieve this marketplace success with The Three Stooges brand and expand the multigenerational fan base for the brand and we are very proud of our accomplishments."