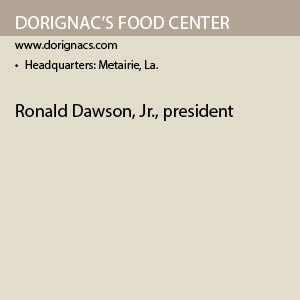 Treating customers well has been a hallmark of Dorignac's since Joseph Dorignac founded the store in 1947. "[Dorignac] was a talented operator who knew his customers," Dawson says. "He built a solid customer base through quality, service and stocking hard-to-find items."
Local and niche items, including religious and ethnic foods, remain a specialty of Dorignac's. The store also offers a large selection of prepared meals, including options for health-conscious customers and people on specialized diets. "We do the best we can to meet our customers' needs, and constantly try to make our in-store experience better for our customers so they want to come back," he adds. "If our customers request a product, we try to get it for them; we try to make our customer experience unlike any others, and we want [customers] to come back."
For Dorignac's, providing a unique and positive customer experience means investing heavily into employee training and development. "Our managers are provided with the latest information about what's going on in our industry," Dawson says. "We stress great customer service and being attentive to customers in our training; customers are the reason our employees receive a paycheck, so we make sure our people understand that and treat customers that way."
The store recruits new employees through word-of-mouth as well as through professional recruiting firms and online job sites. Dorignac's strives to retain employees in part by providing a positive culture. "We want our employees to feel they are getting fair wages and that they are part of a family," he adds. "We all have each other's back."
Improving the Experience
Dorignac's emphasis on service has helped it face growing competition from not only other grocery stores, but also from big box retailers and online-based food and meal delivery services. "The personal touch that we are able to deliver as an independent grocer is something you can't get from a truck delivery driver or from a package sitting on your porch," Dawson says.
The store plans to improve its services and offerings even further. Dorignac's is part of Associated Grocers, a nationwide retail cooperative that provides it with merchandise and support, including access to apps customers can use to order items for in-store pickup. "We are doing everything we can to meet the demand for convenient shopping," he adds.
Additionally, it is working to further incorporate apps and other technology into its customer experience. This includes developing its own store app that would include a map and recipes, among other information. "We are wise to the fact that, with iPhones and other devices, people have information at their fingertips immediately. We are looking at a variety of ways to help people use those devices in our store," Dawson says, noting the company plans to launch an app within the next 12 months.
Other plans include implementing business/data analytics and retail automation systems. The company also plans to conduct a customer survey soon. "We are transitioning our store's culture into the technology age," he adds.
Recent physical improvements to the store include a renovation that was completed in 2015. The renovation included updating the store's façade by adding more windows. The store also added new equipment to its bakery, produce, cafeteria and deli departments that allow it to better prepare and merchandise products. Dorignac's continues to repair and update portions of the building, which is more than 50 years old.
Part of the Community
Originally located in New Orleans' Lower Garden District, the store moved to its current location on Veteran's Memorial Boulevard in Metairie in 1963. The store remains owned by the Dorignac family.
Dorignac's plans to formally mark its 70th anniversary in October with special in-store events including sales with prices tied to the numbers "7" and "70," as well as tailgating events for New Orleans Saints and Louisiana State University football games.
Dawson says he is proud of the store's accomplishment. "The reason we've been around for 70 years is because of the business model our founder put into place and that is still here today, which is our customer service," he adds. "We are a place you go not just to buy groceries, but to meet your neighbors and be a part of the community. That's the way it's been for many years, and the way it will be for many years to come."