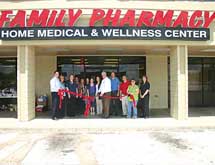 When Lynn A. Morris, R.Ph., M.S., and his wife first opened the doors to Family Pharmacy, Inc. in 1977, they filled 12 scripts. Today, with 27 locations, they fill roughly 8,500 scripts per day. Times have changed, and most of the processes Morris and his employees used to manually fill prescriptions and manage inventory are now automated. But the family-focused atmosphere and business platform Morris has developed to serve the entire family, from the youngest member to the eldest, is still in place.
"We were the first pharmacy in Southwest Missouri to give discounts to everyone, not just seniors," said Morris, president. "I've always thought it was equally important to give a discount to a young family, not just seniors."
That philosophy holds true today, and Family Pharmacy continues to break boundaries while expanding its capabilities. But no matter how large the company is, Morris said he takes it one employee at a time when relaying his expectations for the company's culture.
"We tell our employees we're not in the pharmacy business; we're in the people business," he said. "We just fill prescriptions."
Perfect complement
Over the years, Morris has put together a business portfolio comprising a variety of complementary divisions. The Family Pharmacy photo center, for example, includes digital in-store kiosks, but rather than having untrained employees handle the developing, the company has Focus 14 Studio, which is run by two photographers, one male and one female.
The studio can handle wedding and graduation photos; family, company, and animal portraits; sporting event photos; and even restorations. "We're one of the few in Southwest Missouri that does its own restorations," said Morris. "We're different than a box store that doesn't provide restoration services or has to farm it out. We do most of it inhouse, and we do tremendous work. It's a perfect complement to our retail business."
Five years ago, the company added a home medical component to its business that has become one of its fastest growing divisions. Family Pharmacy Home Medical now employs three respiratory therapists and a staff of trained professionals that can handle prosthetic fittings and mobility certifications.
The home medical division serves hospice, retail, and nursing home patients, and each of the company's 20 pharmacies has a home medical department ready to help customers at any location. In 2008, readers of Springfield News & Leader, the only local newspaper in Southwest Missouri, chose Family Pharmacy as the best pharmacy. Considering the company has only two pharmacies in Springfield, where 75% of the readers are, Morris considers this a tremendous accomplishment.
"We continue to win a lot of awards, but that's a big one," he said. "To be voted best pharmacy in Southwest Missouri by the Springfield News & Leader is a pretty good tribute to our group."
Giving back
Helping customers is Morris' first priority, but the development of Family Pharmacy Bargain Warehouse Outlet brought benefits to his business as well.
A challenge to retailers handling seasonal items is once the season is over, the items are boxed up, put on clearance, or taken as a loss. For years, Morris handled his seasonal items the same way, but after so many years of unearthing damaged goods or even forgetting where the items were warehoused, he decided to take another approach.
Once a season is over, all Family Pharmacies ship their merchandise to the warehouse outlet where shoppers can find Christmas trees and Halloween masks all year round but at a discount. "All outlet items are discounted between 50% and 75%," Morris said. To supplement the seasonal items, all short-date, out-of-date, one-of-a-kind, and overstocked items are discounted.
In addition to keeping Family Pharmacy's stores clean and making room for new merchandise, the outlet helps Morris reach a new consumer base. The majority of the clientele that shops at the outlet are teachers, missionaries, and people who want to buy inexpensive items. "Older generations are drawn to the outlet, and we welcome them with open arms," he said.
Attached to one of Family Pharmacy's locations is yet another business called Cruisin' USA Frozen Custard. The old-time ice cream shop features a variety of frozen custard treats, as well as sandwiches, soups, and salads. The business offers catering and every other Saturday between May and October hosts concerts with well-known bands.
The last concert for the 2009 season hosted The Platters, and Morris expected the show to pull in between 3,000 and 5,000 people. "For the concerts, we keep the pharmacy and the custard shop open past their usual closing times," Morris said. "With the first nine concerts, we've already raised more than $15,000 for those in need. It's a way for us to give back."
Back on the healthcare front, Family Pharmacy Healthcare Services, a closed-shop pharmacy business, serves more than 100 healthcare facilities in Ozark, Mo. and the surrounding area. The division serves long term, skilled, intermediate, residential, and group home facilities, as well as jails and psychiatric units.
So far, Family Pharmacy has three closed-shop pharmacies, with the most recent built inside a retail pharmacy. "It has separate inventory, computer system, and staff," said Morris. "It's a different business completely."
Wave of the future
A wellness component is the newest addition to the Family Pharmacy business. So far, Morris has installed wellness departments in nine of the company's locations. The 12-foot sections focus on helping customers live longer, stay healthier, and feel younger rather than treating them after they've become sick.
The wellness departments include items for joggers, weight lifters, older men, women's health, and more. Rather than offering a large variety of items for each focus, Family Pharmacy hired a qualified category manager to pick the cream of the crop and build inventory based on what sells rather than offering too many options.
"I don't think prescriptions are always the answer," said Morris. "We've made sure we have products we know work and that customers will buy. Wellness is where retail pharmacy is heading."
Morris is also planning to implement sections focused on disease states, presenting everything from literature to medicine and accessories customers need to maintain their health. The 360-degree displays, which Morris refers to as "in the round" displays, will each focus on a disease state, such as diabetes or blood pressure.
Even further down the line, Morris hopes to add a specialty pharmacy component to the Family Pharmacy umbrella, a healthcare trend he also sees as the wave of the future. The company is working with Armada, a group that specializes in specialty pharmacies, and has hired pharmacists trained to handle specialty drugs.
"Half of the location we've selected will house the specialty pharmacy, and half of it will house our new compounding pharmacy, which will compound for all of our locations and send the prescriptions out through our courier," said Morris. "Patients will get their prescriptions the next day but will have a relationship with their own pharmacist. It's the wave of the future, and we plan to be there riding it."