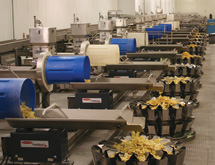 "Not only do we have many different branded opportunities that are excellent products and we can put excellent programs together to take care of retailers' needs, [but] if they're looking for a store brand, we are willing to have that conversation," declares Shane Kangas, senior vice president of sales and marketing for Kenny's Candy.
"A lot of manufacturers don't want to private-label," he points out. "We're prone to having that conversation. It's allowed us to do a lot of business with customers across the country. Maybe our brands don't resonate with them, but they have a strong store following." KLN can also provide store brands for its retail clients; in fact, Kangas estimates up to 60 percent of the company's production is private-label.
Being a family owned and managed business allows KLN Family Brands to turn on the dime when it is developing new products. "We've had three generations of ownership with our companies, and having that strong family tie, we're able to be very flexible," Kangas maintains.
But that does not mean that KLN Family Brands does not have the scale to manufacture products in quantity when required. "While we've grown in size and become a pretty substantial entity, we're still flexible enough to take advantage of a club store or a convenience store opportunity if it presents itself," Kangas asserts. "It doesn't take a year to get an idea to the market. We're more limited by our imagination and execution than by anything else." He estimates the company can develop a new product in two or three months, not counting retailer approvals.
Selling to Retailers
How KLN markets its family of brands varies among retailers. "Every retailer is looking for something different," Kangas declares. "You attack it from many different fronts. Not only are you talking about your product and how it fits in the category, you talk about pricing. Are you going to offer anything in the way of slotting moneys, or offer some rebates to the retailer? You also talk about what you are going to do to help market the product, whether coupons, TV or radio ads, demonstrations in the stores, things of that nature."
KLN Family Brands are in grocery and convenience stores, warehouse clubs and pharmacies nationwide. "Most major retailers across the country are carrying one or more of our company's products," Kangas asserts. The company also exports its products to Europe, the Middle East and Asia.
Many of the company's product lines are available in a range of prices. "At Kenny's Candy, we have products that hit the full price range," Kangas describes. "We have commodity-type products, which in our business are plain strawberry and black twists, where you're definitely selling retail value. We also have more products that are a little more valued-added, like juicy twists."
KLN's Wiley Wallaby brand of Australian-style soft chewing licorice is a premium product. Bag sizes range from those costing 99 cents to $3.99 for premium products. The company has a product that will fit in any retailer's strategy, Kangas emphasizes.
That versatility has been helpful to KLN Family Brands. "Nowadays, you have to have that flexibility, because retailers are constantly changing their ideas depending on how successful they are and how the economy is going," Kangas says. "Up until a few years ago when the economy took a back step, everybody was pushing for products with higher retails. So all us manufacturers were making products more value-added or in bigger bags."
But that approach did not last forever. "Since the economy has taken a step back, a lot of retailers are looking for value," Kangas explains. "As manufacturers, we have to regroup and retool what we're doing to accommodate what the retailers are looking for. Just about the time you think you get it figured out, you have to switch gears again."
Green Manufacturing
KLN has a separate manufacturing facility in Perham, Minn., for each of its brands. Kenny's Candy is expanding its 100,000-square-foot plant by 50,000 square feet this year. Four years ago, Barrel O' Fun built a factory in Phoenix to manufacture its snack food line mainly for logistical reasons. "When you have a truckload of chips, you're hauling air around the country," Kangas points out.
The company is committed to sustainability and environmental stewardship – not just in its products, some of which contain no MSG, preservatives, hydrogenated oils, wheat or gluten – but in its facilities, as well.
The plant in Arizona is Green Globes-certified with two globes, and the new addition in Perham will include the latest energy-efficient products. KLN reuses and recycles its shipping cartons, plastic and waste products, and the company's headquarters offices use geothermal heating and cooling.
"In our facility, the water that comes out of our plant is cleaner than the water that came into our plant," Kangas explains.
"You have to evaluate those things to where it makes sense. Retailers want to know whether you are using ingredients from sustainable sources. It is important throughout the whole business to be cognizant of that."
Community Loyalty
KLN's owner Ken Nelson and his son Charlie are the second and third generation of owners after Darrell "Tuffy" Nelson, who founded the business as a livestock and poultry feed manufacturer in 1947. Kangas emphasizes that they have had many opportunities to move the business or sell it.
"They grew this business up from nothing to employ 1,300 people," Kangas stresses. "They wanted to grow the business here in rural Minnesota and be a good citizen in the community. Our owners are all great people and always willing to invest in the business. They've done lot for the area, and their plan is to do more. They feel they've had all their success because of the community. It's a good marriage between the two."