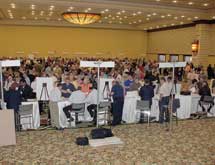 Big-box retailers can be much more convenient for shoppers with their massive breadth of offerings, and their large buying capacity can help reduce the prices of their goods. But even with those big-box benefits, many consumers enjoy and even prefer shopping at smaller independents, primarily for the dedicated and consistent customer service, as well as their more unique product portfolio.
But when so many consumers are concerned about cost above all, it can be difficult for independent retailers to remain competitive. That's why MEGA Group USA has developed its comprehensive suite of services – to ensure the success of its members by helping them increase profits.
Based in Germantown, Tenn., MEGA Group USA primarily serves home appliance, home furniture, mattress, consumer electronics, and lawn and garden retailers, as well as specialty retailers, such as those focusing on water filtration products or lighting. MEGA Group USA Strives to supply members with services that provide the synergistic advantages of lower costs, but also allow its members the advantages of individuality, creativity, local ownership and independence in their marketing areas.
"Our strength is our staff," explains Missy Hodges, director of the appliance and lawn and garden segments. "Our lines are always open, and we have made it very clear to our members that we are here to help them."
Helping its members compete against national chains, MEGA Group USA offers extensive services. The company's website has a special section only for members with articles, classified ads, forums, supplier specials, industry news and rebate information; and it arranges pricing and service levels from suppliers for its members that are traditionally reserved for national chains.
MEGA Group USA develops advertising circulars for members, health and business owner's insurance programs, product protection plans and private-label credit cards. It also hosts twice-annual national conventions for its members.
"Vendor relationships are key – we work closely with vendors to grow their business, our business and our members' businesses," Hodges says. "With technology, we are a leader in innovation. We have a fantastic member website and through one of our partners, we develop a custom website for our members that has great functionality and is available at a good price."
Ongoing Support
MEGA Group USA's support for its independent retailers doesn't come from just its head office, however. The company's field market managers are visiting the company's members every day, Hodges says, helping them work through issues and finding new ways to provide support.
"We are knocking on their doors and showing them the love – that we care and that we are there to help them grow their business," she says.
She explains that the company's field market managers act like business advisors to the independent retailer members. They help the retailers merchandise and rearrange the stores' floors, take a good look at members' vendors, and help them develop a plan-to-sell strategy.
"Our field market managers put a lot of effort into supporting our members," Hodges explains. "We have a big emphasis on webinars, which we offer every month. There's one that focuses on a 30-day plan for growth, another on how to sell and another that focuses on the best way to compete with the big boxes."
This year, MEGA Group USA also invested in videos that focus on sales training. Retailers can use them during meetings with their staff, or for training new hires. The videos are 15 minutes long and there are 24 modules of them. There are tests to take after viewing to ensure employees understand.
"These videos have a lot of information and we are happy with this investment," she says. "So often, remaining competitive is not about price – it's about the services members offer and the people they employ."
'Phenomenal' Growth
The biggest challenge for independent dealers is decreased margins, Hodges says, so that is one of MEGA Group USA's areas of focus. One strategy is to help members benefit from add-on sales.
"That's where margins are today, and add-on sales help our retailers get repeat business," she notes. "Product protection is an absolute must, and we have a program that no one else can match. We always make sure that we are bringing offerings that are good for our dealers."
With this dedication, MEGA Group USA is "growing in leaps and bounds," Hodges says. Last year was "phenomenal," she says.
"We used to be an East Coast company covering half of the U.S., but in the past few years we've expanded into the west and we continue to add field market managers in that area," she says. "There are still a lot of independent retailers out there, and we continue to find new members every day. As we add more members, it adds credibility to the group and gives more reasons for a member to belong."