National Hardware Show Preview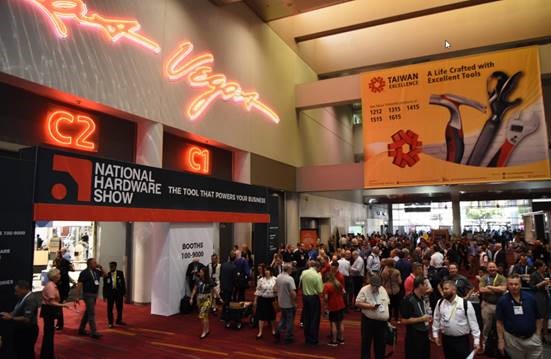 The big National Hardware Show isn't afraid to think 'small'
with a focus this spring on the tiny house trend.
The National Hardware Show will be the premier place to scope out new products, get merchandising ideas and network face-to-face with retailers and manufacturers when it runs May 7-9 in Las Vegas. Retail Merchandiser recently spoke with Richard Russo, vice president of the National Hardware Show, about what to expect this spring.
Retail Merchandiser: Give us some reasons why our readers should attend the event this year? How will they benefit?
Richard Russo: The National Hardware Show is THE gathering place for the hardware and home improvement industry. Each year 2,500-plus vendors and 30,000-plus industry professionals gather to showcase and source NEW products, network with peers, educate themselves on the latest trends and business solutions, and give themselves an edge on their competition by accomplishing more in three days than they can in the rest of their year.
RM: What's new for the 2019 show?
RR: The tiny living way of life is coming to the 2019 National Hardware Show with the introduction of Tiny Living @ NHS! Tiny Living @ NHS, featuring the Small Build & Construction Technology Conference, is designed specifically for professionals in the small living, modular and manufactured housing industries. The conference will include two full days of seminars on the most relevant topics impacting the industry today along with the networking opportunities with the world's leading professionals in this market segment.
Open to all builders, developers, product/service providers, government officials, retailers, nonprofits and other real estate professionals, it is the ONLY event with an added feature of being able to network with more than 30,000 hardware, building supply and other industry professionals. Walk the show floor to discover companies that specialize in the products and services intended for the tiny living needs and trends intermixed within all the current NHS product categories.
RM: What are some trends that you expect people will be talking about in Las Vegas?
RR: As technology continues to enter every aspect of our daily lives, the smart home category is exploding. This year, NHS will introduce an all-new interactive smart home on the show floor, showcasing products provided by leading industry vendors in a way to engage with buyers as they tour the home. The smart home will encompass more than 1,500 square feet of space and feature 20 to 30 products on display for buyers to source and interact with in order to see their full functionality in an actual home environment.
RM: Can you give us a taste of any new product types expected at the show?
RR: New products are the lifeblood of the hardware and home improvement industry. Each year, thousands of products are launched and on display at the show. This year, one very cool company, Rightline Gear, which has a huge success story with "Shark Tank," will be showcasing the Moki Doorstep – a device you hook into your car/SUV door latch to utilize as a step to easily access and secure items to the roof of your car. Their story is truly amazing, and we're excited to have them at the show this year.
RM: Are you seeing any noteworthy trends in hardware licensing or retail?
RR: Vendors continue to develop amazing products and services, and this year NHS will feature a Retail Services Solutions category on the show floor. This area will provide solutions for brick-and-mortar stores to compete more effectively in all aspects of their business such as logistics, online, inventory management and more. Companies, such as Pointy, will be at the show previewing their technology to simply take your current inventory and easily put it online in your very own e-commerce site.
RM: Do you have any exciting speakers lined up this year?
RR: This year, the National Hardware Show is excited to introduce John Hartmann, president and CEO of True Value Company, who will kick off the show as our keynote speaker. John Hartmann has more than 20 years of corporate experience at the senior executive level, with 16 years spent in the hardware and home improvement sector. Hartmann joined True Value Company in 2013 and led the company through the creation and implementation of a strategic plan focused on critical reinvestments in the business to drive growth and profitability for the True Value Company and the independent retailers it serves.
Most recently, he led the company through a change in ownership to unlock over $200 million of shareholders' equity and establish True Value Company as the only hardlines wholesale distributor with a globally recognized brand and no stock requirement.
RM: Will there be any off-site events planned for attendees/exhibitors in Las Vegas?
RR: The National Hardware Show is about bringing the industry together, and as such, we emphasize keeping everyone together. Our yearly tailgate party, to be held in the Silver Lot just outside the convention center, is a great way to see the latest products and trends in the tailgate, backyard and barbecue categories. You will have the opportunity to see new products, network with vendors and enjoy the tastes of all the amazing food being cooked up by the exhibitors. While in the area, you can also visit the Tiny House Village to check out all the amazing homes on display.
For more about the show, visit www.nationalhardwareshow.com.