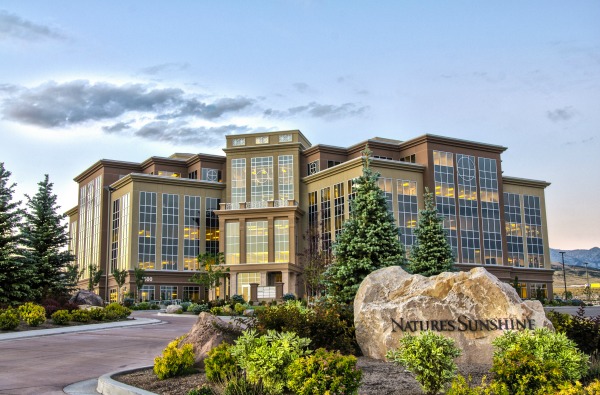 Nature's Sunshine prides itself on providing not only quality products, but also 45 years of innovation in the industry.
Celebrating 45 years of sharing wellness with the world, Nature's Sunshine has eclipsed a milestone that few supplement companies have reached. Founded in 1972 by the Hughes family with a single innovative idea — put herbs into capsules for easy-to-take supplements — Nature's Sunshine became the first U.S. company to encapsulate herbs and helped shape the nutritional supplement industry that we have today.
The Lehi, Utah-based company has since grown from a small, family-owned company to a global corporation with operations in more than 40 countries. While herbal supplements remain a hallmark of the company, Nature's Sunshine offers more than 600 natural and nutraceutical products in the United States and more than 2,700 globally. The company operates under a multi-brand, multi-channel model featuring two brands, Nature's Sunshine and Synergy Worldwide, and a network of more than 500,000 independent distributors, natural health practitioners and retail storeowners.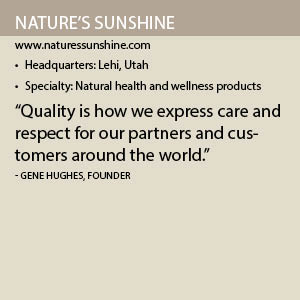 Nature's Sunshine's founders attribute their commitment to innovation and community, as well as devotion to the company's core values of quality, service and integrity as the keys to its success. "For Nature's Sunshine, quality is not just a word," Founder Gene Hughes says. "It is the most important ingredient in our products and in our success. Quality is how we express care and respect for our partners, and customers around the world."
That commitment to quality is seen in Nature's Sunshine's 265,000-square-foot manufacturing facility. In an industry where most companies rely on contract manufacturers, Nature's Sunshine proudly manufactures most of its products to ensure the purity, potency and quality of its product offering. Over the course of 45 years, the company has consistently sought out and adopted new technologies, advancements and processes to become a leader in its field.
A Continuing Legacy of Innovation
Nature's Sunshine continues to revolutionize itself with the Hughes Center for Research and Innovation. Launched in 2015, the Hughes Center, "is a cutting-edge laboratory created with the goal of unlocking the power of nature to develop proprietary health solutions and promote optimal metabolic function," Nature's Sunshine Executive Vice President of Worldwide Marketing Staci Glovsky says.
Ph.D. scientists, researchers and medical professionals who seek out critical synergies in natural ingredients to make more effective supplements staff the hub of new product development for the Hughes Center. Nature's Sunshine has conducted 11 clinical studies and filed 16 patent applications on products and programs developed by the center. The most significant of these is the IN.FORM program, a lifestyle program that utilizes the potential of the microbiome to support healthy metabolic function.
"IN.FORM is a proprietary, clinically studied program that combines positive lifestyle changes with cutting-edge supplements to promote healthy microbiome balance," Glovsky explains. "By supporting a healthy gut microbiome, the program promotes healthy body composition, weight management and cardiovascular function, offering a path to healthy metabolic age and function in one, easy-to-follow program."
Through the work of the Hughes Center, Nature's Sunshine will continue to focus on advancing the science of feeling better through clinically studied products and programs that optimize metabolic function and health through the microbiome.
Product innovation is not the only way in which Nature's Sunshine is looking to build its business. In 2014, the company entered into a unique joint venture with Shanghai Fosun Pharmaceutical (Fosun Pharma), a leading healthcare company in the People's Republic of China. The joint venture was the first of its kind between a U.S. company and Chinese company for direct-selling products in China.
Known as Nature's Sunshine Hong Kong Limited, the joint venture has opened four offices in Mainland China. Its headquarters are in Shanghai and the joint venture also has three branch offices in Nanjing, Hang Zhou and Qingdao. Nature's Sunshine Hong Kong Limited has since developed the infrastructure to support its business operations. Additionally, in May of this year, the company received its direct-selling license.
"Receiving our direct-selling license in China marks an important step for our business in China," Nature's Sunshine Chairman and CEO Gregory L. Probert says. "By bringing Nature's Sunshine to the people in China, we are not only opening a new chapter in our company's 45-year history, but also fulfilling our mission to transform lives around the world through our innovative, industry leading products."
China is the world's second-largest direct-selling market in terms of retail sales, according to 2016 data from the World Federation of Direct Selling Associations. In 2016, direct-selling retail sales in China accounted for 19 percent of global sales.
The Promise of the Future
With a rich history behind it, Nature's Sunshine is using its 45 years of experience to forge ahead into what it sees as a vibrant future. Though the health and wellness industry has grown significantly since its founding, Nature's Sunshine has evolved with it. With a focus on uncompromising quality, expanding innovations and an unflagging commitment to excellence, the company is poised to take advantage of new opportunities to fulfill its mission.
Ultimately, Nature's Sunshine is in the business of "life transformation."
"We believe that natural health and wellness has the power to change lives; and through our products, our people and our business opportunity, we work to make it a reality every day," Probert notes. "Our longevity is proof of our stability and wise business management; our broad stable of products points to our commitment to innovation and relevance, and our rigorous testing, exacting quality control and self-manufacturing set the highest standards in the industry.
"Proven quality, expertise and results are why we are trusted and recommended by natural health practitioners and customers around the world," he adds. "So while transformation is a bold promise to make, we do it with confidence. Nature's Sunshine brings health and wellness to millions of customers every day. And when people are healthier, lives are truly transformed."