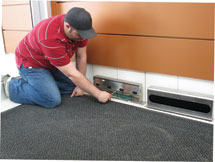 Since 1985, John Plainos has owned and operated an electrical contracting company, A-1 Service Group. In 1994, he identified the counting of people in retail locations as a possible niche market. His firm installed a few systems that were typically used at the time to count the number of customers in stores and malls so he could learn how they worked. He learned that they did not work very well.
Plainos was able to demonstrate to retailers how inaccurate most of the systems being used at the time were. "We evaluated the systems out there, and we were quite annoyed with the quality of systems that vendors were offering to retailers," recalls Plainos, who is president of A1 Counting Solutions.
"The products that were being sold to the industry were applied electronics," he remembers. "They would take an electronic sensor off the shelf, such as a conveyor belt sensor or a security sensor, and create software behind it. As soon as an infrared beam was crossed, the user received a click, and that click gave you a number."
Unfortunately, Plainos saw flaws with these systems. "If there were several people crossing the infrared beam, the software registered the movement as one click," he points out. "The other problem was that they were not bidirectional. So all you knew was that there was some type of a movement within that area."
Plainos used manual counting methods in some locations along with the automated systems and compared the results. "We did tests with several systems, and we found that they were anywhere between 40 to 90 percent accurate, and none of the data was consistent," he says. Because there was such a drastic fluctuation in the percentage of accuracy of the figures, applying a single factor to adjust the results for accuracy was impossible.
"The information that was collected and presented to the end-user was useless," Plainos insists. "Retailers could not make any informed decisions from this data. It was garbage in, garbage out."
Plainos approached several manufacturers of such systems about upgrading their products for higher accuracy. "They said we were crazy," Plainos remembers. So he hired the Business Development Bank of Canada's consulting group. They found a company in South Africa that was working on a people counter. Plainos had found his system.
Educating Consumers
Sales did not come quickly or easily at first. "We had to educate people," Plainos emphasizes. "We did that for three years, and that's when things started rolling. The big shopping centers jumped onboard."
Today, Plainos maintains that A1 Counting Solutions is Canada's No. 1 provider of people counting systems in the shopping center industry, backed by the system's real-time accuracy, functionality and length of operation.
The way a facility is laid out and the building design affects the movement and hence the counting of people, Plainos stresses. "We design it, put the budget together and present a proposal," he says. In 2009, A1 Counting Solutions introduced a vehicle guidance system for parking lots that guides drivers to open parking spaces using electronic signs. The data collected by this system can be integrated with the data gathered by the people counting system to provide additional insight to facility management.
Neural Network
The people counting system analyzes the people passing by on a grid and searches for 27 different features. Once all 27 features have been identified, the system works using a neural network to determine the accurate number of people. "It will count anything that has two feet but not four," Plainos insists. It's designed specifically for human movement. It doesn't recognize carts, strollers, animals, none of that – a bicycle means nothing. It took four years to train the neural network, so the development has been quite something. To see it come along and be able to do what it's doing, it amazes me every time."
The system was developed by Nortech International Ltd., Pietermaritzburg, South Africa, and is licensed in North America to A1 Counting Solutions. Competing traffic counting systems are simply boxed electronic equipment sold off-the-shelf to retailers, Plainos maintains.
"Whoever [a retailer] appoints in their organization to analyze one of these systems doesn't understand how to properly evaluate the system, and they seem to focus on choosing the system based on price rather than quality," Plainos asserts. "Sometimes the cheapest price doesn't buy you the best result."
For years, Plainos has worked to develop a retail traffic counting system that is reliable. "You have to love what you do, and I think we love what we do too much," he concedes. "We enjoy and take pride in completing a project. To us, every project is like a new addition to the A1 Counting Solutions' family, because we view our customers as our long-lasting business partners. We haven't lost one customer after we've installed our system, and to us, that makes our journey worthwhile."