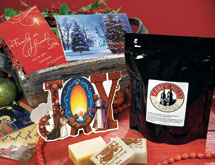 The world has advanced so quickly that even the monks at Indiana's Saint Meinrad Archabbey haven't been able to ignore it. The Benedictine monastery has served the Catholic Church and society through its graduate-level school of theology for lay and priesthood students since 1854.
Since 1867, it has supported this mission through Abbey Press – a diversified company that prints literature and crafts products devoted to the values of its owners, such as faith, friends and family. That message has not changed; its delivery, however, has adjusted as the world has evolved.
"Monks are known for being scribes," explains Greg Tate, general manager. "Since the printing press came along and technology improved, we've been able to marry that long tradition of capturing the written word, with the more advanced processes of modern printing."
Integrated Diversity
Abbey Press consists of five companies. Abbey Press Printing is a full-service commercial printer that handles third-party and in-house printing needs for its sister companies such as Deacon Digest, a national publication for deacons and One Caring Place publications which sells self-help and counseling material, in bulk to customers such as churches and hospitals.
Abbey Press Printing also prints items for its trade marketing division, which sells products wholesale to retailers. The trade marketing division also contracts with third-party manufacturers to make dimensional items such as coffee mugs using Abbey Press designs. Abbey Press retails these same products in the Saint Meinrad Archabbey Gift Shop on the monastery's campus, and on its website, saintmeinradgiftshop.com.
The newest company under the Abbey Press umbrella, Snails Pace, launched three years ago and shows an understanding of market demands. Snails Pace, an eco-friendly line of paper products such as cards and art prints, serves the fundraising market. The products are made by Abbey Press Printing and also sold via trade marketing and in the gift shop.
"Looking at the fundraising market, there aren't a lot of eco-friendly choices unless you're selling bulbs and plants," Tate explains. "There seemed to be a need for a healthier alternative to the junk food offerings. Giftwrap and other paper goods are often used in fundraising, and since our history is in paper, we saw that we could make ourselves stand out from the rest by being 100 percent eco-friendly."
Tate says the company is leveraging this new line to expand its presence. Abbey Press's name is widely recognized among Christian and Catholic organizations. However, the wide appeal of eco-friendly goods provides an opportunity to expand its base.
This is Abbey Press's first line of completely natural products, but the company has incorporated recycled paper and vegetable-based inks in its products for years as part of the monastery's environmental stewardship. Snail's Pace is a natural progression for the company, but it's not skittish about stepping onto new fronts, too.
Expanding Presence
'"The majority of things that we make in-house are paper goods," Tate says. "However, new digital and mobile technologies are out there now and changing at a staggering pace, so it has forced us to look harder for those folks who appreciate and buy paper goods, and to look to the future to adapt our products to fit within the digital world."
Abbey Press created e-versions of several of its books that are available on its websites and on Amazon. It also created an electronic quote-of-the-day app entitled "From Season to Season, A Saintly Book of Wisdom." The move to digital is largely an international phenomenon, but Tate says the U.S. retail industry is seeing consumer desire for American-made products. He notes many people are willing to pay the cost of American-made products with the guarantee of better quality.
Today, Abbey Press contracts overseas vendors for its dimensional products, but it once manufactured some of these products in-house. Tate would like to bring these functions back and the company has already begun the process with framed prints. It prints artwork, purchases domestic frames and assembles them in-house.
"We also recently purchased a new glue machine to produce some of our plaques, which are comprised of paper facings on wooden boards," Tate says. "We feel like we can better control the quality when we make it in our own facility. We'll work with a domestic vendor to provide the boards and hopefully be able to get eco-friendly ones as well."
Abbey Press's gravitation toward digital, U.S.-made and eco-friendly materials demonstrates that although the company is steeped in tradition, it knows how to relate to the modern world. Tate says behind all of the ideas and investments that have kept the company current are the employees who make Abbey Press a success each day.
"One of our greatest strengths here at the press is our workforce," he explains. "We have very low turnover rate; the average coworker has been here 25 years. That's a lot of experience they bring to their jobs and to this place as a whole."