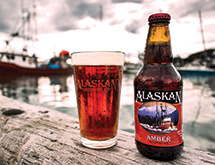 Founded in 1986, Alaskan Brewing Co. has come a long way since co-founders Marcy and Geoff Larson enlisted 88 investors throughout Alaska to start their Juneau-based brewery. At the time, there were fewer than 100 operating breweries in the nation. Today, Alaskan Brewing produces more than 150,000 barrels annually from it single brewery in Juneau, and it is one of the top 20 craft breweries in the United States as defined by the Brewers Association.
"We faced financial and logistical challenges to brew beer in the Last Frontier, but we brought a unique skill set to the task of opening a brewery in Alaska," Marcy Larson says. "Geoff was a chemical engineer and a home brewer, and I was an adventure-seeking accountant and aspiring bush pilot."
Distinct Identity
Alaskan Brewing is distributed in 17 states, mostly in the western half of the United States. The company says its most popular beer is its Alaskan Amber, which was inspired by archived brewing notes for a brew developed during the Gold Rush era in Alaska. Alaskan Brewing is also known for its Alaskan Smoked Porter, the most award-winning beer in the history of the Great American Beer Festival with fans worldwide.
"Alaskan brews a diverse lineup of beers and features local ingredients such as glacier-fed water, Sitka spruce tips, alder-smoked malt, birch syrup, fireweed honey and high-bush cranberries," Larson says. "Alaskan Brewing is known for trying to put a little bit of Alaska in every bottle we brew."
The company has established its place in the market by building a distribution network that has allowed it to get its products in front of retailers and consumers that are seeking to support craft brewers. The company says consumers and retailers enjoy the unique stories and variety of flavors that craft brewers bring to the market. Because there is a definite air of excitement in the category at the moment, it is driving business for Alaskan Brewing.
"We bring all of that excitement to our consumers and retail partners within the framework of being authentically brewed in Alaska," Larson says. "The brewery has also been in business for nearly 30 years, which provides a solid platform of dependable logistics and services to offer to our distribution network."
Part of the company's work to expand its offerings and network is its pilot series program, which is operated at the brewery and serves as the seed for innovation among its brews. The process starts at a single barrel brew house where all of the company's employees are invited to create recipes. From there, the process moves through a rough draft program before reaching final brews. In addition, the company keeps members of its sales staff looking at new markets for expanded distribution throughout the lower 48 states as well as focusing on organic existing market growth.
Advancing the Cause
This past year has been one of growth for Alaskan Brewing. The company built a new warehouse connected to its current facility and added nearly 20,000 square feet, which was nearly a 100 percent increase in size. The brewery sits now on more than five contiguous acres, and it just added four large fermentation/brite tanks.
"These new stainless steel tanks were sized at 1,400 barrels each, and it brings the production output capability to well beyond 200,000 barrels for the long term," Larson says.
Alaskan Brewing will continue to focus on innovation and sustainability as it grows in volume and production. These issues have been at the forefront for many years. In 1998, Alaskan Brewing became the first craft brewery in the country to install and operate a carbon dioxide reclamation system. The system captures and cleans carbon dioxide, which is a natural byproduct of the brewing process.
"During the fermentation process, the yeast creates the carbon dioxide byproduct," Larson says. "We use carbon dioxide to package the beer and purge oxygen from holding tanks. This system prevents more than 1 million pounds of carbon dioxide from being released into the atmosphere each year and contributing to global warming."
In 2008, Alaskan Brewing became the first craft brewery to install a mash filter press. This Belgian-based brewing technology allows the company to reduce the amount of water, malt and hops needed to make beer while still maintaining high quality and consistency.
"In one year, the mash filter press used nearly 2 million fewer gallons of water and six percent less malt to make the same amount of beer as the traditional brewing process," Larson says. "The unique design of the mash filter press also reduces the moisture content in the spent grains."
This then led to the company's next innovation: a spent grain boiler. In 2011, Alaskan Brewing began developing a first-of-its-kind steam boiler fueled entirely by spent grain. The new system became operational in 2012, and Alaskan has reduced its oil use by more than 65 percent. It plans to continue to invest in this technology, which could revolutionize fuel systems used in craft brewing.
Although the craft beer explosion has led to growth opportunities, it is also a possible challenge in the short term. Newer entries with short-term cash flow and a lack of infrastructure to sustain their investment may bring confusion and fragmentation to the marketplace. Fortunately, Larson says Alaskan Brewing will never allow unbridled enthusiasm to replace its approach to reasoned, smart growth.
"We have made concentrating on our unique identity a priority for our development," Larson concludes.