The owners use that first-hand experience to benefit one another. America's Food Basket holds a meeting among its 22 owners each Tuesday to share knowledge, discuss challenges and develop resolutions. The meetings are an opportunity for owners to identify challenges, react to the market and address their individual needs without needing to navigate layers of corporate management. "Because we're so small we have the ability to turn the ship on a dime," Cabassa says.
One such problem that recently emerged was the need for better employee training. At the direction of the owners, Cabassa and his team looked at key areas to address – from the cashiers to meat cutting and customer service – and then explored the training programs available on the market. The leadership team then came back to the storeowners with a recommendation to use computer-based training provided by N.G.A. "This was the result of a lot of discussions of training needs in the stores and how do we best implement it," Cabassa adds.
Making the Transition
America's Food Basket was not always so efficient. When the co-op concept that became America's Food Basket was first developed in 2005 it lacked a strong vision. At the time, a group of independent supermarket operators came together and collectively decided to form their own co-cop.
In 2007, the owners formed America's Food Basket's predecessor, the Neighborhood Supermarket Association (NSA). During the early years, the stores came together under the NSA brand but struggled to get the association going. Turnover was frequent as NSA went through a process of adding and losing stores, never quite holding onto the consistency it needed to establish the brand.
By 2012, NSA had 26 member stores. The remaining owners realized the co-op needed professional leadership if it was going to thrive. Cabassa was a solid candidate to become that leader. He had a degree in finance, accounting and business administration, was a certified industrial engineer and had a grocery retail background with companies such as the Great Atlantic & Pacific Tea Co. (A&P), Meijer, Pathmark and Wakefern Shoprite.
Cabassa joined the company that year and immediately began building an environment that was a true corporate enterprise. Within a month he reformed NSA into a new corporation, America's Food Basket, and renegotiated the organization's existing contracts to get better terms for its members. From 26 stores and $236 million in revenue in 2012, America's Food Basket has grown to 47 stores and $532 million in revenue by mid-2016. Cabassa projects the organization will reach 60 stores by the end of the year, 75 by the end of 2017, and 100 stores and $1 billion in sales by the end of 2020.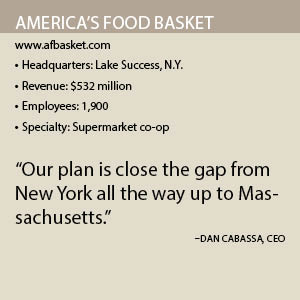 The co-op now has 22 members with locations ranging in size from 4,000 square feet to 28,000 square feet. Member stores under the America's Food Basket, Ideal Food and Super Fi Emporium banners can be found in New York, Connecticut, Massachusetts and Rhode Island, with the first New Jersey location set to open this fall. A single NSA store remains in Florida but will be rebranded later this year. "Our plan is close the gap from New York all the way up to Massachusetts," Cabassa explains.
Cabassa credits the company's renewed focus with turning America's Food Basket from a struggling co-op into a thriving grocery organization. "The experience and focus is what [America's Food Basket] needed," he says. "Once you take an organization that's just beginning its infant stage and you put leadership behind it with experience it all come together."
Some of that newfound focus comes from the team of business-minded college graduates Cabassa assembled to lead the organization. Those talented individuals were able to apply business best practices into the co-op. Cabassa calls his staff his "students" and works to coach and mentor them on the industry. "There years of experience I have instilled in them, [combined] with the fortitude they have drives performance," he says of his team.
Reinforcing Structure
The co-op still relies on its owners to know the needs of their own consumers, but the firmer structure Cabassa put in place helps those stores better understand what those needs are. Two years ago, America's Food Basket began installing LOC Store Management Suite (SMS) systems in its stores. The software tracks purchases to give greater insights into consumer behavior, allowing the co-op to better address the product needs of each store on an individual basis. More than half of the chain's stores are now using LOC SMS and the organization expects to have it fully implemented by the end of next year.
America's Food Basket has also signed agreements with analytics firms Nielsen and IRi to capture its performance at its markets. The data derived from those analyses allows the co-op to build partnerships with new suppliers and will shape the next wholesaler agreement, which America's Food Basket expects to finalize this fall. The company's improved buying power means it expects to set terms with wholesalers that will result in better access to products and lower costs.
Better access to products will give America's Food Basket supermarkets the item mix they need to compete with larger chains. But the company is also updating the technology inside its locations. The co-op is implementing green equipment and systems wherever possible, such as energy-efficient refrigerated cases, and is going paperless with low-energy solid state-drive laptops. "We continue to look at where we can invest to modernize these stores," Cabassa says.
Capital improvements have moved at a rapid pace in the last three years as America's Food Basket keeps pace with the rest of the grocery industry. Many competitors have left the market and more consumers are turning to independent grocers for shopping, Cabassa explains. America's Food Basket needs to give those new consumers a pleasant shopping environment.
Much of that can be attributed to the appearance of the stores, but equally as important are the underlying systems that lead to a hassle-free shopping experience. The co-op recently invested nearly $2 million in a new IT infrastructure for its member stores and the corporate office.
Expanding Footprint
America's Food Basket grows its membership in three ways. Oftentimes, existing members canvass their markets to identify existing stores or sites where a new store can be built. New members might also come from cold calling grocers in the area that are a possible fit for the co-op. Finally, America's Food Basket has grown its reputation to the point where independent store owners are calling the company about joining.
When considering an addition, the company looks at the vitals: area demographics and the cost to operate the prospective store. New owners who want to join America's Food Basket must first be interviewed and approved by the co-op's board of directors.
As it grows, America's Food Basket will remain a independent owner-driven company, but Cabassa believes there is room to expand its operations. The company is looking to open its first corporate store by the end of 2017, with an eye on more corporate-run locations in the future.
Cabassa believes corporate-owned stores won't complete with member stores but will rather allow the organization to feed its own expansion. "It furthers the commitment to each member that they will stay unified and the co-op will continue to grow," he says.