American Red Cross, Keebler Keep Blood Donation Sweet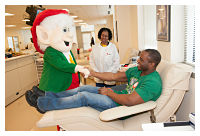 March 6, 2013 – The American Red Cross and Keebler are continuing their partnership to sweeten the deal for donors who give lifesaving blood for those in need. After each blood and platelet donation, the Red Cross and Keebler treat donors to cookies and beverages as a way to say 'thank you' for making a positive difference in the lives of others. Keebler signed on with the Red Cross in August 2011 and is now pledging another two years of donated cookies, equivalent to six million cookies per year. The company's "Be a good cookie. Get a good cookie." campaign promotes the importance of giving blood.
"We are grateful for the ongoing support of our generous partner, Keebler," Shaun P. Gilmore, President of Biomedical Services at the Red Cross said. "People count on the blood and platelets provided by selfless volunteers. The millions of cookies Keebler provides each year allow us to thank our donors after they've given lifesaving blood."
"I'm thrilled to continue our partnership with the American Red Cross in the 'Be a Good Cookie' program. Our Keebler Elves believe in doing Uncommonly Good things and by recognizing each blood donor with a cookie, Keebler hopes to inspire even more acts of goodness," said Kellogg Company President, U.S. Snacks, Todd Penegor.
To celebrate the continued partnership, the American Red Cross presented Ernie Keebler, leader of the Keebler elves, with the honorary title of "Red Cross Cookie Chairman."