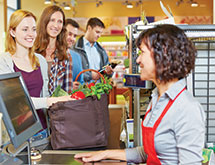 Keeping your aging legacy retail systems running, especially when they're locked into a proprietary mainframe, can be a challenge for established retailers trying to compete in today's market. Legacy systems are almost always expensive; they make modernization and innovation prohibitively complex; and things get especially risky when the people who know how it all works start to retire.
Migrating to a new, standards-based technology environment can add tremendous value and improve the bottom line because today's commoditized systems benefit from broader competition, which keeps costs low and innovation high. Delivering turnkey migrations of mission-critical, legacy retail systems to a modern, cloud or on-premises target environment is the specialty of Asysco, Inc.
"Established retailers depending on legacy systems are trying to solve a problem," Managing Director Jayson Goldman relates. "They are having real trouble keeping up with emerging retail business models, especially volume, category and convenience competitors that have been able to launch their businesses already benefiting from the capabilities and flexibility of the latest retail technologies."
Therefore, there is an ever-increasing number of these older retail companies that are looking for ways to replace their legacy systems with the modern retail technologies that will help them maximize productivity and deliver the best customer experiences.
One of the key features that legacy retail systems seem to lack compared to their modern counterparts is real-time analytics. "The first thing you think of in terms of modern-day capability is data mining and real-time, demand-driven supply," Goldman says. "That's probably the thing most retailers want. You also have executives at the helm of these companies who are trying to make solid decisions around key areas like stocking, planning and marketing. With most legacy systems, real-time information is hard to come by.
"Let's say there's an issue in your demand and replenishment system that occurs during the day but the data telling you that won't get processed until the nightly batch runs," Goldman continues. "Now you've lost half a day or more before you're in a position to take action. Everyone knows that in retail, if you're losing time, you're losing money, so gaining the ability to quickly adapt and optimize workflow processes is a critical driver for a lot of these established retailers to continue to be competitive."
The Challenge
The challenge is that many retailers are tied to a long-standing, 25-plus-year-old, homegrown legacy system written in COBOL that is likely hosted on a mainframe. They want to jump directly to a brand new retail CRM, ERP or commercial package system.
"The third-party vendors that offer those solutions will rarely have sufficient knowledge or expertise about the specific legacy technology many of these companies currently depend on to manage their operations," Goldman says. "When third-party vendors try to bring established retailers from the legacy platform directly to their solutions, they often get stuck trying to map the old world to the new, causing operational disruptions that result in lengthy delays and huge cost overruns. This is why so many modernization projects fail and really can end up being a huge disaster for these retail companies."
Providing the Means
Asysco gives companies the ability to reach the technology solutions that will take their businesses into the future. "That's where we come in with deep expertise and knowledge of the customer's legacy environment," Chief Commercial Officer Herman Eggink states. "We leverage our skills and experience in legacy migration together with some of the most sophisticated conversion tools in the world in order to bring that legacy system into a modern-day infrastructure without losing any of the competitive elements these established retailers have built up over their years in business.
"You're now free of that expensive, proprietary legacy environment, but you haven't changed what you do," Eggink explains. "There's no disruption to your organization, and you're still doing business as before but in a more versatile on-premises or cloud environment. Now you can take that savings and invest in any of the commercial systems that are going to deliver the benefits we're talking about. And the icing on the cake is that those systems should cost less to implement because you are moving to them from the new environment that third-party vendors should be able to recognize and support."
Pick and Choose
Not only does migrating a legacy system generally pay for itself in approximately two years, it also can give retailers an edge over their competitors by keeping features of their legacy system that off-the-shelf software may lack. "We're giving these companies the agility to selectively choose whatever functionality in their applications they want to retain and what they need to modernize," Goldman states. "You may be lacking real-time analytics or want to implement RFID – those are competitive disadvantages you need to address. But maybe you have a bespoke system you came up with a decade ago for picking and packing that offers you a unique competitive advantage. That's something you don't want to lose."
Defined Methodology
One of the reasons for Asysco's success is the care with which it plans its projects. "We have a highly practiced, robust migration methodology that begins with spending the time upfront in sizing a project," Goldman emphasizes. "It is an extremely collaborative and productive process where we carefully inventory the systems and define the scope mutually with our customer. Once we have that, we are able to make a firm fixed price/fixed time offer and get right to work.
"We don't take on work we can't do," Goldman emphasizes. "We focus on the needs of our customers, and we always deliver on our promises. That's how we continue to maintain a 100 percent success rate, because we do whatever it takes to meet or exceed our customer's expectations. We take our obligations and responsibility very seriously, and every one of our partners and customers will acknowledge that."
On the Same Team
"One key element of our success in these projects is achieved by ensuring that all the customer's SMEs from both the operations and development teams are invested and involved in the project from day one," Goldman says. "We were champions of DevOps before it was DevOps. With turnkey migrations, you have to be contemplating operational elements like security or failover at the same time you are testing out the applications and data to ensure everything is working in context.
"You can now bring in modern-day programmers and system integrators to manage the computing environment, but they will need to understand the organization's tribal knowledge held by the legacy programmers and operators," Goldman says. "The old and new guard have to work together."
Although Asysco typically facilitates the customer migrating from the legacy, procedural languages such as COBOL to native, well-formed, object-oriented languages such as C# and VB.NET, Asysco also offers an option that allows companies to begin their migrations to newer software like the .NET Runtime Framework while still developing in their current programming language, such as COBOL.
"Some of our customers have long-term developers that are just not interested in learning a new development language," Inside Sales Consultant Shelby Howard points out. "After developing and maintaining these systems for decades, they have accumulated all the tribal knowledge necessary to maintain the systems and they're not interested in switching development languages at such a late stage of their career.
"So we actually engineered an incredible solution that allows them to continue developing in the legacy language they've been using but the system then compiles out to a true .NET runtime," Howard continues. "How's that for having your cake and eating it, too? This gives our customers an optional stepping stone rather than forcing them to go straight to .NET, and yet doesn't lock them into some sort of COBOL lift-and-shift limbo. It is a temporary solution. Whenever our customers are ready, we can automatically generate out the source code to native .NET and empower our customers to leave the legacy language behind."
Training Operators
Asysco trains its customers in how to use their new systems, and like a good mentor, encourages and empowers its customers to own their solution and take control of their future. "We become a sort of guide to our customers," says Global Marketing Manager Suzanne Glorie. "We have no interest in taking over the long-term maintenance of these systems for them after the migration, although we do have partners that can do so if our customers want that. We would much rather teach our customers how to take the migrated system forward and realize all the potential benefits.
"How do we try to retain our customers? We don't – our customers stay with us as long as they need to," Glorie declares. "Customers stay with us because we deliver on our promises and continue to provide a value to them. We are as happy to see customers stay as we are to see them move on. We even help them, guide them and participate with them moving on to transition into their desired commercial package, ERP and/or CRM systems."
Goldman speculates about what the store of the future will be like and what computer systems and software it will require. "Every company out there is trying to think about what the future of retail will look like, taking the highest-demand customer and being able to tailor that experience for them and to perpetuate that throughout the various sales channels," he says. "Everyone is excited about what mobile, kiosks, RFID and even drones are going to do for allowing a lot more functionality throughout the entire retail flow without a significant increase in overhead or costs.
"The first step is positioning themselves for that, which most retailers skip – they don't appreciate that they really have to focus on migrating their legacy systems, first as a necessary precursor to modernization in order to achieve a viable, overall legacy transformation," Goldman says. "We are the ones that can help them achieve the first step."