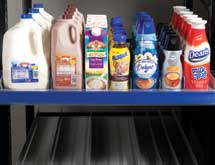 In any business, companies have to remained concerned about what their clients think. At B-O-F Corp., associates stay focused on this question its clients might ask themselves: "What has B-O-F done for me lately?" COO Patrick Mitten says B-O-F strives to make sure its clients always feel that they have hired the right company. "Our No. 1 priority is to deliver customer satisfaction – each and every day," he declares.
The Aurora, Ill.-based B-O-F specializes in gravity flow shelving products for supermarkets, drugstores, and convenience and liquor stores. Founder Edward Knorring started the firm in 1953, selling material handling efficiency concepts, such as motorized conveyor belts, mechanical checkout counters, roller shelving and shopping carts to the retail grocery industry.
Throughout the years, B-O-F expanded and acquired the capabilities to produce additional products, including carton cutters, crowd control and gravity flow shelving. The company had great success in 1982, when it started manufacturing gravity flow shelving products through its Bev-O-Flow division called Nyla-Track and The Milk Man. The new products allowed retailers to control product rotation and freshness, reduce stocking labor and increase sales efficiently. Within five years, B-O-F became completely focused on the production of gravity flow shelving products.
Today, Mitten manages B-O-F with Knorring's son, Jamie Knorring. Additionally, Mitten says, the company's products are in the stores of 85 percent of the leading national grocery chains.
A High Goal
Mitten has many years of consumer product goods experience, including 20 years with Kraft General Foods and Quaker Oats Co. His experience also involves "helping small, family run businesses get to the next level," he says. These companies include Griffith Laboratories and Charles Industries, where Mitten helped develop new products and expand into new markets to deliver profitable growth.
Mitten has known the Knorring family for many years, including Jamie Knorring, who recommended him for his current role. "Once I met with [Jamie's] brother and his partner, everything came together," Mitten recalls.
He praises the collaborative culture at B-O-F. "We succeed and we fail as a team," he says, noting that the experienced sales and manufacturing staff work together on everything from "getting the order correct to coming up with a customized shelving solution based on our customers' plan-o-gram."
Under Mitten's leadership, B-O-F has focused on innovation. "The company has constantly been expanding and improving its product lines," he says. "Right now, our goal is to be our customer's first choice for gravity flow shelving solutions."
Meeting Needs
B-O-F strives to be responsive to its clients' needs through its many patented products. When grocer Safeway Inc. approached B-O-F about roller shelving that could accommodate multiple sizes, the engineering team developed its VersaRoll product, which is a roller shelf "with a very innovative divider," Mitten explains.
When B-O-F tested VersaRoll with seasonal dairy products in Safeway stores, it found a variety of facing sizes on one shelf could be accommodated with ease. "VersaRoll will drastically reduce reset costs for Safeway while at the same time provide the display flexibility they had been lacking," Mitten says. The common thread among new products is that they are all born from meeting specific client needs.
Additionally, when clients order customized products from B-O-F, they arrive ready to use, with little, if any assembly required. "For years, we have worked to design a no tools needed product: We've basically preconfigured it at the factory," Mitten says.
"That's one of the benefits our customers enjoy from us," he says. "In four weeks, we can deliver a custom-configured, gravity flow shelving solution – ready to stock."
Cutting Costs
B-O-F has reduced its costs with state-of-the-art technology. "It has helped us be more competitive from a cost perspective," Mitten states. "For instance, B-O-F installed its first robotic welding system in 1993 that has allowed us to manufacture our product lines with consistent quality throughput while reducing labor and our other manufacturing costs. In addition, it greatly reduces the chance of quality concerns. We've [also] reduced our overall labor costs."
The company has cut costs through green initiatives, such as using scrap steel that requires 75 percent less energy than regular steel. "We [still] get the performance and quality attributes that are required," he says, noting that B-O-F recycles all materials. "We cut back on our solid waste by over 40 percent."
Growing Together
B-O-F has a strong future ahead with broader sales goals in North America, including Mexico and Canada, Mitten says. He adds that the company also plans to grow in a partnership with Safeway in Canada, as well as San Antonio-based supermarket H-E-B in the US and Mexico.
"We feel like we have a lot of growth potential," he states. "We're very excited because new opportunities are always available. In today's economy, with ever-tightening margins, pressure on turn rates, shrinking store footprints to new product introduction ratios, our customers believe that it is unwise to invest in low-cost and low-performing shelving. BOF has responded by becoming a data-driven manufacturer that helps our customers meet their goals of helping them sell more products with less labor. A good example is with single serve yogurt products, where we helped the world's largest grocery retailer reduce its labor costs by 5 cents per cup while increasing product sales and reducing out of stocks."