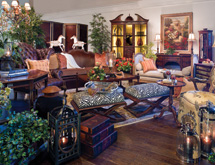 Retailing is about selection, value and being helped by people who are genuinely happy to see you when you walk in, want you to leave happy and look forward to your return. Discovering something special, delightful, satisfying and memorable at a great price is the consumer need that drives all my businesses. I ran a chain of bagel stores, opened a gym, and in 2007, developed and opened a "storehouse" concept furniture store featuring high-end brands at 40 percent to 60 percent off retail.
We call it a "storehouse" because it's not a typical furniture store or a typical furniture warehouse, but an exciting combination of both. We eliminated some of the most common frustrations of the furniture shopping experience by adding immediate gratification, a low-pressure sales approach and an ever-changing product mix.
In 2011, we opened the second Design Spree home decorating storehouse in Maywood, N.J. Believe it or not, a lot of parallels exist between the bagel business and the high-end furniture business. Here are just a few of the guiding retail principles that Design Spree lives by. Ironically, they are all the basics of retail management and marketing.
Product Quality and Selection
Twice a year, I go on a shopping spree at the High Point Furniture Market with our vice president. We choose things we love and that we know our shoppers and interior designers will love, too. It's an eclectic selection, and we're not afraid to throw in a bit of whimsy into the mix.
We view the supply chain as an integral piece of our business model and have built strong relationships with our vendors so we often get the first call when there are deals to be had. Each week, we have 200 new items shipped to our stores, which carry about $5 million in retail inventory at any one time. We keep our inventory fresh, not unlike bagels. Customers stop by multiple times in a month to see what's new in our stores.
Our Team
Product is a commodity in retail. Even with great pricing, a rude or disinterested salesperson can blow a big sale. We strive daily to go above and beyond. I personally teach a class on our service philosophy called "Wow Customer Experience," where we train our staff to see the world through the eyes of the customer. A key element of this training is to create a culture in which customers don't feel pounced upon when they enter a store and feel completely comfortable taking their own journey of discovery throughout the store.
Furniture taste and shopping is an intensely personal experience and a potentially expensive one. Sometimes, it involves decision-making between a couple or an interior designer and a client. Life milestones like marriage, new babies and divorce are all times when people shop for furniture, so we're sensitive to the range of emotions in our customers' lives.
Our hiring and training process for Design Spree team members is especially rigorous. We reviewed hundreds of resumes and interviewed more than 55 candidates before we hired the Maywood team. One of the hallmarks of our recruitment is to hire for attitude and train for skill. In fact, some of our new hires for the Maywood store are completely new to the furniture business but have already impressed us beyond belief.
We've even structured our delivery system to give our customers immediate gratification – each piece may be carried out of the store, or we offer convenient, in-home delivery within 24 to 48 hours. Nothing is more frustrating than ordering that perfect couch and then forgetting what it looked like by the time it arrived.
Location and Merchandising
Our two current locations are a bit off the beaten path. We need huge footprints for our stores, and we find our real estate selection supports our model in two ways: the beneficial economics of lower rents and the customer experience of discovery that is mimicked by the product mix and merchandising once that customer is in the store.
This is a strategy that worked well for Loehmann's, the original off-price fashion retailer who had its flagship store in the Bronx. We have concrete floors and minimal build-out. That said, our interiors are still well thought-out and appealing and give us a tremendous amount of flexibility. We create a high-end bazaar environment, constantly rearranging inventory and even making the unloading of our trucks each day an exciting part of the customer experience.
Marketing
None of the above will pay off if the consumer does not know about our retail stores. While many of our competitors have not fared well in recent years, we have experienced double-digit sales growth by keeping the offerings exciting and creating an event-driven marketing calendar.
We supplement traditional advertising with social media and see it as a huge part of retail success these days. We outsourced our social media and public relations efforts to a fully-integrated team with extensive retail and new media expertise. Within days of launching our Facebook page, we attracted more than 300 fans, and the conversation with them is a great source of information about what we're doing well and where we need to improve.
A perfect example of the power of social media occurred during our most recent trip to the furniture market in North Carolina. We were posting pictures of products and asking customers to choose which to buy and which to pass on. The engagement was incredible.
We also are using Foursquare, Twitter and YouTube in addition to traditional PR. We are also training our staff to be cub reporters and stay on top of customer comments. We have a local retailer mindset, not a big-box, uninspired mentality.
The Future
We plan to expand across the East Coast and eventually nationally. I have an office in the Maywood store because I believe that even as president, I have to be intimately involved in the business and totally accessible to vendors, my staff and customers – especially during the first critical years of a new location.
We project company-wide revenues of $20 million by 2014, and every team member feels like he or she has skin in the game and is part of our success. Especially in these tough economic times, customers view their homes as safe havens and important investments. We embrace and respect that, and believe the furniture shopping experience that we are creating will continue to pay off in the long run. We are looking out for customers' wallets and giving them a fun and memorable shopping experience. O
Jay Wagnon is president of Design Spree and was responsible for development of its concept in 2007 after being a licensee of a Florida-based retailer of high-end furniture since 2002.