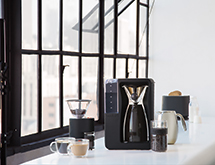 Bodum has never been afraid of change. In fact, the kitchenware company has spent the past 70 years changing to meet the needs of new customers and demands. Rather than fearing change, Bodum is a company that thrives on it.
"Being the first to come out with new things is definitely something we do here a lot," says Thomas Perez, CEO of Bodum's North American division. "When you started to see all the different colors come into the housewares market after the 2008 crash, we were the first to do that. Everything was stainless steel and black, but we changed that. We're good at taking risks, and we do what we like to do instead of doing what everyone else is doing. It doesn't mean everything is successful, but we try new things and are first to market with a lot of new things."
The Switzerland-based company with sister operations in Denmark, North America, Australia and Japan is celebrating its 70th anniversary this year, and it kicked off that celebration with a flurry of new products that it introduced at the International Housewares Association tradeshow in Chicago this March. The company is most-known for its French press coffeemakers, tea pots and individually mouth-blown double-walled glasses, but it also manufactures a wider array of products including cookware, cutlery, storage containers and electronics, such as mixers, blenders and toasters.
"We have a lot of new items for the kitchen this year," Perez says. "The anniversary collection is comprised of our iconic, best-selling pieces in limited edition colors that will be offered at roll back pricing. There will also be new items introduced into the assortment such as new additions to our popular e-BODUM line of small appliances."
Manufacturing Moves
Bodum currently manufactures products in its Portugal plant and through contract manufacturers in China. Over the last year, the company has been relocating manufacturing from China to Portugal and expanding the Portugal facility to handle greater capacity. Perez explains the company's move has been spurred by issues with consistency and quality from its contract manufacturers.
"Ideally we'd like to see everything made in Europe," Perez says. "Some things are still not possible for us to do here, but that's what we're pushing. We've been in China for many years like everyone else, but we've been facing bigger and bigger challenges with prices going up and quality going down. We decided to bring manufacturing back to our facility in Portugal, which we are expanding right now."
Bodum is gearing up its Portugal facility with more space, new machines and molds to handle the incoming capacity.
The company already has begun to move some of its manufacturing back into Portugal and Perez says the process should take about two years to complete. The change will give Bodum better control over the quality and time-to-market of its products as well as its intellectual property, such as in-house designs and technology.
"This move will allow us to be on top of our social responsibility program," Perez says, and "make sure we are sourcing things ethically and that things are up to date, which are all things that consumers expect from Bodum."