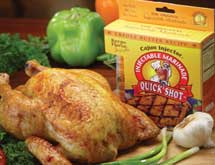 This manufacturer of Cajun, Mexican, and Southern food goods and hardware can offer consumers and retailers what they need to make a tasty meal. Eight years ago, the largest manufacturer of canned yams and home of The Original Louisiana Hot Sauce made a change that significantly impacted the future of its business. It acquired Cajun Injector, a brand of injectable marinades.
Since then, the company has expanded into cookers, smokers, grills, and fryers, and according to Joah Butler, brand manager for Bruce Foods Corporation, the company has had a great time exploring the possibilities. "We acquired the company Cajun Injector largely due to turkey frying," he said.
The brand was designed in part to cater to the turkey frying market through the production of turkey fryers, thermometers, and injectors to fry turkeys. When Bruce Foods made the acquisition, it found there was a strong demand for those items at sporting goods stores for smoking meats and wild game. "That led us to the idea of a smoker, which was successful initially in sporting goods stores and eventually trickled into big box, mass merchandiser, and grocery stores," Butler said.
From there, the company moved into grills, double-burner stoves, gas smokers, and outdoor ovens. And although the majority of Bruce Foods' business continues to be food products (the hardware is only about 10% of its business), Butler expects it to be the fastest growing segment of the business in the coming years.
Part of Butler's confidence in the future of the manufacturer's hardware business comes from how well it incorporated into the business as a whole. The company promotes itself as a one-stop shop for a variety of types of cooking. When talking about southern cooking, Bruce Foods sells the number one yam brand in the US, Bruce's Yams.
In addition, the company manufactures gravy mixes and southern Cajun style marinade mixes. "Our Cajun King line is a seafood helper that enables anyone to turn a seafood dish into a gourmet meal," said Butler. So as well as being a one-stop shop for southern cooking, the smokers, fryers, and injectors make Bruce Foods a one-stop shop for outdoor and wild game cooking.
Strategic management
Today, Bruce Foods controls nine brands, offering 350 products. The strategy the company employs to manage each brand is ensuring each has its own competitive advantage.
Its four major brands include the Bruce's Yams, which is number one in the canned yam category based on sales; Cajun Injector injectable marinades, which are number one in their category; Louisiana "The Original" Hot Sauce, which has been mass produced by Bruce Foods for more than 80 years; and Casa Fiesta, which is sold in more than 100 countries and pioneered the first canned Mexican foods in 1931.
Bruce Foods also handles Cajun King, Louisiana Gold Pepper Sauce, Mexene Chili, and Louisiana Wildly Wicked Wing Sauce. "If you take any of our products and turn them around, you'll see a Bruce Foods logo or 'Manufactured by Bruce Foods' somewhere on the label," said Butler.
"We don't hide the fact that all of these products come from the company, but at the same time, we think the sum of the individual brands are greater than the equity behind the Bruce Foods name."
Behind the scenes, Bruce Foods takes as much care of its operations as it does its brands. It is at the top of the charts for its green initiatives, particularly with respect to renewable energy.
Its Wilson, NC sweet potato and vegetable plant, for example, uses a methane recapturing system that powers its boilers. The result has been a 40% reduction of on-site greenhouse gas emissions and a substantial reduction in energy costs.
Another plant, located in Cade, La. handles the company's hot sauce and pepper sauce manufacturing and holds Bruce Foods' corporate headquarters. A few miles down the road in New Iberia, La. is a third plant, which handles the sweet potatoes that come from Louisiana, as well as vegetables like squash and okra.
A fourth plant, located in El Paso, Texas, handles the rest of the business, from marinades and refried beans to taco shells.
It also holds the company's largest warehouse.
The benefit to having four distribution centers, said Butler, lies in decentralized logistics. "If we produce sweet potatoes and hot sauce in New Iberia, we can transport that over to El Paso so we could have some of those items on hand in that location," he said.
"It cuts down on logistics costs and the time to get to the customer. We mix and match products that we manufacture at other plants and store them at different warehouses so they're strategically placed to get to the customer."
Suiting up
As a partner to retailers, Bruce Foods excels in its ability to offer one-stop-shop positioning across a variety of food types. It's also a strategic partner because of its investments in support systems for its new products.
The company hired personnel that understood the engineering behind the hardware and how to handle international logistics. "We make a lot of these products overseas," said Butler. In addition to working with manufacturing facilities in Asia, these new employees had to understand shipping, import taxes, and container loads.
"We drop ship a lot of our containers, and product will come freight on board from China," he said. "We needed people with law backgrounds so we could be CSA certified and our products would be safe for use."
Now that its operations are stable, Bruce Foods is reaching out to advertise in new trade channels. It traditionally focused on grocery stores; it now needs to reach big box stores, sporting goods and specialty stores, and more. Butler said the company considered working directly with retailers so they could start advertising Bruce Foods' products in-store.
Concerning the Cajun Injector brand cookers, Butler said, "We do advertise with a lot of the hunting and outdoor stores, and we have the print advertisements in demographically targeted publications, as well as some online advertising, but we haven't gone into any heavy television advertising yet because our distribution isn't as high as we would like it to be."
Well balanced
Looking ahead, Butler said the company expects to see rapid expansion of its hardware segment, but it's not overlooking the food side of its business in any way. "A large percentage of our business is in foodservice and industrial products, and when the recession hit, everyone on the foodservice side saw cuts," he said.
Many of Bruce Foods' goods are substitute products: people want to eat out less and cook more at home. In a recession, food is the manufacturer's bread and butter. But if the economy picks up, the company will be balanced and expects to see gains on the foodservice side. "We have this philosophy about people scaling back and eating out less," Butler said.
"If we can teach them how to cook, teach them that whatever they make at home can taste just as good as what they have in a restaurant and can do it for less money, we'll have a customer for life. But if they decide to eat out, we'll be there supplying the restaurants with the ingredients to do it."