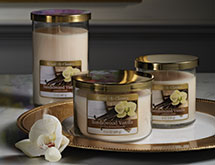 After 175 years of operation, Candle-lite Company stands as the oldest continually operating candle company in the United States, CEO Calvin Johnston says. "Consumers see a lot of credibility and authenticity in our unique American heritage," he states.
Cincinnati-based Candle-lite Company manufactures everyday, seasonal, collectable and premium candles under the Candle-Lite Company, Essential Elements, Revere House and new Royale Classics brands. The company enjoys over a 30 percent market share in the food and drug channels for the home décor and fragrance category as reported by IRI.
Today, Candle-lite Company is owned by Centre Lane Partners LLC, a private equity investment firm based in New York City, and it enjoys a broad reach. "We very much play into the traditional food, drug and mass merchant retail channels with our branded products," Johnston says. "You can find us in almost every major retailer, including Kroger, Albertson, Rite-Aid and CVS."
Candle-lite Company also has proudly remained an Ohio-based manufacturer for 175 years. Founder Thomas Emery started the company in 1840 and sold candles door-to-door, along with other household items. "It is interesting that our founder, Thomas Emery, had strong Cincinnati-based business ties with iconic business leaders like Mr. Procter and Mr. Gamble," Johnston adds. "All of the companies who have grown up in this community are pretty amazing."
Getting Leaner
Johnston joined Candle-lite Company last year and has implemented a number of significant changes in the organization based on his philosophy of strengthening a company's operational foundation while building out new strategic growth opportunities. In his first year, Johnston and his management team have implemented lean manufacturing and continuous improvement in their 1-million-square-foot facility in Leesburg, Ohio. In addition, the company's growth initiatives have included the rebranding of its core brands to better reflect its 175-year heritage and commitment to quality, the launch of several new product lines and a focus on international expansion.
Better Branding
Candle-lite Company also made changes to its products, particularly in its packaging. "If you looked at our packaging previously, it was difficult to tell that it was a Candle-lite product," Johnston explains. "We now have a much stronger branding statement."
The company plans to add new products, including more candles with a natural base, such as soy or palm wax. "Consumers are looking for more sophistication," he says.
It also recently added its Royale Classics line, which features scents such as Love Paris, Imperial Cherry Blossom and Amber Teakwood. "It's more of a specialty brand position than what we currently have in our portfolio and will allow our retail customers to offer a brand consumers would find in a specialty retailer," Johnston says.
Centre of Support
Candle-lite Company has many more exciting ideas and initiatives for its new phase, but implementing them is not always easy. "The biggest challenge is being able to execute them perfectly and get them out into the marketplace as quickly as we would like," Johnston admits.
Thankfully, the company has Centre Lane's strong support. "They've been fantastic to work for," he says. "They help businesses that are under-capitalized in their infrastructure. They've supported investments in our manufacturing and distribution facility, staffing and rebranding efforts to allow us to improve our market position."
A Great Place
Johnston strives to nurture a collaborative workplace at Candle-lite Company. "I believe in working closely with the management teams in a cross-functional environment where everybody gets to participate and play a role," he says.
He also keeps things informal and stays close to his staff. "I like to spend a lot of time on the factory floor, walking and talking to our employees, addressing their concerns and making sure we continue to make this a great place for people to work," he states.
This is a good fit for Candle-lite Company, which has a history of low turnover in its staff. "We have a lot of employees that have been with us 20 to 30 years," Johnston says. "This has always been a place that's been able to support people in terms of long-tenured careers.
"We have a lot of family members who all work in the company, which makes for a really good culture as well as a family atmosphere," he continues. "There's a real dedication to doing things right and helping the company make the changes to grow."
Exciting Times
Candle-lite Company celebrates its 175th anniversary this year. To mark the occasion, "We've got a number of exciting activities that our marketing department is implementing," Johnston says, including a beautiful 175th Anniversary Commemorative candle.
Johnston predicts Candle-lite Company will continue to grow its business for the long term. "We want to expand internationally and to look to extend our brands into adjacent product categories," he explains. "Obviously, we need to continue to invest in the automation of our factory and our distribution system.
"I expect us to continue to improve in the key financial metrics," he continues. "The bottom line is I'm very excited about what I see happening in our company over the next few years."