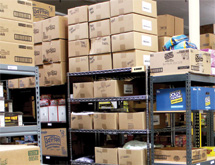 Candy might seem like kids' stuff to some, but the success of Candy Crate shows how the sweet treats can lead to a prosperous enterprise. Based in Hesperia, Calif., the company sells more than 3,000 varieties of candy via the Internet, including retro and penny candies and gluten-free and vegan products.
Operations Manager Randi Caporale says her mother and grandmother started the business in an office 12 years ago. Over time, the firm found a niche when it began serving clients who were looking for hard-to-find products like Abba Zaba miniature candies or Chick-O-Stick Nuggets.
"That's really when it started to take off," comments Todd Morris, the owner and Caporale's father. He adds that Candy Crate also grew thanks to its strategy of investing in its own operations.
"We were investing in our business when a lot of companies either could not or chose not to," he says, noting that income from his other job as a food-manufacturing consultant provided the financial backing. The company invested in such areas as marketing, increased inventory and variety, and additional warehouse space.
Today, Candy Crate operates from a 15,000-square-foot warehouse in Hesperia and conducts business entirely on the Internet. The company is a distributor for many manufacturers, including Peeps, Tootsie Roll and Charms. It also has developed a portfolio of well-known clients, including NBC, Pepsi Co., Universal Studios and Microsoft. Candy Crate has been featured on Good Morning America and the TODAY show, and has served celebrities such as Oprah Winfrey and Christina Aguilera.
Earning high-profile clientele has been gratifying for the firm, Caporale says. "All of our employees get very excited about it," she says.
Staying Hot
Candy Crate constantly faces the challenge of keeping up with the hot trends in candy products. One recent trend, Morris reports, is that many customers are ordering candies as luxury items for events.
"For weddings, it's very popular to put out a spread of various coordinated colored candies in ornate glassware for their guests," he says. "You can load up on almost any candy."
But these items, known as "candy buffets," require extensive coordination, Morris asserts. "You have to specialize in being able to consult with the individuals and companies [involved]," he says.
During this process of consultation, everything from the age range of guests to the weather is taken into consideration. "We want to make sure these buffets make a statement with their design and leave an sweet impression," Caporale says.
Candy Crate also is experiencing a crush of orders for Easter and St. Patrick's Day candies, Caporale adds. "[Customers are ordering] gold coins, jelly beans, malted eggs and all sorts of Easter gifts," she says.
Above and Beyond
Candy Crate distinguishes itself by going the extra mile for customers. Caporale says if a customer orders candy for a holiday gift, the company sometimes covers the extra delivery charge to ensure the package arrives on time. "If we could afford to, [we'll do it]," she says.
If customers place an order by 4 p.m. eastern time, it will be sent out on the same day. "We're dedicated to getting orders out quickly," she says.
Candy Crate also dedicates itself to getting orders right. For instance, if an order seems as though one item is out of place, "We will take the time to call a customer and say, 'Did you mean to order that?'" Caporale says. "We definitely will get each and every aspect right to make the customer happy."
On Top of Technology
Candy Crate successfully made the move to e-commerce years ago, and it continues to take steps to ensure it is up to date with the current technology. "Our business is always changing," Caporale says.
The company recently made its site mobile-friendly, which has won the appreciation of its customers, including one who called the company after ordering an item with his tablet. "He wanted to make sure he got it right," she recalls.
Candy Crate also utilizes social media sites for promotion, including Facebook, Pinterest and Twitter. "[We want to] continue to stay engaged with social media," Morris says. "It's a very big part of our world now."
Additionally, social networking sites provide an efficient way to advertise Candy Crate and attract new customers through special coupon offers and online contests, Caporale elaborates. "It is a forum where we can personally interact with new and existing consumers and to help identify what products they are really interested in," she says.
Candy Crate has launched products of its own, which include Taste-T-Picks, a line of cinnamon- and mint-flavored toothpicks. "It's not an easy product to produce," Morris admits. "We're continually fine-tuning them."
Because of the product's unique nature, there are only a few flavored toothpick processors in the United States. During each production run, the soaking and drying process needs to be adjusted according to the ambient humidity and temperature, Morris explains.
Morris adds that the company plans to grow by finding more ways to improve internally. This will require Candy Crate to fine-tune its departments even further. "These are natural things that happen within a growing company," Morris says.
However, Morris asserts that he is proud of its dedicated employees. "If it weren't for Randi and her staff, it'd be a whole different game [for us]," he declares.
Caporale also praises the employees and the fun environment the company has established with activities that include friendly feud games and an ongoing game based on the "Finding Nemo" animated feature. "I feel we are where we are because of listening, both to our customer and to our employees," she says.