Casey's General Stores Inc.
By Janice Hoppe-Spiers
For the past 50 years, Casey's General Stores Inc. has been serving rural communities in the Midwest with friendly, courteous service and delicious prepared food in its convenience stores. Its familiar red and yellow neon sign is often a beacon of light for travelers needing to refuel their vehicles and bodies, as well as for residents in the small communities who have come to know the convenience store as the local gathering place.
"Even though we have some larger community operations in Des Moines and Cedar Rapids, Iowa, for example, 57 percent of the stores operate in communities of 5,000 people or less," President and CEO Terry Handley says. "So, we try and live up to that original vision of founder Don Lamberti in terms of being the center of the community."
In 1959, Lamberti leased his parents' coal and ice store located on the north side of Des Moines, Iowa. Lamberti's friend and fuel supplier, Kurvin C. Fish, then suggested he buy the Square Deal Oil Co., and Lamberti converted the existing gas station in Boone, Iowa, into a convenience store that would offer both gas and groceries. The new store opened in 1968 and was named "Casey's," using Fish's initials as inspiration for the name.
Today, Casey's is the fourth-largest convenience store business in the United States, serving more than 650 million customers per year. The company operates more than 2,000 locations in 16 states throughout the Midwest and South. Casey's most recent redesigns allow for additional cooler doors, a beer cave, increased kitchen space and an expanded fountain and coffee area.
Casey's plans to open 60 new stores by April 2019 and make strategic acquisitions where available in its market. "We find smaller acquisitions work best, such as single-store operators," Handley notes. "We find those are very easy to assimilate to our operations. Everyone knows what Casey's is and looks forward to us bringing in our pizza after the acquisition."
Friendly Service
Casey's celebrated 50 years of serving communities this summer with daily specials. "In this, our golden anniversary year, we are focused on celebrating our history while also looking forward to the next 50 years," Handley says. "We are grateful for our customers and employees who have made Casey's a part of their lives. We would not be celebrating this achievement without them."
Looking back, the company attributes its ongoing success to customer service. "The Casey's culture of our operation goes back to the very beginning with Don's original vision, which was all about the customer," Handley says. "Casey's has evolved into a grocery store, fuel station, pizza and donut shop all wrapped up into one store. It's all about a strong sense of community, of taking care of our neighbors."
The company's mission is to provide quality products at competitive prices with courteous service in clean stores at convenient locations. It is able to achieve that mission through its core values of the four P's: Positive, Polite, Professional and Proud, as well as the company's purpose statement, "To make the daily lives of our customers and communities better."
Casey's more than 37,000 friendly employees embody these values and pride themselves on customer service. "The priority is finding the right people," Handley notes. "We have expectations in terms of the store employee and in today's tight labor market, it is a continuous battle."
Finding and developing the right people remains a top priority. "We offer best-in-class benefits including a 401(k) program and competitive salary packages," Handley says. "It's vital we focus on our leadership development and succession planning to ensure people understand where we are going and how important they are to the success of the company during the next 50 years."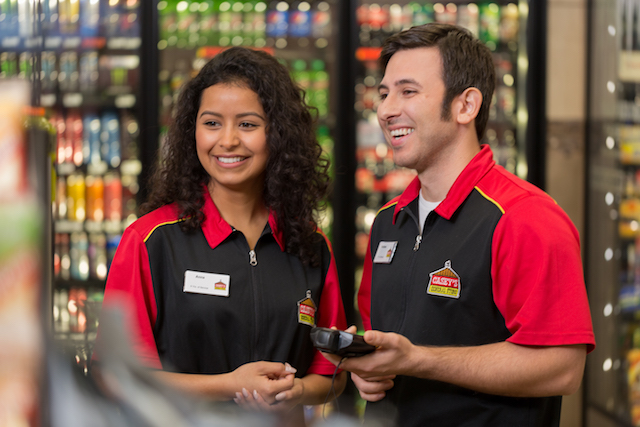 Once it finds the right people for its stores, Casey's retains its employees by creating a safe work environment and ensuring they feel valued. For example, the company never has an employee scheduled by themselves during any shift.
The company also hosts an annual Employee Appreciation Banquet in Des Moines to celebrate employees who have been with the company for 15 years or more.
"We host the honorees and their guests, including a tour of our corporate campus in Ankeny," Handley says. "The banquet is a great evening and employees are awarded gifts for their years of service."
Casey's regularly recognizes its employees with Certificates of Recognition for going above and beyond in their service to customers, their communities and in times of emergency.
To continue improving the company's brand, Casey's is conducting surveys among its employee sand with its customers. "We are in the convenience store business, and in the QSR business, both of which are dynamic and competitive," Handley says. "There is constant evolution and we must continue to innovate to remain competitive."
Creating Value
Casey's recently developed a value-creation plan within its strategic plan to grow the company during the next few years. The three basic elements to the plan include digital consumer engagement, price optimization and its fleet card program.
The lynchpin to the plan is digital engagement, Handley says. "It's a loyalty program that's about engaging the consumer through their digital platforms, building rewards and personalizing consumer offers," he explains. "Once a customer becomes a reward member, they can track their rewards and take advantage of specific promotions and we can create individualized offers to increase the number of their visits."
Casey's goal is to enhance its customer-centric business through digital engagement by offering a frictionless e-commerce experience across all customer-facing touchpoints. Through technology and organizational capabilities, the company intends to exceed its customers' expectations.
In 2016, Casey's Mobile App launched for customers to order pizza, made-to-order sub sandwiches and appetizers. The company also implemented online ordering in all of its stores, which the app makes convenient for customers on-the-go. The app also provides customers with special offers and promotions, as well as allows customers to check gas prices and plot all the Casey's locations along a planned travel route.
"We are looking to enhance the mobile ordering process for our prepared foods program and will continue to refine the app with engagement opportunities for the customer," Handley adds.
Casey's will also implement price optimization to its three core business segments: fuel, prepared foods and fountain, and grocery and other merchandise. "It will allow us to geofence specific markets to be price competitive, increase sales and maximize profitability," Handley explains. "This helps us remain competitive by not pricing one-size-fits-all across the enterprise, but putting in a more competitive pricing depending on how we establish a particular market. We identify who the competitors are and set pricing allocation within those different geofences."
Casey's Business Intelligence team is focusing on in-store analytics. "We have provided tablets to all field leadership to get real-time information on performance and sales at the store level," Handley notes.
The third aspect of the value creation plan is Casey's fleet card program, which it will market to small and medium-sized businesses throughout its operating area. "We will also target larger fleets where possible," Handley says. "We can offer volume discounts on fuel purchases, streamline the billing process and provide food offerings during their visits, all designed to make it much more efficient for those customers."
The implementation of Casey's value creation plan will be gradual. The fleet card program is currently under development and the company expects to see the potential revenue benefit as early as this fall. The planning phase for price optimization for fuel, grocery and other merchandise, prepared foods and fountain is underway to help determine optimum impact on sales and margins. Once that is determined, Casey's will push price optimization out to the store level and expects to see results beginning later in this fiscal year. Casey's fiscal years run from May to April.
The digital engagement program, including loyalty, is scheduled for release during the company's fourth quarter and will be fully implemented early next fiscal year, Handley notes.
Casey's believes that adding conveniences like its mobile app and loyalty program are just as vital as the quality of its products, customer service and competitive pricing. "Having a clean store, friendly people and quality product will always be our top priority, and then there will be the loyalty program and mobile ordering because people are busy and you have to find ways to make their lives easier," Handley says. "The consumer of today is much more active, and we need to engage them on a continuous basis."
Distributing Quality Product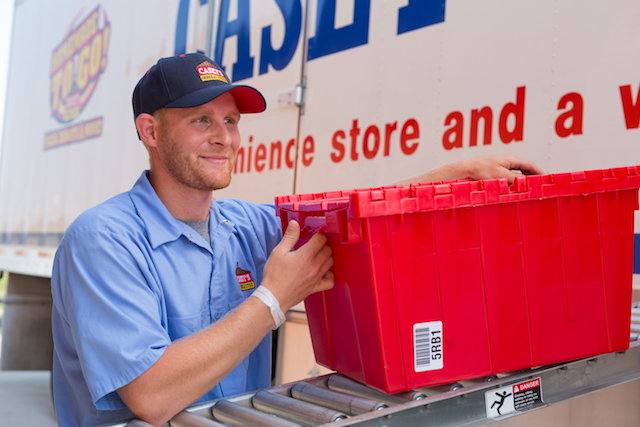 A unique feature of Casey's business model is that it self-distributes 90 percent of the products sold inside its stores from its own distribution centers in Ankeny and Terre Haute, Indiana. Nearly half of the company's 297 semi-tractors are dedicated to transporting fuel. The rest distribute the merchandise sold inside the company's stores.
Each trailer can hold enough new merchandise for about six stores, which are replenished weekly. "We go to our stores once a week and we are testing the idea of multi deliveries per week," Handley notes. "We are looking at how that will work over time and may actually involve third-party partnerships."
Because Casey's distributes nearly all of its own products, it can replenish even a single unit item if it is needed. Managers can order merchandise by scanning the bar code of the item with a handheld remote when they walk the store aisles. The remote connects directly to the manager's workstation.
To increase efficiency in its transportation fleet, Casey's has implemented Telematics GPS Tracking in its tractors and trailers. "We know where they are, what speed they are running and how long they are sitting idle," Handley notes. "It creates greater awareness of the use of those units and reduces operating costs."
In addition, the company is installing temperature monitoring software in all of its multi-temp trailers. "It's important that we manage that temperature properly," Handley notes.
Expanding its Network
As the company continues to grow, a decision will need to be made as to whether to build a third distribution center. "Because of the growth of the enterprise and increasing sales, we are considering all options in terms of the future distribution network," Handley says.
In some of Casey's locations, the local grocery stores are no longer in existence, and the company feels there is a strategic opportunity and an obligation to provide some basic staple items at competitive prices.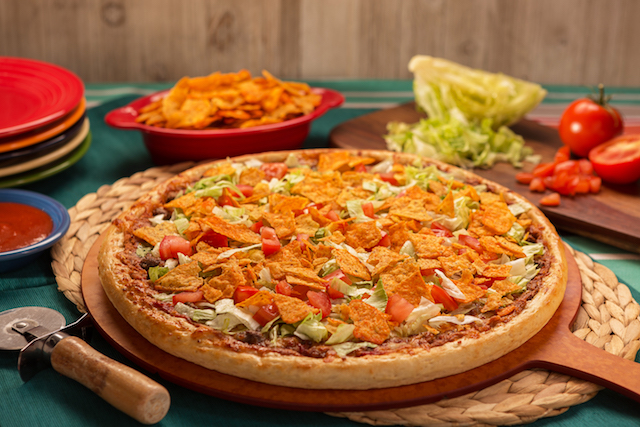 Food and Beverage
Trends Casey's pizza and foodservice program is a strong element of its business, and Handley says it is the fifth-largest pizza company, by number of units, in the country. The company's foodservice program continues to evolve to meet consumer trends.
"Healthy options are important to our customers, and we need to make sure those offerings are available, while remembering the foundation of our prepared foods program is pizza," Handley adds. "It's all about quality, availability and product offerings, which will continue to develop as customer expectations evolve and develop."
Growth Through Innovation
Moving forward, Casey's plans to continue to identify top markets within its 16-state operating area. The company entered its 16th state in April with the grand opening of its Watervliet, Michigan store.
In addition to opening new locations and strategic acquisitions, Casey's says innovation in products and services is imperative to its success. "We know we can always do better with innovation and customer service is absolutely key," Handley says. "We need to continue to ask ourselves, 'What is it that we can do to continue to enhance the customer experience?"
Casey's expects part of the answer to come through its value creation plan, as well as hiring the right people. "Team members at store level are the face of Casey's and we need to ensure we continue to support them because they represent the brand to our customers," says Handley.
Community Involvement
Casey's General Stores prides itself on being deeply rooted in the communities in which it serves. The stores are often at the center of these communities, which gives the company a strong sense of belonging.
At the corporate level, Casey's has been a longtime supporter of Special Olympics, supporting state summer games, fun runs, auctions, trivia nights, bowling, polar plunges and more events. The company has also partnered with the Muscular Dystrophy Association since 2007. Casey's has raised more than $8.4 million to help send children to MDA Summer Camps across the Midwest at no cost to their families.
Over the past five years, Casey's has collected more than $3 million for Hope for the Warriors. The donations help fund services to military members and their families through a variety of support programs focused on transition, health and wellness, peer engagement and connections to community resources.
In addition, Casey's has been a partner of Children's Miracle Network Hospitals since 2014 and has raised more than $5 million to help children when they need it the most. "Our customers participate by making a donation and get their name written on a pinup that we put on the wall over a 30-day period," President and CEO Terry Handley says. "We raise more than $1 million annually."
In the local communities, Casey's participates in local fundraising for park improvements or new playgrounds. The company also sponsors little league teams throughout its 16-state area in the Midwest. Casey's and its stores contributed more than $4.5 million last year to many community and charitable organizations and events.