CEB: Gift Card Sales To Top $118 Billion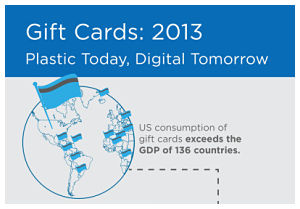 Dec. 16, 2013 – Sales of gift cards will surpass $118 billion in sales, an eight percent increase over 2012, according to CEB, 1 leading member-based advisory company. CEB TowerGroup research suggests that the widespread adoption of e-gifting – which experienced rapid growth this year – will provide scale for continued industry gains through 2016. Developments in the peer-to-peer (P2P) space, however, may threaten traditional branded card sales volume, forcing card issuers to adapt their strategies to the changing purchase landscape.
The growth in e-gifting sales, from $300 million in 2012 to an expected $3 billion this year, supports a healthy trajectory of growth for the market as a whole.
This year, CEB noted:
Open network branded cards grew from $41 billion to $44 billion;
Retailer card volume grew from $36 billion to $39 billion;
Restaurant and miscellaneous segments held flat at $19 billion and $13 billion, respectively.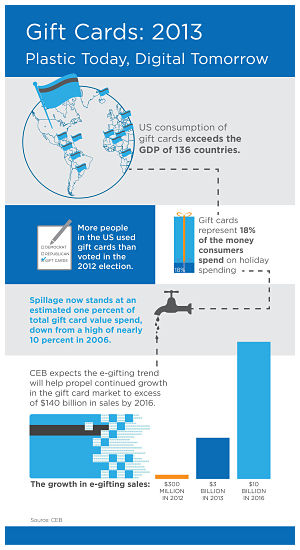 The e-gifting trend will help propel continued growth in the gift card market in excess of $140 billion in sales by 2016. E-gifting is expected to top $10 billion during the same period, filling a niche for customers seeking to simultaneously buy and send their gifts to recipients they may not see in person over the holidays. Analysis suggests little overlap between e-gifting and traditional gift card segments though, as the latter rely on the physical presentation of a gift as a primary selling point.
New P2P services from banks and non-traditional financial players such as PayPal, which can be utilized for gifts and may begin to cut into gift card volume, should be of greater concern to traditional card issuers. The new services offer the ability to send gifts in real time through proprietary networks, circumventing the traditional card issuer's spheres.
Innovations related to e-gifting and P2P services are expected to contribute to the decline of unused gift card value, or "spillage." The spillage figure now stands at an estimated one percent of total gift card value spend, down from a high of nearly 10 percent when CEB began studying gift card trends in 2006.
"The gift card experience continues to get better for consumers," said CEB TowerGroup Senior Research Director Brian Riley. "E-gifting and P2P innovations add a new dimension to the market, which means more flexibility for buyers and recipients. Those same innovations may pose a threat to the growth of traditional card volume, and issuers should remain nimble in adjusting their strategies as digital competitors continue to enter the market," he added.